What Is the Standard Height for Bathroom Vanities?
Planning a bathroom remodel or designing a bathroom for your new house can be a bit complicated. Aside from the fixtures that you need to buy, you also need to know the standard height of bathroom vanity. You have to remember that your comfort in using the bathroom vanity would depend on its height so you have to be very careful.
Bathroom vanities have a standard height of 30 to 36 inches, but it would depend on several factors. You should also know that a bathroom vanity has different heights so you need to choose the right one if you want to use it comfortably.
Choosing the Height of Your Bathroom Vanity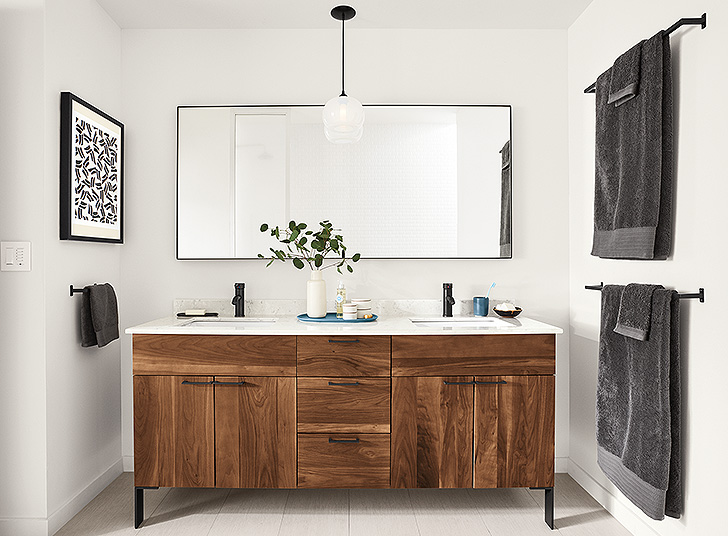 If you are unsure of the height that you're going to consider for your bathroom vanity, here are some of the different types of measurements that you can choose from.
1. Standard Height of Bathroom Vanity
In reality, there is no exact standard vanity height. The height should always depend on the person who will use it. However, it's also a fact that bathrooms are usually shared with other people in the family so there needs to be a standard measurement. The standard is between 30 to 32 inches, which is shorter than a typical kitchen countertop.
The reason behind this is the children. Something a bit higher may be comfortable for you, but you can't expect your kids to use them as well. This is the main reason why the standard height is lower than kitchen countertops. Standard measurements are catered to as many users as possible.
If you have kids in the house that would use the bathroom, stick with the standard height of the bathroom vanity.
2. Comfortable Height
This type of height is more about the comfort of the users. It doesn't matter if the children will have a hard time using the vanity. This is because the comfortable height of a bathroom vanity is considered to prevent backaches and strains.
Recently, more and more people are bringing the height of their bathroom vanity to 36 inches. This is the comfortable height that we are talking about. This is also the same size as your kitchen countertop. With this height, you won't have to bend over to wash the sink or cut vegetables.
This is a popular choice if you don't have small kids in the house. If your children are grown ups already, this is the right bathroom vanity height that you should consider.
3. Vessel Sink Height
The height of the bathroom vanity can also depend on the vessel sink that you're going to place on top of it. You need to pay attention to the height of the vessel sink because it would dictate the final height of your vanity.
If your vessel sink is a bit deep, you need to adjust the vanity on the height. If the sink is 4 inches deep, the actual vanity should be around 32 inches if you want a comfortable height and 28 inches if you want a standard height.
The best thing about a vessel sink height is that you can choose the measurement of your vanity. You can bring the height up or down depending on the situation. Take note that there are vessel sinks that are very shallow so you need to measure them before you decide. It's better if you can get a vessel sink first before you design the vanity.
4. Floating Bathroom Vanity Height
When you talk about the height of a bathroom vanity, we are not usually measuring the space, but the actual height of the cabinet. Since this kind of bathroom vanity is floating, it means that there is a space below it, making its height lower compared to the others.
If the space below the cabinet is 5 inches, it means that the height of the bathroom vanity is only 31 inches if you are talking about the comfortable height. If it's the standard height, then the cabinet is only 27 inches.
Floating vanities can make the space in your bathroom bigger, but you have to remember that it can reduce your storage space. Although the bottom part can still be used, the space of the cabinet is reduced.
What is the Best Bathroom Vanity Height for You?
You should always focus on the people who will use the bathroom. Do you have kids in your house? Is the bathroom going to be accessible for everyone? It is a common bathroom in your house? If it's a common bathroom, you should stick with a standard height.

If the bathroom is for your bedroom, you should go with a comfortable height. It will only be used by you and your partner so getting a height the same as the kitchen countertop would be more ideal.

Get a customized height for your vanity. If you and your partner are both small or too big, you should go with a customized height. This would be more comfortable for you and your partner. If you have kids in your house, you can get a lower vanity for their own bathroom. You can always renovate their room when they grow up so it's not a bad idea.

It's better to check if you need more storage or not. More storage means that you will have to get a higher vanity for your bathroom.

Aesthetics is good, but you should always prioritize comfort. Your bathroom fixtures won't be there as aesthetics. They are primarily installed for their functions. Unless you don't plan to use the bathroom, you should always pay attention to comfort.
You can also check our article on the 5 Modern Bathroom Vanities That Overflow with Style.
Conclusion
The standard height of bathroom vanity can be used in your common bathroom if you want. It's understandable since you are also expecting guests, but when it comes to your personal bathroom, make sure that you choose comfort. Always design your bathroom vanity with comfort in mind. It means that the height would depend on the height of the people who are going to use it.
If you are looking for amazing bathroom fixtures or you want to install a high-quality and modern vanity, we have everything you're looking for.