How Tall Should a Bathroom Vanity Be?
As you begin designing your bathroom remodel, you'll have to factor functionality into your plans. Style is one thing; However, creating a functional space is essential. To do this, there are a lot of decisions you'll have to make. One primary factor to consider is the height of your vanity. For some, the standard height of bathroom vanity may not align with your needs. We will discuss some things to keep in mind when determining this. 
This guide to bathroom vanity heights will help you optimize the comfort of your bathroom. 
Guide to Vanity Heights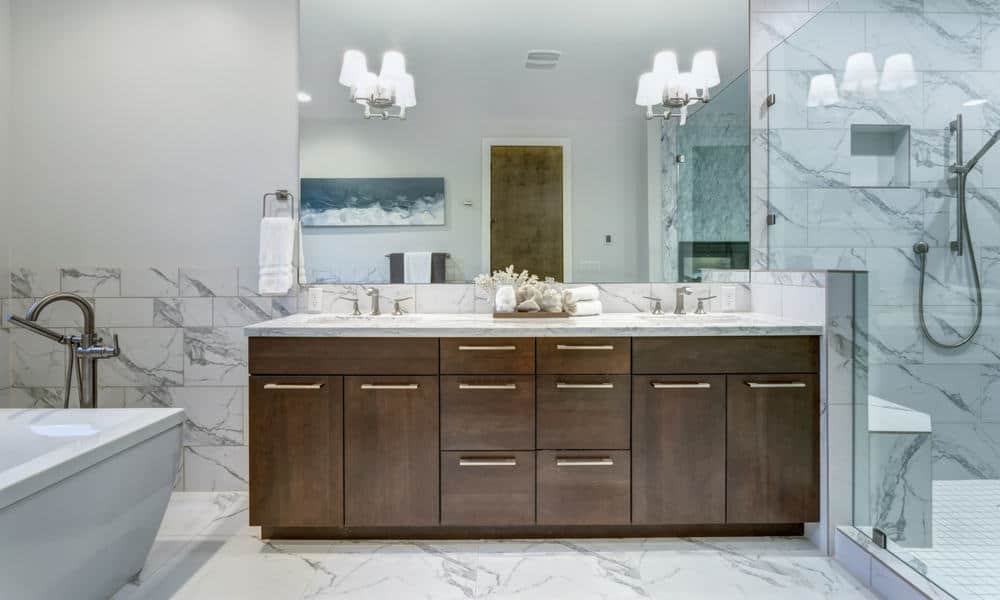 A vanity isn't one-size-fits-all. In fact, there are many factors that will contribute to the perfect height for you. We'll discuss what to consider, some different options, and how different styles play into your sink height. This guide will assist in your bathroom remodel planning. 
Factors to Consider
There are many factors to consider when planning your vanity height. It's important to look at the full picture. Some essential things to keep in mind include: 
Your comfort is of the utmost importance! Bathroom sinks are used to wash your hands, cleanse your face, and brush your teeth. Because of this, you want to limit the strain on your body. For example, if you're 6 feet tall, bending over to wash your face can be uncomfortable. Your needs will be different than somebody who is 5 feet tall. 
You want your vanity to complement your space. This can be easier said than done! A vanity is one of the main factors in your bathroom. It can quickly look disproportionate if not done correctly. To match your existing space, measure where the vanity should go. The room can quickly look too cluttered if the vanity is too large. Furthermore, a vanity that's too small will look silly. 
High-traffic areas have to be taken into consideration. Furthermore, the way that the bathroom door opens should be recognized. Your cupboards and drawers should be functional while not complicating the layout. Ideally, you'll be able to move freely around the space. 
For homes that are prebuilt, the existing layout plays a huge role in your vanity. Because you have to hook up to plumbing, you're limited on where to put the vanity. Moving plumbing around is timely, costly, and a hassle. Because of this, we recommend putting the new vanity where the old one is. This will save you on plumbing costs and complications. 
Knowing what you require for storage is essential. Depending on which bathroom you're remodeling, your storage requirements may change. For example, most families need more bathroom storage in their master ensuite. Furthermore, most homeowners can get away with a pedestal sink without storage in their powder room. Storage is required to keep skincare products, makeup, cleaning supplies, and bathing products out of eyesight. If you need a lot of storage, this may change the height or style of your vanity. 
To minimize cost, consider the features that currently exist in the space. For example, you'll want to avoid changing mirrors, light switches, outlets, and plumbing. To alter these, you're looking at more costly renovations. Choose a vanity that works with the current features in the bathroom. 
Consider the Width 
To find the perfect height, you must acknowledge the width. Width can vary depending on whether you want a single or double sink. On average, vanities range between 24 and 82 inches. However, to break it down further, consider the following: 
Single vanity.

Single vanities are often available between 30 and 48 inches. This excludes pedestals, which are often much leaner in width. If you have a smaller space, a single vanity is an excellent option. Furthermore, guest bathrooms don't usually need the luxury of two sinks. Opting for a single vanity is a great way to save money.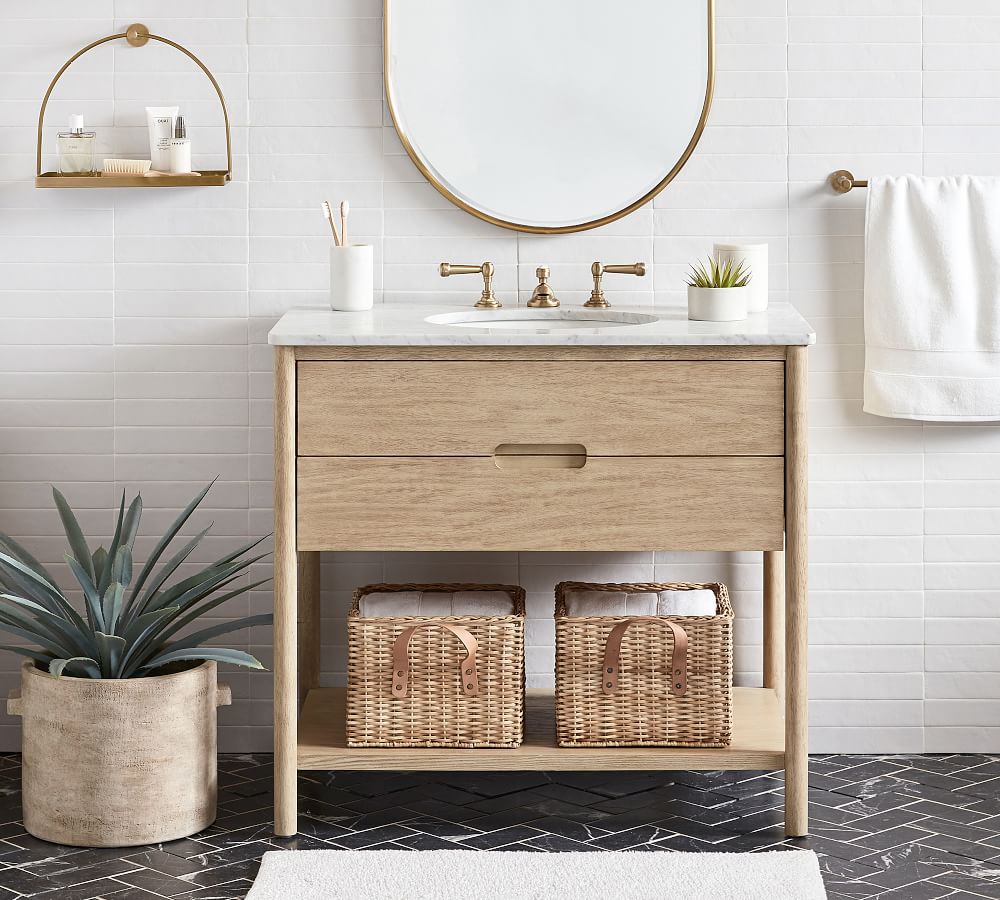 Double vanity.

Do you want to experience luxury? Purchase a double vanity! Before purchasing, you'll want to ensure you have the space for it. Double vanities are usually manufactured between 60 and 72 inches. They are most convenient in master ensuites. This way, each partner has their own sink. Double vanities are also great in jack-and-jill bathrooms.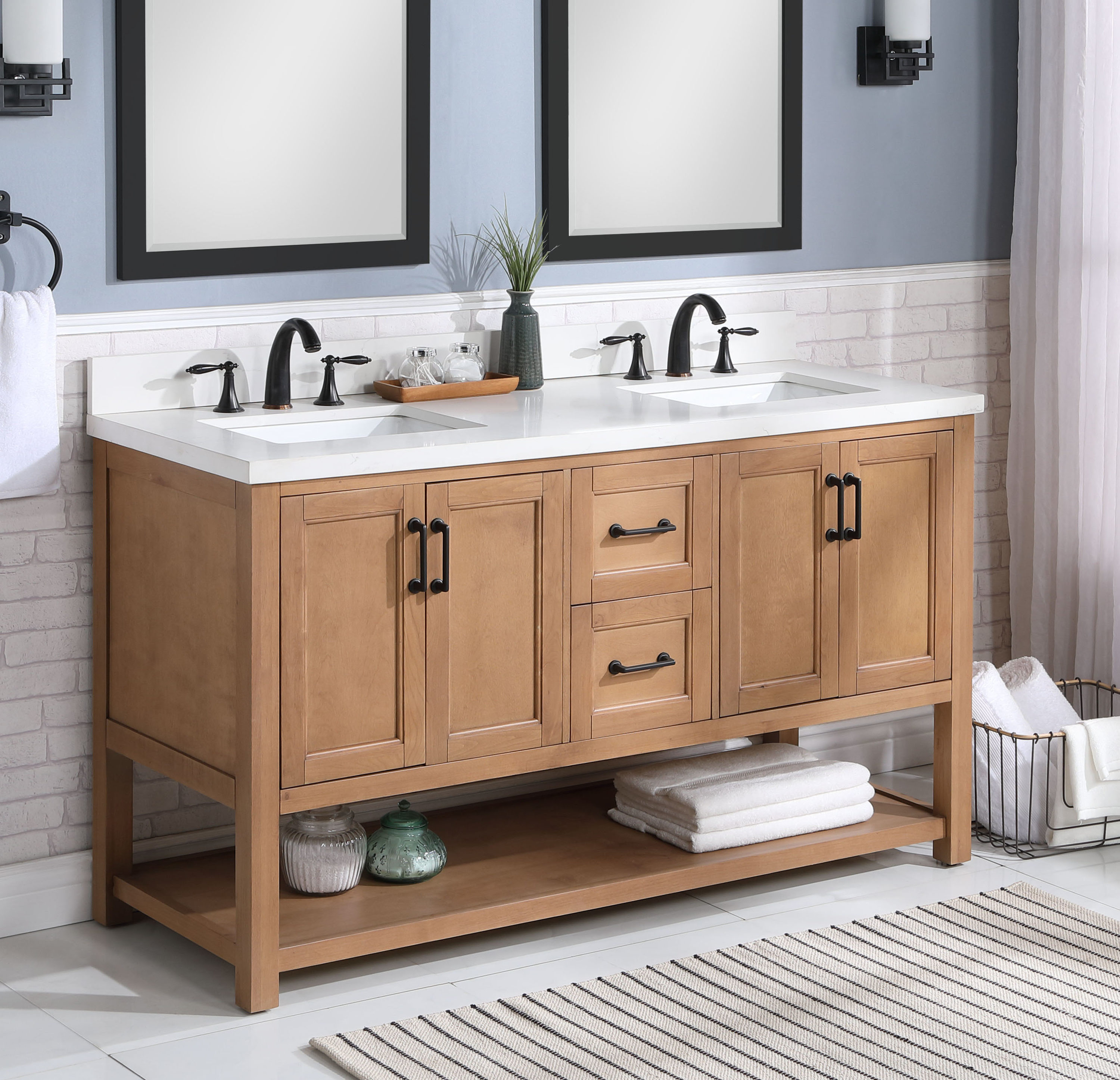 Difference in Style
If you're an avid bathroom sink lover, you'll know there are different styles to choose from. This includes a pedestal, freestanding, floating, vessel, and under-mounted. Pedestal, under-mounted, and freestanding sinks are quite straightforward. However, if you're purchasing a vessel sink or floating vanity, there are some things to consider: 
Vessel sinks.

A vessel sink sits on top of your countertop. These look chic and elegant. However, you'll want to consider the height of the sink alongside the height of the vanity. For example, if the sink is 5 inches, that will add five inches to the overall vanity height. 
Floating vanity.

A floating vanity gives homeowners a little more flexibility for height. You can determine the best height for you personally. Other sinks are rigid and come in strict measurements. With a floating vanity, if you're taller, you can install it higher up.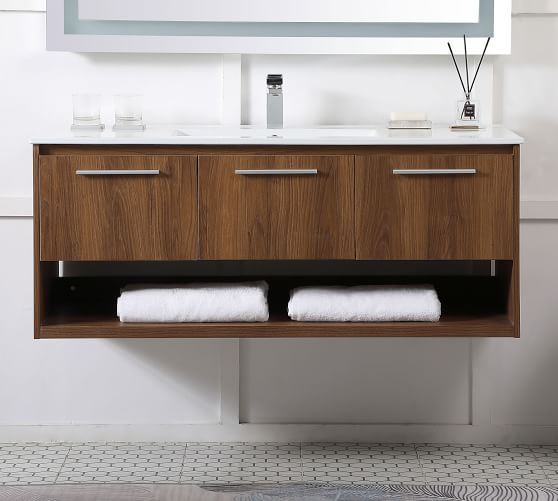 The Perfect Height
Now to answer the age-old question: What height should your bathroom vanity be? There are two heights that are often purchased. These are standard height and comfort height:
Standard height.

Standard height vanities fall between 30 to 32 inches. This is the most common height for vanities. If you are of average height, this is the best option for you. Furthermore, it accommodates children within the home. 
Comfort height.

Are you tall? Consider comfort height! These vanities are often around 36 inches tall. This makes everything more comfortable for you if you're vertically inclined. 

You can also check our article on the 5 Modern Bathroom Vanities That Overflow with Style.
Conclusion
If you're in the midst of your bathroom renovation, we hope this guide helps. It's important to strategically plan the height of your bathroom vanity. The standard height of a bathroom vanity isn't necessarily the most comfortable anymore. Make sure to prioritize your needs and find the perfect vanity for you! By following these tips, you'll hopefully have some insight into making your bathroom functional.