Choose the Best Bathroom Vanity for Your Home
A bathroom vanity has evolved to become so much more than just something to cover the pipes and store your spare towels. With a whole host of new materials and design options - traditional, modern, minimalist, French provincial (to name but a few) - it can now form the very centerpiece of the bathroom itself.
But - as anyone who has Netflix knows - too much choice is not always a good thing! Sifting through the information online can be the recipe for a sore head and a few hours from your life you'll never get back. Well, put the paracetamol away: this article will answer all your questions on exactly what a bathroom vanity is and help you decide on the best choice for you and your needs.
What are bathroom vanities?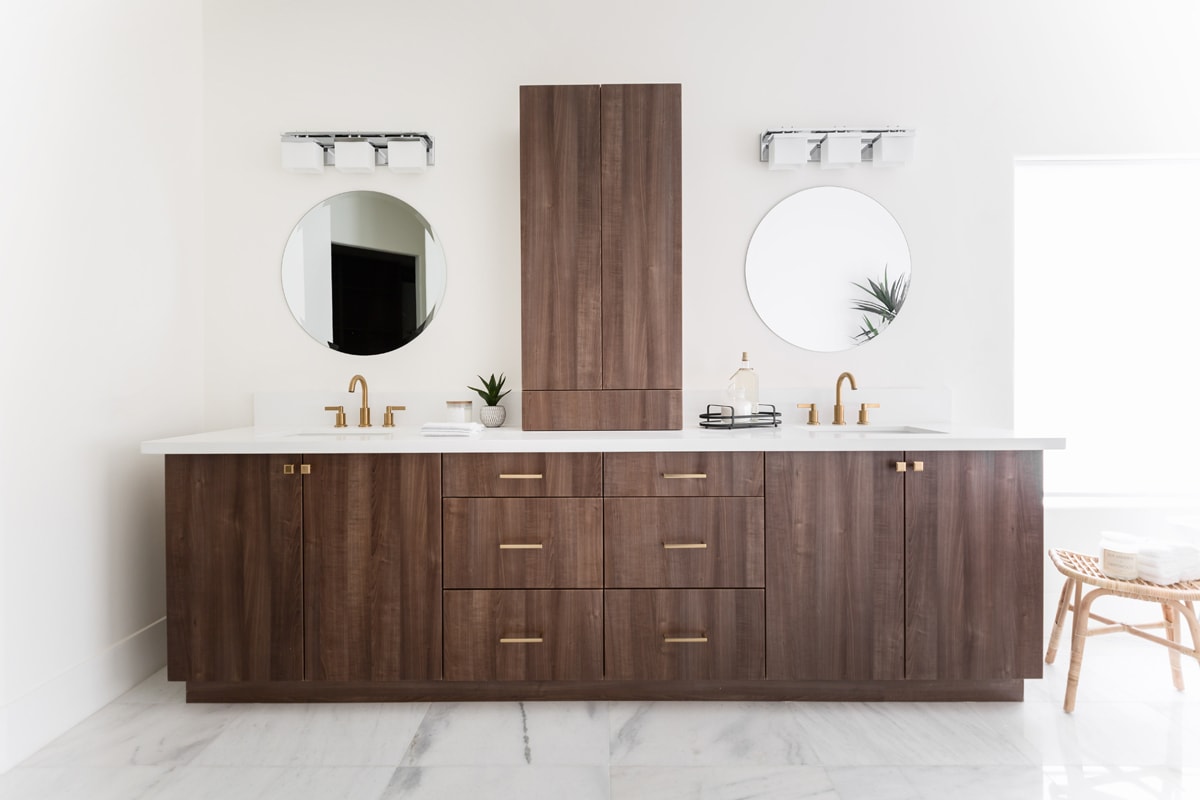 The vanity began in the bedroom but its popularity rose as storage space became ever more precious in the modern homes. Today it is a mainstay of modern domestic bathroom décor.
They are, essentially, bathroom cabinets sitting beneath the base of the sink, with a selection of shelves and/or drawers, depending on the size. What started off a practical solution - to storage issues, as well as covering unsightly pipework - soon became another way to stamp your personality and taste onto the aesthetics of your home.
Units can be coupled with a basin a variety of ways: recessed into the furniture, semi-recessed, perched on top of the counter or encompassing the whole of the unit itself. They can be just big enough to hold the sink or they can be statement pieces, spanning the length of the bathroom wall.
Different types of bathroom vanities
The bathroom vanity usually includes: a sink, a countertop, storage capacity for toiletries etc., and a mirror. It comes in six basic types:
1. Pedestal
This is the most basic - just the sink and basin. The benefits are, it can fit into any style of home, requires little space and is easy to install. Of course, those benefits do come at the cost of the storage space.                            
2. Free-standing
Another more basic model, the free-standing vanity is square or rectangle, can support two sinks and is a popular option alongside a master bath. They offer decent storage space (depending on the dimensions, of course) and an added benefit in that you'll need less tiles to finish the bathroom floor.  It is versatile with its design choices, wood materials being a favorite of many (as below). 
3. Floating
This one is securely mounted on the bathroom wall, giving the bathroom a more open feel, with available space underneath. In fact, if the storage is not a priority at all then you can just get the countertop. Obviously, a small degree of caution should be taken when it comes to any force applied to the fixture itself. While it is sturdily attached to the wall, it can still fall off or be damaged if enough weight or force is applied! Though as long as you sit on the toilet instead of the sink you should be fine.
4. Vessel
The vessel goes above the counter with a bowl arising from the sink and with it's own tap. The sinks are usually porcelain or metal, often ornately patterned.  Once the preserve of toilets at your fancy restaurants they have grown in popularity domestically too. A beautiful choice if you have the space (and the budget).
5. Under-mounted sink
As the name suggests, this one has the built-in basin below the vanities countertop. Popular for it's stylish looks, it can be one of the trickier ones to install. The nature of it's design can sometimes limit the storage space so whether it's right for you will depend on the one you have in mind and the trade-off you are willing to make between functionality and style.
6. Cabinet
This one bears close resemblance to cabinets more commonly found in your kitchen, with it's pull-out drawers the main storage option.
Chosen your preferred style? That's a good start. Next, you need to choose your material, colors, size and be wary of a few other factors that will determine the right one for your particular needs.
Materials
There are a range of options available for your bathroom vanity. Aesthetics play their part, but it should be their more practical properties that govern your choice. You need a material that can handle the unique moisture and humidity of the bathroom, once not prone to warping or wearing out too soon, and strong enough to handle the fixtures and any other decorations or accessories.
Here are the most popular, as well as their respective pros and cons:
The most durable, more traditional option. You can paint whatever color you'd like and their strength keeps your options wide-open regarding choice of countertop.
A drawback is the fact that it can expand over time as it absorbs moisture. A veneer, sealant or even a vent fan, are steps you can take to minimize the risks in that respect.
Made from several sheets of wood glued together, it doesn't boast the finish of wood but it's sturdy, water-resistant and not at the mercy of changes of temperature or humidity in the same way as wood itself.
These mix wood particles with glue, which are then heated, pressed and covered with a veneered surface to stop the board from being damaged by steam or moisture (though there may still be some disintegration over time). It's at the cheaper end of the scale and you will need to bear in mind its strength when you choose the material for your countertop.
The smooth surface gives laminate a look pleasing to the eye and it remains a popular choice. It's potential to be painted in a color of your choosing is another tick in its box. While durability isn't in question, it does come with the risks from scratching.
Medium Density Fiberboard is the particle boards much denser, stronger cousin. Also made from wood particles heated and pressed, the longer heating time and higher temperature are what provide its extra strength. Again though, a good sealant or lacquer are needed to prevent (or at least slow) the effects of humidity and water damage over time.
MDF is often the compromise choice for customers unwilling to pay the price for solid wood throughout.
Its price can put plenty off, but the cool, smooth look and durability has won it plenty of fans too. The propensity to stain does require more up-keep that a few of the alternative though. 
A relative newcomer, but it's sleek, more modern look has steadily grown in popularity.  And it doesn't just boast aesthetic appeal; it's naturally waterproof, impervious to the moisture and humidity, and scratch-resistant.
It's not without its drawbacks though. Smudges and dirt show up easier and that, of course, means extra effort with the upkeep.
Colors
There are plenty of options with colors and they will be dependent on the style and materials you have plumped for with the vanity as well as your own personal preferences.
Traditional/classic vanities typically- but not always- feature a wooden finish, be it light oak, darker distressed patterns or painted MDF.
Modern vanities often lean towards a sleeker aesthetic- for example, juxtaposing a classy black finish with the clean white of the porcelain (or vice versa).
Even more modern design seek to fuse the two or blend an eclectic mix of influences. This is one part of the design where you have most scope to get creative and really make it your own! Either fit in with what's there already or have a complete overhaul to get the look you really want.
Sizes
The size and shape of your bathroom will go a long way to determining your options here, obviously. Smaller ones are more suited to the understated floating or wall-mounted vanities, to make the room itself feel larger, while still leaving the option for storage underneath. Larger ones might be best utilized with a statement piece that makes a genuine feature of your vanity.
Whichever you go for, you need to ensure it fits the dimensions of your bathroom. The general rule when sizing for a bathroom vanity is to allow 36 inches per sink. "Anything less than this and you won't have much space around the bathroom sink and countertop edges for toiletries", explains Sara Chiarilli, an interior designer with Artful Conceptions in Tampa, Florida.
Make sure to estimate its dimensions with the doors and drawers open, then compare this with the measurement of the space you put aside for installing it. Your complete set should fit comfortably into the area, without disrupting the traffic flow or blocking access to mirrors or the electrical switches and outlets.
It's also recommended that you measure your front door, stairways, hallways and any interior doorways that lead to the bathroom itself.
Other considerations
Those were the main factors behind your choice of bathroom vanity, but here are a few other things worth bearing in mind before you make your choice.
What are you using the room for? A powder room has very different needs than a bathroom that's going to have a houseful of kids running through it every day! The more use you expect, the more consideration you should give to the storage you need and the upkeep of the materials.
Plumbing access: Most have a hole to accommodate the plumbing but it may be necessary to add one during installation, if not.
Hardware included: Ensure you read the description before you buy as while some vanity units come with the taps, many do not. On the plus side, it's another opportunity for you to put your mark on the aesthetics.
Storage: Is it for your master bedroom, the kids or just for the guest room? Whatever use you have in mind will come with its own particular storage requirements.
Sinks: Double-sinks have become increasingly popular (giving two people the option to use any the same time), but if you decide to go that direction ensure you have the space to still be comfortable. Five feet along or so is usually ample.
The shape of the vanities are another factor worth considering- where space is at a premium, narrower units, with shallower sinks may be the prudent choice.
Backsplash: Another option for you to consider although far from essential (in fact, left out of many modern models).
Cleaning and maintaining your bathroom vanity
So long as they come from a reputable manufacturer, any of the materials listed above can do a good job. But to protect the materials (and your investment) they all have their own specific maintenance requirements. Like any good relationship, if you want it to last, you need to put in a little effort!
We mentioned the vulnerability of wood and MDF etc. to water damage, and many manufacturers use laminate coatings or special sealants to help prevent it. This has the added bonus of extra strength as well as the protection against the elements.
Your countertop choice is also a factor. Heavier ones like quartz or granite go best with solid wood or plywood, for example.
No matter which materials you choose and which preventative measures you take, you still can't be complacent over the prospect and danger posed by water exposure. The natural climate of the bathroom lends itself to humidity, steam, and splashes. All the will in the world can't totally protect it totally but there are steps you can take to minimize it.
If you have a bathroom fan, make sure it's turned on every time you go for a shower (and for a few minutes after). A valuable help in controlling the humidity levels in the room.
Wipe up any large spills on the bathroom vanities surface. The longer standing water remains on the surface, the more chance it has of affecting the material. And when you are cleaning up remember to dry the surface with a cloth when you're done.
It's also worth checking the area around your vanity for leaks every once in a while. That includes behind the sink itself. Undetected leaks can cause significant damage but the earlier you get on top of them, the less damage they can do.
These aren't major tasks, just 'little and often', but keep on top of them and they'll go a long way to ensuring your bathroom vanity is with you for the long haul.
FAQ's
SHOULD A BATHROOM MIRROR BE THE SAME WIDTH AS A BATHROOM VANITY UNIT?
Generally speaking, they should measure a good few inches less than the unit itself or basin area they will be positioned above - the main reason being you don't want the mirror overbearing the vanity itself.
DOES A BATHROOM VANITY UNIT NEED TO BE ATTACHED TO A WALL?
Although wall-hanging units are probably the most popular design on the market today, as with most decisions on your bathroom vanity, space will dictate your options - in small bathrooms, for example, your hand may be forced.
WHAT IS A STANDARD BATHROOM VANITY UNIT HEIGHT? 
The standard height for tends to be between 760mm and 815mm (30 and 32 inches). Modern designs are trending towards larger models though, closer to 36 inches - more like the height of your kitchen countertops.
HOW MUCH DO BATHROOM VANITY UNITS COST?
Good quality units can cost anywhere between $100 and $2000, dependent upon a whole host of factors. Smaller pieces like the cloakroom vanities usually sitting at the cheaper end of the scale; the larger pieces at the higher end. Other factors such as the design and materials used also play a part.
HOW MUCH TO INSTALL A NEW BATHROOM VANITY?
The average cost of installing a new bathroom vanity is about $500, though it can range from $200 to $1000, depending on the type of vanity and the complexity of the job.
CAN I RESELL MY BATHROOM VANITY?
Of course - but the price you get will depend on the condition it's in and the popularity of the style. Local free ads or online marketplaces like Craigslist and Gumtree do a fair trade with bathroom fixtures and fittings. Your local architectural salvage yard will soon tell you if there's any value in advertising it. If there's not much to be gained - and you don't want to sell it to the yard - then places like Habitat for Humanity will take it off your hands (and that can be your good deed for the day too!)
What are the best bathroom vanities?
There are as many bathroom vanity options as there are bathrooms! And there is no 'best', just what's best for you. Here are our best-sellers from every category to help guide you with your choice.
1. Pedestal
A simple yet stunning modern glass pedestal. It features a gently sloped, glass vessel basin and a lovely tempered glass countertop with a single-hole faucet mount. It also has a unique glass shelf, designed to be hung above the pedestal sink, to follow the outer curve of the basin and provide space for your favorite essentials. The chrome stand with towel bar adds a lovely touch to the design and would blend beautifully into any bathroom.
2. Freestanding
  
The Bristol 18.5 inch single sink vanity combines classic rustic charms with modern features. The cabinet is made from 100% reclaimed wood, which is both durable and environmentally friendly. Each Bristol vanity has its own unique history. The rectangular white porcelain sink and soft closed door brings modern features, while the antique pewter metal hardware provides the perfect finishing touch. 
3. Floating
The Bliss is one of the most elegant modern Bathroom Vanities around. This 60 inch Single Sink model comes with a reinforced Acrylic sink, Marine Veneer Constructed Console (fully Moisture and Waterproof), with high-quality European Hardware, that provides smooth soft-closing operation. It also features two Doors and two fully functional drawers. 
4. Vessel
Classically simple with clean lines and a beautiful vessel sink, this Fresca Lucera Wall Hung Modern Bathroom Cabinet will bring out the best in any bathroom. Measuring 42" in width, this sophisticated cabinet has a well-constructed solid wood frame with two roomy storage compartments for holding bathroom essentials and two spacious drawers with a decorative beveled drawer plate design. The doors and drawers are soft-closing and feature slim brushed metal handles. This modern cabinet has a chic painted Espresso finish. Gracing the top of the cabinet is a striking quartz stone countertop with a white vessel sink. The sink is equipped with an integrated overflow and single-hole vessel faucet mount, ready for the faucet of your choice.
5. Under-mounted
The Dolce Vanity by KubeBath is one of the most elegant modern Bathroom Vanities around. This 60 Inch Double Sink model comes with a durable pure white Quartz Countertop and features two Doors and three Drawers with high-quality European Hardware, that provides smooth soft-closing operation. Top Drawer features a push-open operation. KubeBath Vanities come fully assembled and ready for installation. Countertop and Sink come on separate boxes for secure shipping and need minimal installation.
6. Cabinet
The Fresca Hartford Transitional Bathroom Vanity features an integrated white ceramic belly bowl which creates a beautiful contrast against the rich Black cabinet. With clean vertical lines and a smart design, this vanity has soft close doors that open to reveal under-the-sink storage space. Satin nickel handles and a furniture-style toe kick add the perfect finishing touches. Available in multiple colors, it makes a sophisticated style statement in any home.
Conclusion
The beauty of modern bathroom vanities is the sheer variety you can choose from. Their popularity has driven innovative design, and now you can marry practicality with a sense of style that will elevate any bathroom. Traditional? Modern? Something a little quirkier? The only limits are the edges of your imagination!*
*And ahem your floor-space