The Best Pedestal Sinks for the Bathroom
Pedestal sinks are perfect for half bathrooms and powder rooms. Known for their sleek look, pedestal sinks feature a lean base and a basin or sink. Whereas other sinks have cupboards, bathroom pedestal sinks don't. Though they don't typically have storage, they are chic and match any design. Regardless if you opt for an industrial-style, modern, or other style, pedestal sinks will fit perfectly.
We are going to discuss some of our favorite pedestal sinks on the market. If you are looking for a sink for your bathroom, we have you covered. 
Find Your Perfect Pedestal 
Before discussing our top picks, we want to address why you should choose a pedestal sink. If you're in between a vanity or pedestal sink, there are some deciding factors. 
Pros of Pedestal Sinks
Some of the main benefits of opting for a pedestal sink include:
Save space. If your bathroom is relatively small, a pedestal sink is a great choice. Pedestal sinks are often more compact than a full vanity. Because of this, they optimize your space and make your powder room seem larger. 

Durable. Pedestal sinks are impressively durable. They are often made out of porcelain or glass. Not too much hardware is required for these sinks. Because of that, you don't have to worry about broken pieces. 

Easy to install. Instead of messing with screws, bolts, and hinges, pedestal sinks are easy to install. They often come with only a few pieces. Furthermore, you won't have to cut out pieces of your tile, floor, or wall to secure the pedestal sink. Simply follow the instructions and your pedestal will be good to go. 

Easy to clean. Say goodbye to deep crevices and corners. Pedestal sinks are easy to clean. Simply take some cleaning solution and a cloth to the base and sink and voila! 

Inexpensive. Compared to an entire vanity setup, pedestal sinks are less expensive. If you're on a budget, this is a great way to go. 
Cons of Pedestal Sinks
It's not wise to look at the pros without the cons. Luckily, there aren't many. One of the primary cons to a pedestal sink is: 
No storage.

Pedestal sinks lack storage. In high-traffic bathrooms, such as a master ensuite, this could be a problem. People often store medications, beauty products, and cleaning supplies in their bathrooms. Because of this, it's often better to have a pedestal sink in a powder room. 
The Best Pedestal Sinks 
Now that we've discussed the pros and cons, we can share our favorite bathroom pedestal sinks on the market. 
1. Barclay Series 25.75 White Vitreous China Rectangular Pedestal Bathroom Sink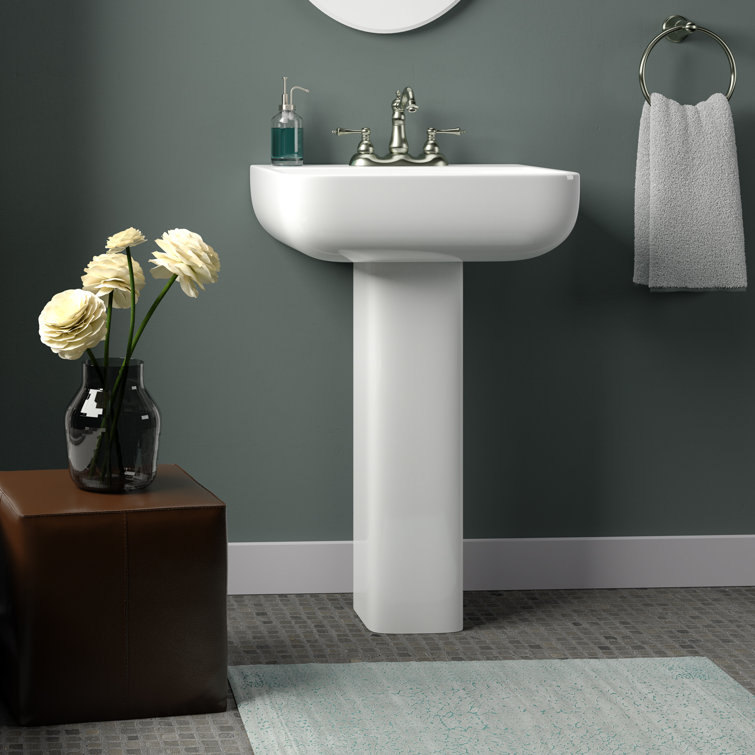 This pedestal sink has a chic, modern design that will provide the "wow factor" you're looking for. At such a cost-effective price, this is a perfect option for many bathrooms. Because it doesn't include the faucet, you can choose one that you love. 
This sink sits at 20.5" L x 16.75" W x 32" H. It is compact and will beautifully complement smaller bathrooms. 
If you have some extra space to spare, this unique pedestal by Fresca is a great option. It is simple and modern and will make a statement in any bathroom. The sink is set beautifully on a chrome stand. Included is a convenient bar to hang hand towels.
The countertop of the Attrazione is an incredible, green glass. It is semicircular and will fit comfortably against your wall. The vessel sink sits neatly on top with a matching chrome faucet. 
3. Eridanus White Ceramic U-Shaped Pedestal Bathroom Sink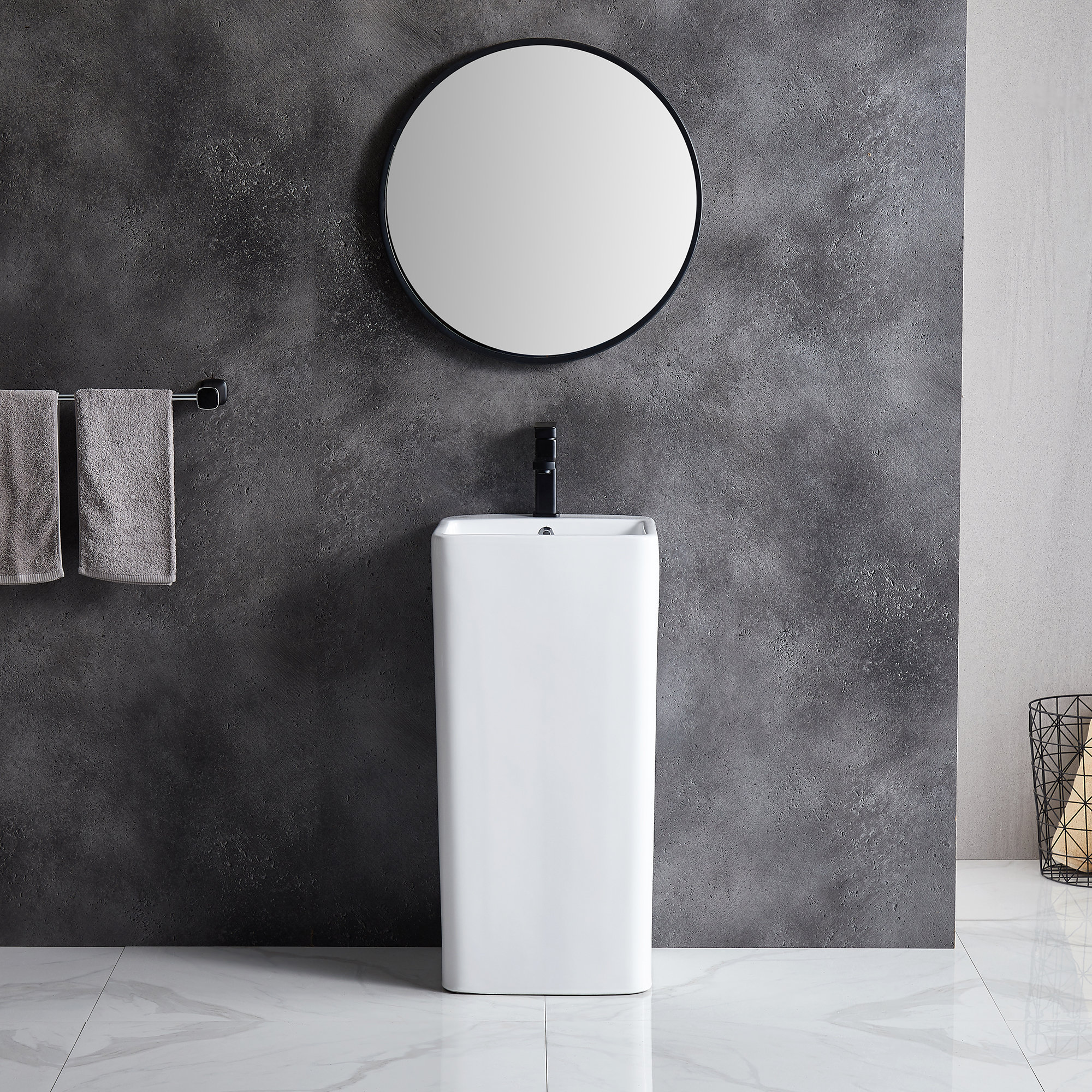 Make a statement with this bulky stunner from Eridanus. Priced at over $700, this sink is more of an investment than some of our other options. However, it makes a strong statement. Made from stone porcelain, this white pedestal stands at almost 33". 
Eridanus ensured this sink was stain and scratch-resistant. It is also fire-retardant. Because of that, it will last for ages. Choose a faucet that fits your style and easily install this standout sink. 
4. Kohler Archer Vitreous China Pedestal Bathroom Sink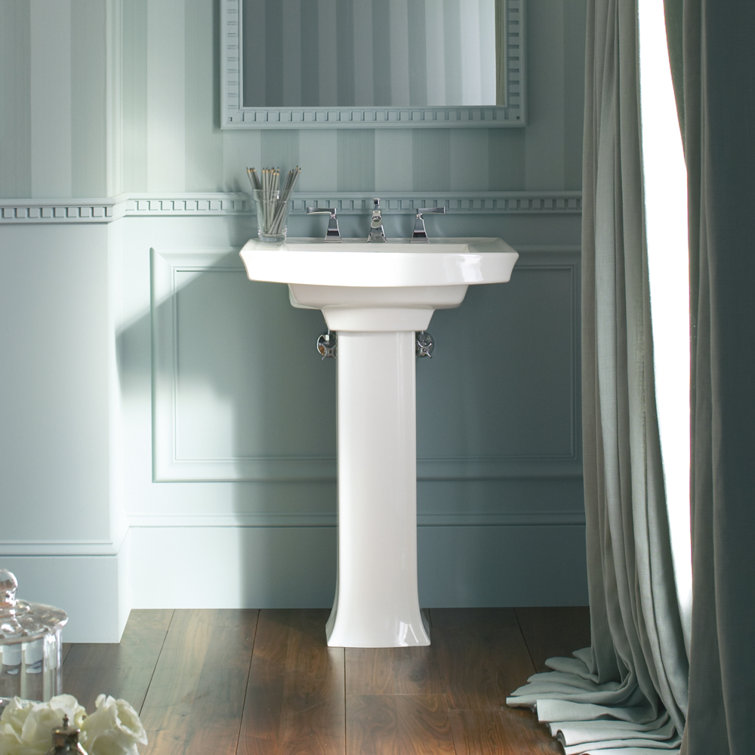 Get a little edgy with this black sink by Kohler. The archer features intricate details and beveled edges. It beautifully complements most bathrooms. When purchased in black, you can transform your bathroom into a moody space. If you want a statement bathroom, this is the way to do it. 
Made of vitreous china, this sink includes everything you need except the faucet. There's an overflow hole to ensure there are no accidents.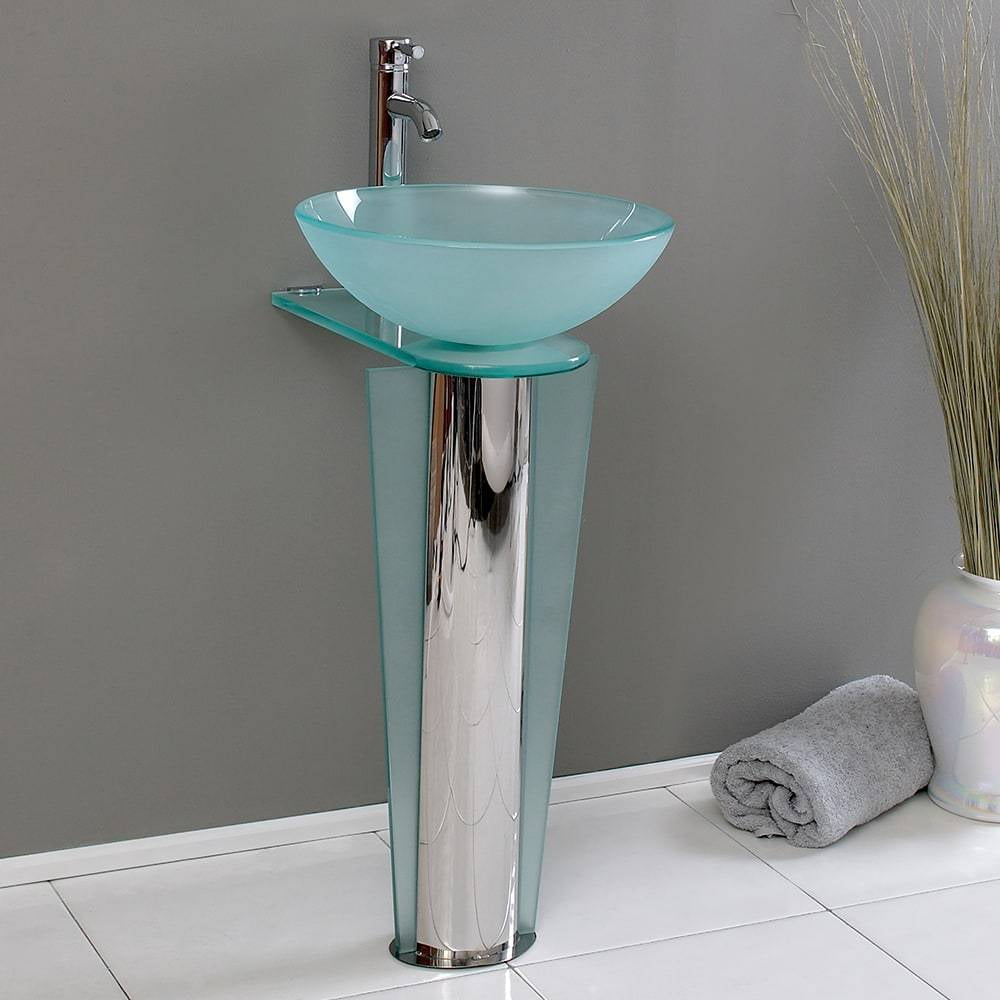 We are loving the frosted glass in this pedestal by Fresca. The countertop is made from tempered glass with a beautiful blue-green hue. It features a matching pedestal sink that sits on a chrome base. At only 16.5" in width, this pedestal will fit perfectly in small spaces. 
6. Swiss Madison Monaco Circular Basin Pedestal Sink 
Introducing another statement sink with this beauty by Swiss Madison. Made in matte black, this sink will elevate your bathroom. It is made of durable ceramic to stand the test of time. Furthermore, it's scratch-resistant, so you can feel good about the beautiful black finish.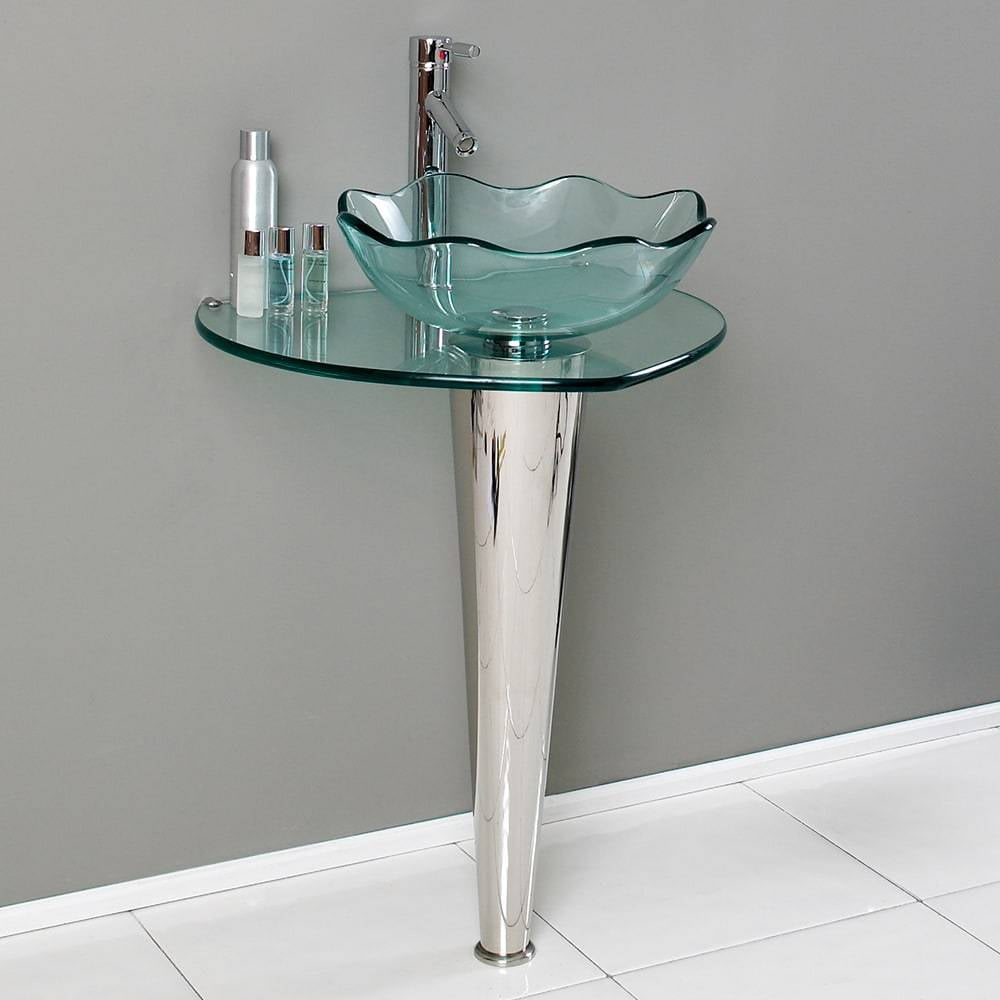 The scalloped edges on this sink are showstopping! This affordable sink features a tapered base that secures a tempered glass countertop and vessel sink. The clean lines and small details make this sink both feminine and modern. Made by high-quality manufacturers, Fresca, the Netto is easy to install, affordable, and will last years in your powder room. 
You can also check our articles on the Types of Kitchen Sinks.
Conclusion
Are you ready to find the pedestal sink that complements your bathroom? Look no further! Our list of beautiful pedestal sinks offers something for everyone. Regardless of the style, you're looking for or the size of your space, we have you covered. Though bathroom pedestal sinks often have that classic white look, there are options for something edgier. We love the idea of trying something new and adding a statement piece. 
After all, your sink shouldn't be boring! Get out of your box and shop for new colors, shapes, and styles.