Bathroom Vanity Top Buying Guide
Are you looking to build a bathroom vanity? Once you decide on the materials used for the base, it's time to consider the bathroom countertops. This can be tricky. The countertop has the most effect on the design. Choosing a top that accents your bathroom is important. Furthermore, it must be functional. For example, your countertop must withstand water. 
There are nine common vanity tops to consider. We'll outline the different pros and cons of each countertop. Choose one within the budget that works well for you. 
Bathroom Countertop Materials 
We're diving into nine of the most common countertops. Each comes in different colors, sizes, and finishes. Keep reading to find the best option for you! 
Granite is popular, and for a good reason. It's a favorite among modern-day homeowners. Granite is a stone that occurs naturally in nature. Each slab of granite is unique. You can purchase it in different colors, styles, and patterns. 
Granite is resilient and resists heat and humidity. However, it can be an expensive option, since it's found in nature. Furthermore, you'll want to seal your granite occasionally. This will ensure that the porous material doesn't soak up water and oil. 
Quartz is similar to granite, but it's engineered. It still has the same beautiful finish, though. A quartz countertop won't require occasional stealing. Furthermore, it won't stain. Because of this, it's more durable and lower maintenance than traditional granite. 
There is a slight saving by opting for quartz over granite. However, the price point is still similar. 
Concrete has become popular in the last several years. It looks modern and has been a favorite amongst Hollywood. Concrete can be customized to the color, shape, and size that you want. The ability to tailor this product makes it great for bathrooms. 
Expect to seal and wax your concrete frequently. It isn't a low maintenance material. 
Marble is another natural stone that people love! It is extremely expensive. You can expect to pay more with marble than quartz or granite. To keep it in pristine shape, commit to regular sealings. Marble can stain quite easily. 
If you're ready for the commitment and the price tag of marble, it's a good option. It'll bring a level of opulence and luxury to your bathroom. 
Solid surface is similar to quartz. In fact, they are a combination of quartz, resin, and crushed stone. They look incredible but don't cost as much as other stone options. 
Over the lifetime of your solid surface countertop, you won't need to seal it. This countertop option is bacteria, stain, and water-resistant. However, the one downfall is that they can be damaged by heat. Straightening irons and other hot tools should be used with caution.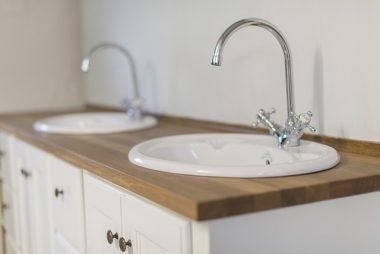 If you're looking for a cost-effective option, opt for laminate. Laminate is practical and durable. You can purchase laminate countertops in just about any color, pattern, and size. Since first being introduced, laminate has improved significantly. It looks better than ever! 
Unfortunately, repairs can't be done on laminate. When the lifespan of your countertop expires, it'll be time for a new one. 
Butcher block looks like wood and it is a unique choice to go for. Many homes incorporate it in the kitchen, but the bathroom is also a great place for it. It is composed of hardwood glued together. Unfortunately, it stains easily. Over time, moisture and water can cause damage. 
Because of this, talk to an expert about sealant recommendations. Do this regularly to keep the butcher block in good shape.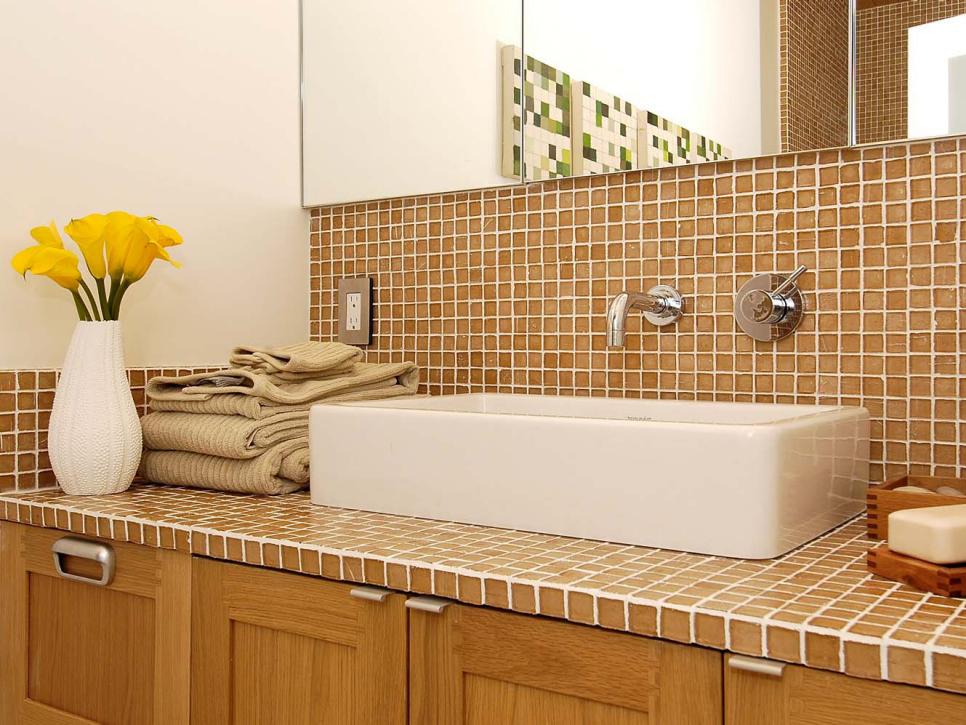 Tile was used more frequently back in the 70s and 80s, but it's still a viable option now. You can use many different types of tiles. Most commonly, homeowners opt for ceramic tiles. 
Mold and mildew can grow on the grout. However, the tile itself is stain, heat, and water-resistant. 
Opt for a material that will match your sinks! Porcelain can be purchased in different colors and patterns. These countertops are low maintenance and difficult to stain, scratch, or crack. 
Porcelain is another expensive option. However, it'll pay off over time. 
Things to Consider
When deciding on a vanity top, there are a few more things to consider than just the material. For example:
Size.

The size of the countertop will determine the price. If you have a large countertop, you may opt for a more cost-effective option. To determine the size that you'll need, you'll want to take the length and multiply it by the depth. This will help you when ordering materials. It's important that you carefully measure and triple-check. Once the material is ordered, you'll want it to fit on perfectly. 
Edges.

There are more things to think about! Choosing an edge can be difficult. The edge may make some materials more susceptible to chipping or cracking. Furthermore, edges will add additional style to the countertop. Consider the material when choosing an edge. For glass and quartz, discuss the edge with a professional.
Color.

Some materials only come in specific colors. For example, if you want a blue countertop, you'll be limited with what material options you have. Determine the style and color you want to go with. From there, look at options that are available in that color. 
Budget.

With all home renovations, it's important to consider the budget. Over-spending can cause unneeded stress. Countertops can vary greatly in price. Because of this, set a clear budget. This will help limit your material options early on.
You can also check our article on the 5 Modern Bathroom Vanities That Overflow with Style.
Conclusion
If you're looking for a new bathroom countertop, there are many things to consider! Factors such as edges, color, budget, and size will come into play. Once you determine these answers, you're ready to shop for material. 
Countertop material options are vast. Choose from durable options, natural stone, and unique options. The countertop you choose will add an element of design to your bathroom. Before ordering, talk to professionals and carefully measure. This will help minimize the headache of something not fitting or working in your space.