Bathroom Remodel Ideas - 13 Looks and Expert Tips to Save on Your Renovation
As one of the most frequented rooms in the house, the bathroom is not somewhere you want to leave as an after-thought when it comes to its decoration. In fact, a bathroom remodel or renovation can give a shot in the arm to the look of your whole living space. The drawback? It rarely comes cheap.
According to HomeAdvisor, the average bathroom remodels (as of April 2020) costs just over $10,000. But if those kinds of figures have a line of cold sweat dripping down your back, fear not, there ARE ways - with a bit of ingenuity, effort, and planning - that you can really take a chunk out of those numbers. Even to below the thousand. Yes, really! Here are my top 13 handy tips on how…
How to save on your bathroom renovation?
1. Plan ahead!!!
I don't like to shout, but this one is important. 
Plan. Ahead.
The very costliest you can do during any renovation is flip-flop your plans halfway through the job. The project gets delayed while you return materials. Restock with new ones. Maybe even pay your contractors to redo the work they've already done! That one sticks in the throat, believe me.
Of course, some changes are unavoidable, say if you discover a leak. But more often than not, careful consideration and planning about what you want from your new bathroom - before you put a penny down for so much a tin of paint - will prove time well spent in the grander scheme of things.
What do you like about it now? What would you like to fix? What do you need it to have? What would you like it to have?
As well as the layout, consider the visual elements - tiling, plumbing fixtures, and light fixtures. This way, when you are ready to take the plunge, you know what you want, now just to get it at the best price. Buying in a hurry usually means paying a premium or settling for second best - "buy in haste, repent in leisure."
2. Work with what you got
One of the best ways to save on a remodel? Don't remodel at all. 
People often mix the terms 'remodeling' and 'renovating' up, like they're one and the same, but they're not.
Remodeling entails a comprehensive change to the room's size, shape, and/or structure - from the wiring to the room's very foundations.
Renovation is actually just a 'freshen up' of the look while leaving the fundamentals untouched.
No prizes for guessing which one is pricier.
Ask yourself, do you really have to change the structure or the fundamentals? Or is it more of a freshening you really want?
3. Keep the bathroom's load-bearing walls in place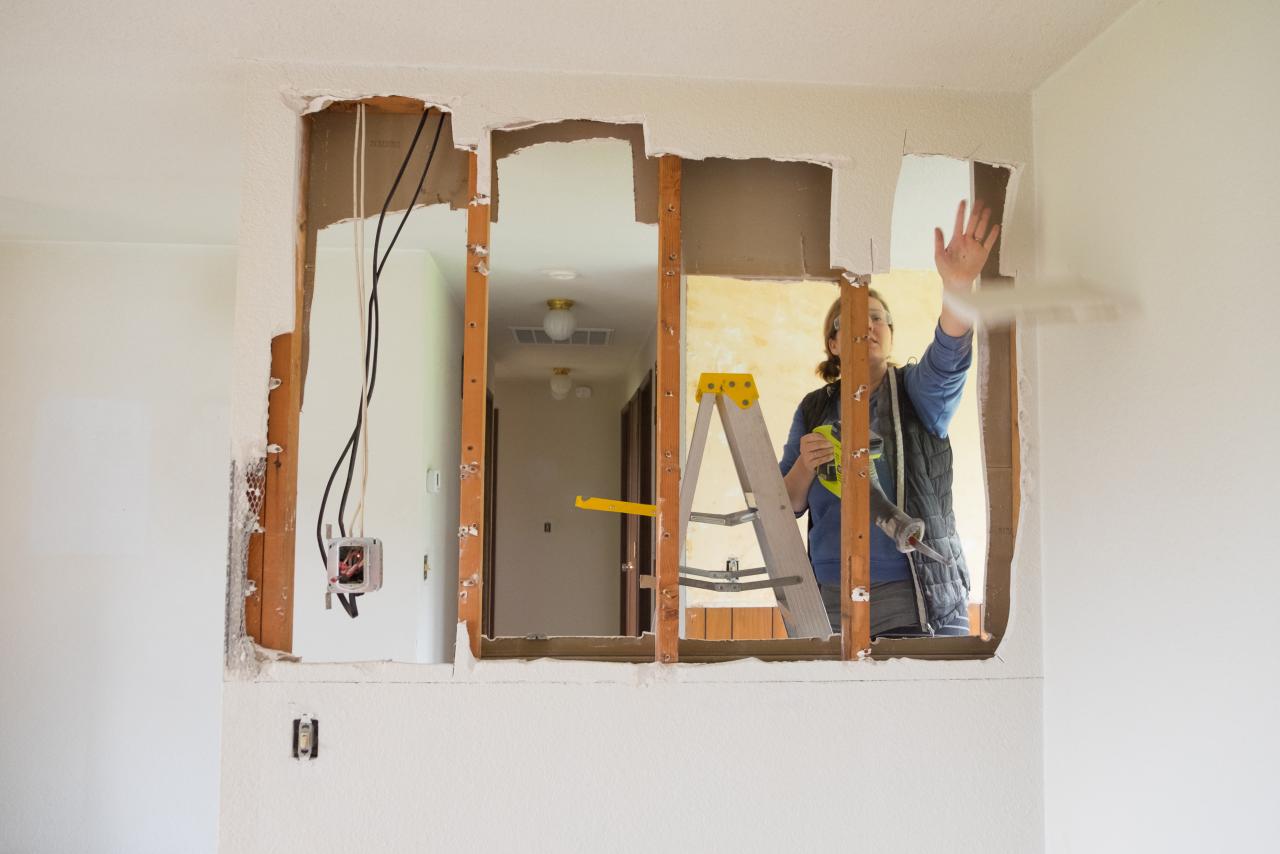 And if you DO want to do something closer to a remodel, then if at all possible, avoid any changes to load-bearing walls as this kind of structural change adds a hefty chunk to any bathroom remodeling bill. 
Non-load-bearing, on the other hand, can be removed or shifted at a fraction of the cost and effort.
4. Watch out for those hidden costs
With the new bathroom fittings or the big plumbing job, you can see those costs coming and brace yourself for them. But there are a whole host of thoroughly unpleasant surprises that often creep up on your project unaware. You might need a studwork built for a new bath or replastering you didn't expect or budget for.
However, most of these can be factored in with a comprehensive pre-planning before you get started, so make sure you don't skimp with your prep work!
5. Save the drywall, if possible
The bathroom's moisture levels mean this usually needs to be replaced entirely. That, you can prepare for. Any smidgeon of damp and you need to get it replaced for a start. 
And the more you open up, the more you need to close later. Each one needing more drywall, more paint, and more labor.
However, if there is a decent section of your drywall in good shape, then don't change it for the sake of it. It's doubtful you'll be that lucky behind the shower or the bathtub, but you could be lucky elsewhere in the room.
6. Do some of the work yourself
God bless YouTube! With roughly half the cost of the remodeling usually coming from labor, it can be a real chance for you to make some savings. Obviously, you should leave the skilled work to the professionals. And you will need to do a little research to pick up the skills (most likely). But jobs like basic demolition, painting, and tiling are ones that you can often do yourself if you put your mind to them.
7. Don't tinker with the electrical circuits
If your wiring is still safe and fit-for-purpose, then keep it in place. 
It's often changed if the existing wiring doesn't meet the current electrical code standards, but a quick check with your local permitting office will let you know if you can grandfather your system in.
8. Reuse your existing pieces 
When it comes to saving on material, there are plenty of options, thankfully.
One of the most effective is just to refurbish what you already have. With a little bit of initiative and elbow grease, you can give it a whole new lease of life.
Refinish your bathtubs. 

A good clean and grout can revitalize your shower area

Same for your floors

Just replacing the faucets can work wonders for the sink area

Why replace your whole toilet when you can just change the seat and the lid?

A classy paint or refinishing job on your cabinets can save you hundreds

A lick of paint can transform the look of your walls and, indeed, the room itself. 

Tiles you don't like? How about installing new wood panels or beadboard wainscotting over them?
With a bit of imagination, you can save a fortune with these little tricks.
9. Get creative with the paintbrush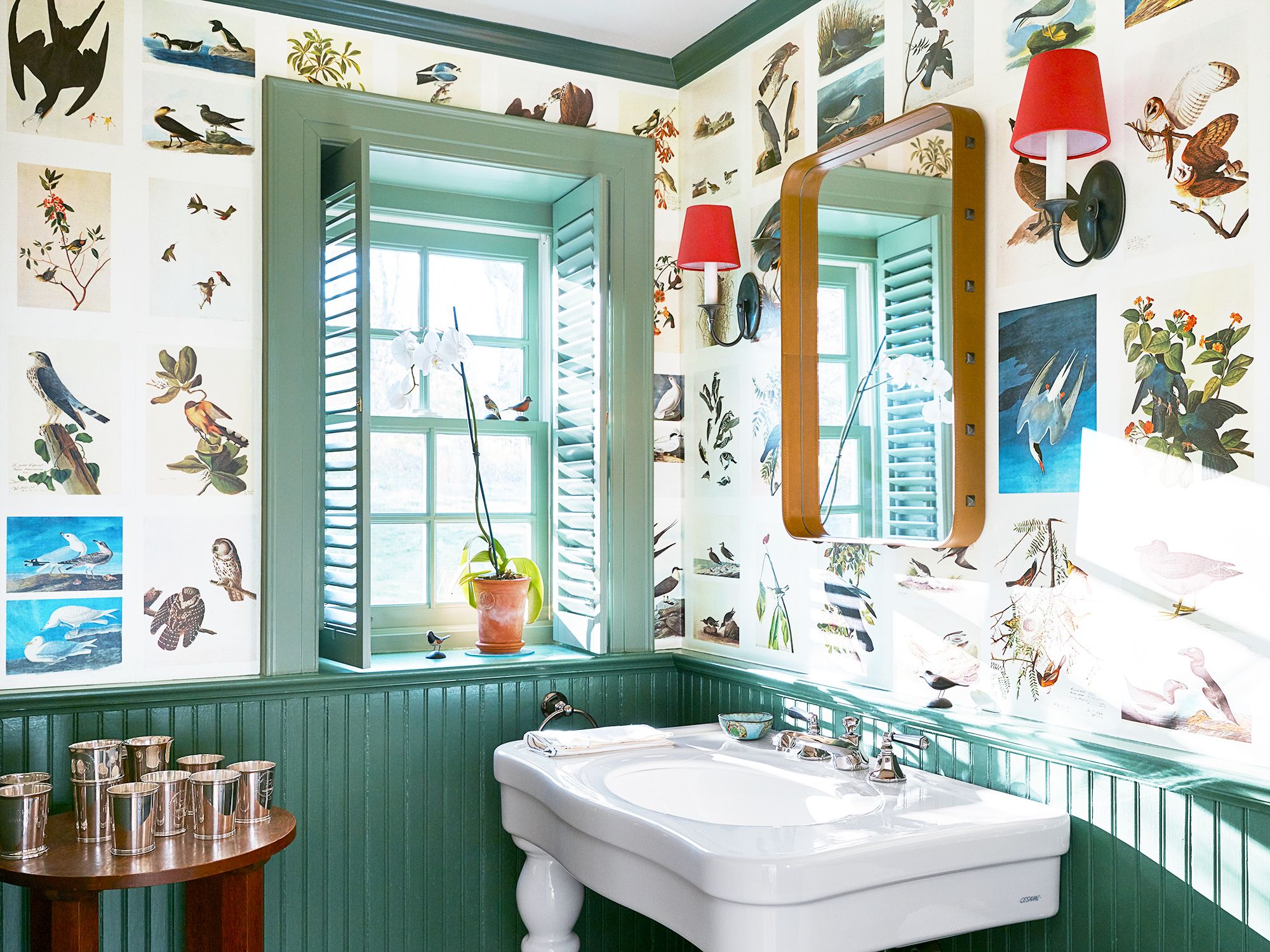 A simple color change can make a difference you would scarcely believe.
Two different colors can give the room a beautiful, textured feel. It can give all the look of wallpaper, without all the time and money. Same for tiling; paint and stencils on wood can create the look at a fraction of the cost.
10. Use cheaper materials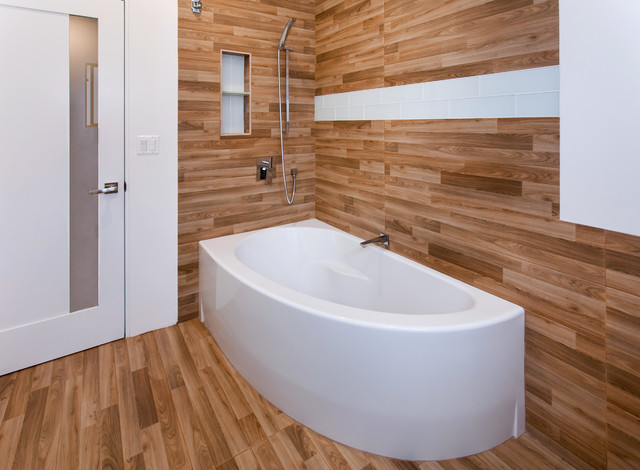 Paint is versatile, but it does have its limits. However, there are a host of other ways you can substitute one pricier material for another. You might not be able to save on the authentic high-impact pieces, but all the others will usually have much more cost-effective options available if you shop around for them.
Walls:

tile costs a fair bit more than paint or paneling, so limit your use of it to areas that will be getting wet regularly - the obvious ones, like the shower and the bath.
For the rest, painted drywall is the cheapest alternative. Wood panels have the potential to create an exciting look too.
Flooring: you may have your heart set on stone, but ceramic is a cheaper option that can give the room a similar feel. 
Shower enclosures: if they can't be refurbished, the cheapest way to replace them is with large acrylic panels or even fiberglass. Not only can you get these for under a hundred bucks, but they are pretty easy to install too.
If you are insistent about the tile look, then

porcelain or ceramic tile is cheaper than stone or glass. Choosing larger tiles - which require less grouting and labor costs - can be a decent saver as well.
Designer tiles often have cheaper look-a-likes too. Only the true connoisseur will ever know your secret! Or splurge on the fancy ones as an accent, and fill in the rest with a more affordable tile. This has the added benefit of drawing added attention to the pricier pieces.
Shower curtains are not only cheaper than a glass door but easier to install, clean, and change at a later date if the mood strikes.
Just a plank of wood and some brackets will give you some bargain wall-mounted shelving. You can put them on an empty wall, even behind the toilet, so you are really maximizing the space in the room.
Laminate and thermofoil cabinets are cheaper and super easy to clean. However, they do come with the potential to warp over time, so they can be a false economy. Still, a cost-saving today if you need it!
To save money on the wood for cabinets, go for alder, oak, maple, or pine over mahogany, walnut, or cherry. Prefer darker wood? Buy cheaper bits and stain them.
11. Do be afraid to go second-hand
Go back over your wish list then consider:
eBay: you can find pretty much anything on eBay, and bathroom supplies are no exception. But remember to factor in shipping costs, which can be substantial for these heavier items.
Nextdoor is a less-known social media group with the aim of helping connect neighbors. Goods can be bought and sold in the Finds section. Not a huge market here, but well worth a try, especially if you find that piece you want just around the corner!
Reuse centers in your area can have everything you need too, and often at quite ridiculously low prices.
Your local Craigslist can be a great place to nab a bargain. From countertops, cabinets, light fixtures, and even plumbing fixtures, you'd be surprised what you can find there.
Freecycle. If you haven't heard of it, this is a forum where you people give away items to people in their local area for, yep, nothing. My kind of price! Again, you'll need to hit it lucky with timing, but it's well worth a quick check.
Flea markets can be a treasure trove of antique pieces if that's the aesthetic you are going for. Do bear in mind they don't do delivery, so you'll not be able to get anything you can't put in the back of the car/trailer.
Antique stores are another option for the more vintage furniture and materials, but these are usually at the pricier end, especially compared to the other options on this list.
Yard sales are another hit-and-miss job, but if you strike it lucky.
Before you make a substantial investment, I recommend trying a good selection of these options. 
The savings you can make with a relatively little trade-off with your time can really make it worth your while.
12. Maybe sell your old bathroom suite?
There are lots of options here - from auctions to some of the ones we have just been through. Even if you don't get a huge amount, it's still something towards the cost you might not have expected.
13. Keep your eyes peeled for bargains!
And not just second-hand. With stores all fighting for customers, there is almost always a sale somewhere. 
Timing-wise, the holiday season can be an excellent chance to grab a bargain - then, of course Black Friday, before the Christmas and January sales.
Take advantage of price comparison websites to do a bit of the donkey work for you. Plus money-saving sites with vouchers and discount sites like Overstock.com.
Stores often have price match guarantees you can exploit if they have a few things you are after. It will also save you trekking around other stores, which is even better!
You can also check our article on the 6 Bathroom Design Ideas to Inspire Your Next Renovation.
Conclusion
So, I hope this article has shown there are corners (and precious costs) that can be cut almost everywhere when you are doing a bathroom remodel or a bathroom renovation. Look, you are not going to get away without a sizeable bill of some description, but with diligent planning, a little creativity, and especially if you are not afraid to get your hands dirty, you can still make the luxury retreat you dreamed of, without the price tag that gives you nightmares!
And not just that, but all these efforts you make don't just spruce up your house but add value to the property itself. Estimates suggest that remodeled bathrooms actually recoup almost 60% of their costs when the house is sold. So when you do it with a bit of common sense using some of these ideas, that figure gets bumped up even higher. Those are the kind of maths I don't mind doing!
If you'd like some further inspiration or a look at our range of bathroom furniture and fittings, then please check us out at bathcabinetsdepot.com. Our friendly experts are waiting for your questions, big or small!