A Guide to Budgeting for Your Bathroom Remodeling
Your bathroom is old, and that's noticeable the moment you enter. Renovation is the solution, but can you afford it? This guide offers extensive details on how to figure out a budget for a bathroom remodel. You'll discover average rate factors to include and learn how much different phases cost. Keep reading to learn how to design a budget and estimate the project's expenses!
What's the Average Bathroom Remodel Cost?
Many factors can affect the total cost of a bathroom remodeling project. It usually includes demolition, new fixtures, finishes, and appliances. 
If your bathroom has about 35 square feet, it will cost from $15 to $20K. For areas that have 100 square feet, the price can go up to $60K. You can get a master bath remodeling at this price. These solutions are worthwhile because they last for decades.
How Do You Develop a Bathroom Remodeling Budget?
Set aside enough time to note any expenses within the project. You can't predict the budget into a cent. But a detailed plan ensures the total cost doesn't stray much from what you expected.
Check out these tips to consider when developing a budget:
Scope. Do you need new plumbing? Would you require a small improvement or a total remodel? The project scope highly affects the price.

Contractors. A professional bathroom remodeler can install tiles and fixtures. You might also need an electrician or carpenter. If you use a designer to plan the space, it increases the cost further.

DIY aspect. Those who have do-it-yourself skills might handle some tasks themselves. It lowers the overall cost, but make sure you can finish the assignment. If you do more damage than benefit, you could end up paying more.
The next sections will discuss different project phases and how much they could cost.
1. Demolition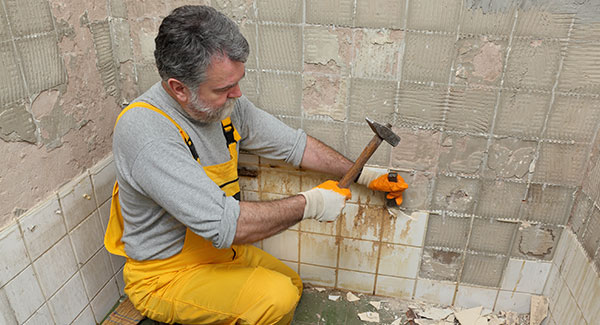 If you ever watched demolition on TV, it looks spectacular. Things are different in real life, but that's good. You won't actually destroy your bathroom with a sledgehammer. Instead, professionals will employ great care during this phase.
The idea is to remove any unnecessary elements from your bathroom. That covers taking out the old tub, throwing out any waste, etc. You can assess the bathroom to see if you can reuse some items. It can help with the overall budget, and it's also eco-friendly. While discussing the environment, make sure you follow waste removal standards.
Bathroom size and demolition requirements will affect the costs. Experts suggest that the demolition takes about 8-14% of your overall budget.
2. Electrical and Plumbing Costs
If you plan to keep the original footprint, you might not need new wiring and pipes. But if you chose to remodel a bathroom, the odds are you'll change the previous footprint. You might want the vanity in another corner. A bigger bathtub and different lighting might require changes too.
The more things you need to adjust, the more this phase will cost. If you only want to relocate a shower, it shouldn't be a big expense. But if you move sinks and toilets and add new lighting, that can become tricky. During the remodeling project, you might also consider switching some old pipes and wiring. Depending on your requests, this will take from 17% to 25% of your budget.
3. Framing and Tiles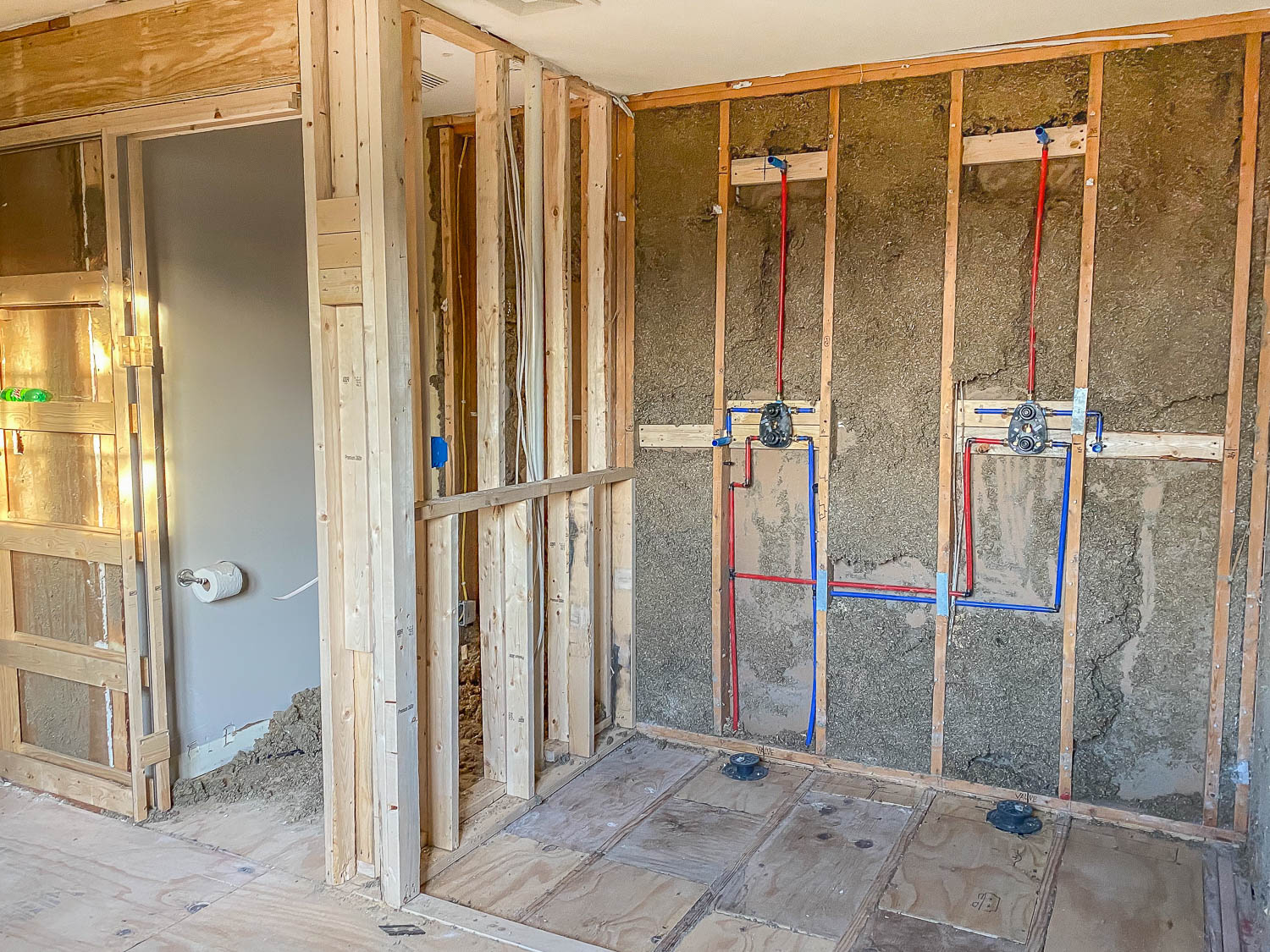 Master baths often have this item in the remodeling process. Framing is convenient to adjust the layout to your requirements. You might want a half-wall or want to separate the toilet. Perhaps you want a wall around the shower.
Framing gives you big freedom to ensure the bathroom's appearance fits your requirements. It shouldn't cost much, but it depends on the material. The total expenses will probably be around 10% of the total budget.
4. Bathroom Hardware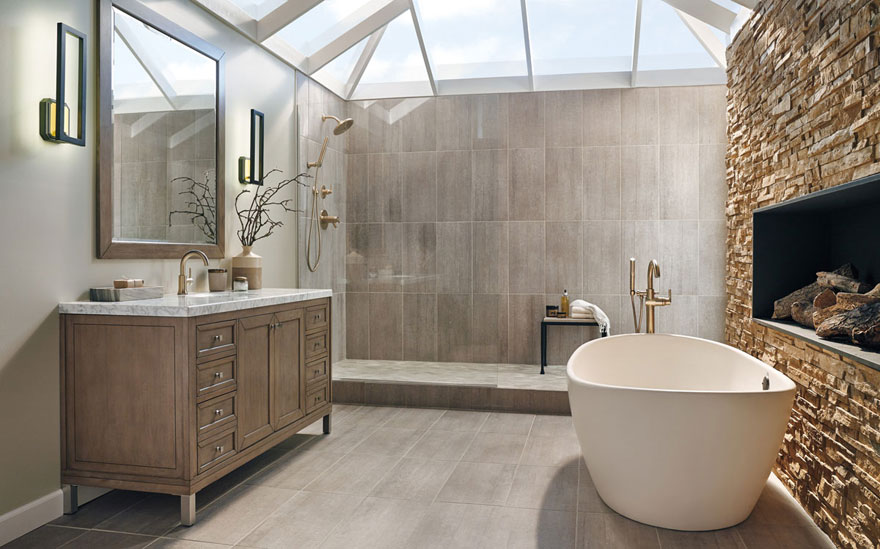 It refers to large items, such as tubs, showers, vanities, etc. Compact bathrooms for a single person require a couple of drawers. But a household with children might require multiple storage compartments. You need enough room to accommodate blow dryers, shavers, cosmetics, etc.
An affordable shower doesn't have to be a big expense. But a tub where you can listen to music and use advanced functions will cost more. It all depends on your preference, but bathroom hardware will take around 20-30% of your budget.
5. Fixtures and Finishes
The next step of the bathroom remodel project involves picking fixtures, such as showerheads and faucets. You can also consider other accessories like soap dispensers, towel bars, etc. The price will depend on the material and finish. You can go for high-quality porcelain, which can be a big expense. Stainless steel is another material homeowners commonly choose. 
As for the color, pick those that fit the overall décor. You'll probably want to paint the walls. They'll freshen up your bathroom, but feel free to change the color if you feel like it. This phase shouldn't cost more than 10% of your budget.
6. Installers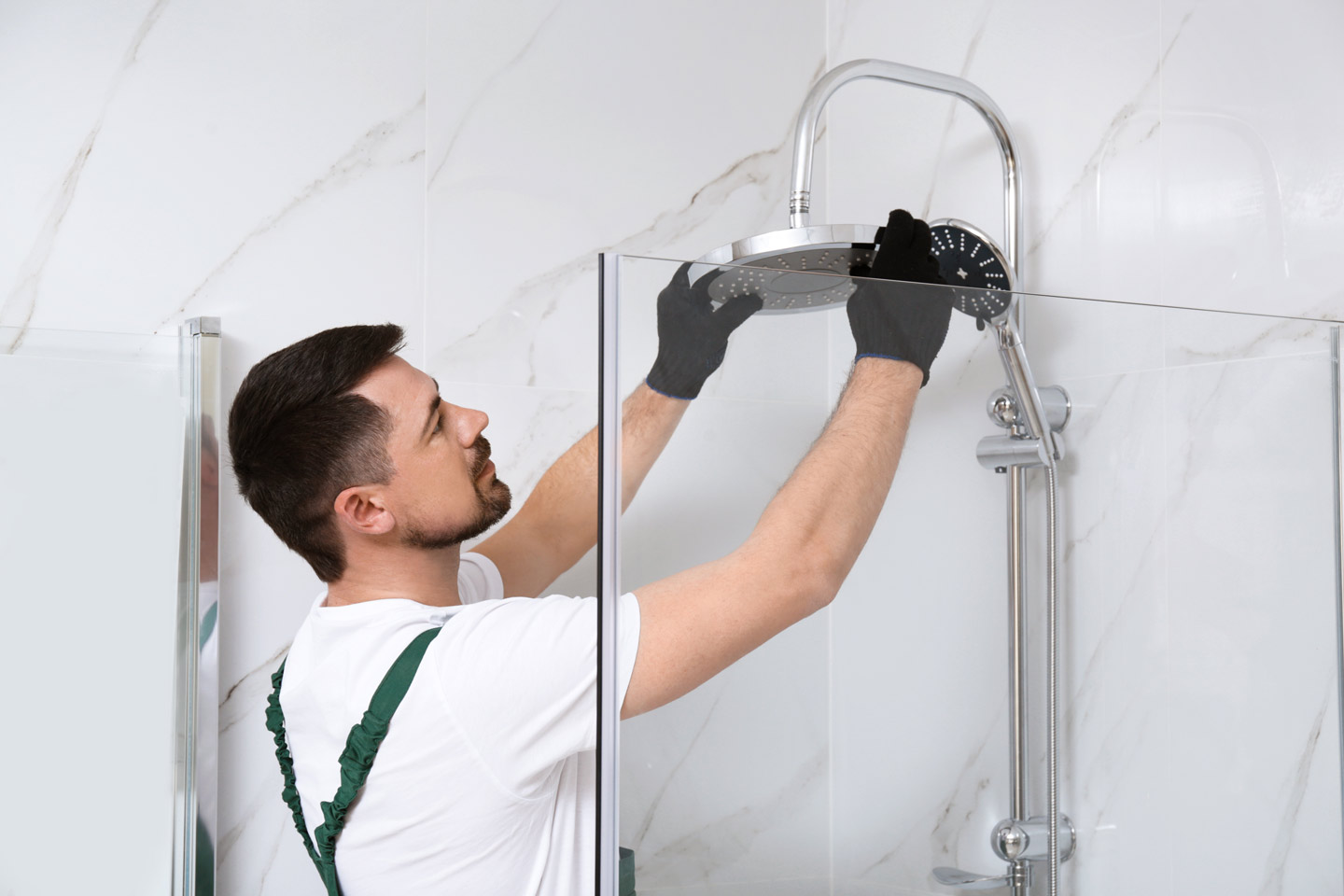 The contractors will do the work that the project requires. You have already acquired electricians and plumbers for those setups. In this phase, you need handymen that will install the elements. That starts with framing and tiles and continues with hardware. You'll probably manage to handle the fixtures yourself.
Handymen can cost more as they charge per hour. If more work is necessary, you'll end up paying more. It helps to sit down with the chosen professional and schedule the work. They can give you the deadline to finish different steps. That will help you monitor the project. Contractors work at different prices. The costs can be around 20-30% of the overall budget.
You can also check our article on Bathroom Remodel Ideas - 13 Looks and Expert Tips to Save on Your Renovation.
Final Thoughts
If you plan a bathroom remodel, estimate the costs first. You can rely on premium online stores for vanities, sinks, and other elements. They'll deliver fixtures to your front door to save on transportation costs. DIY enthusiasts might do some parts themselves. Once you estimate all expenses, assess the available funds. If necessary, hold on for a while until you can increase the budget. And if you feel it's time, don't hesitate to start ordering elements for the renovation!