8 of Our Favorite Bathroom Storage Solutions of All Time
In a bathroom, there is always a need for storage - especially bathrooms that are frequently used by the homeowner. For example, women store beauty and skincare products in the bathroom. Not to mention, you need a space to store clean towels. Lastly, having cleaning products on hand will make a big difference in efficiency. 
Thinking ahead about bathroom storage can make your bathroom more functional. It will also help your space look more tidy and less cluttered. We are going to discuss some of our favorite bathroom cabinets & storage to help transform your space. 
Our Favorite Bathroom Storage
In general, there are three types of bathroom storage options to consider. This includes linen cabinets, side cabinets, and makeup tables. Each option features unique functionality. 
We will break down the different types of storage and give you our favorite options. Hopefully, this will help you make your bathroom more functional. 
Most often, linen cabinets are tall, vertical cabinets that can be pushed up against a wall. They come in many different styles and colors. Choose between simple, elegant, modern, or classic. The convenient upright position makes towels easy to reach. Furthermore, the sleek and thin design makes these a good fit for most bathrooms. 
Our top three linen cabinets are:
Are you looking for a modern cabinet to add to your bathroom? A sleek white finish is classy and chic. This linen cabinet has three large cupboards to store your belongings in. Each door features a soft-close mechanism, so you won't have to worry about slamming it. 
Made of marine veneer wood construction, this cabinet by KubeBath is extremely durable. It hangs conveniently on your wall to offer everything at eye level. 
2. Fresca Black Bathroom Linen Side Cabinet with 4 Cubby Holes and Mirror
There's no such thing as too many mirrors in a bathroom! This linen cabinet by Fresca has four exposed cubby holes where you can decorate and a shelf located behind the mirror. The door has a soft-closing feature. 
This linen closet is made of MDF and laminate. Finished in a gorgeous black color, it is moody and adds edginess to any bathroom.
If you're opting for a more traditional look, this cabinet by Eviva is the way to go. It features shaker-style cabinets and two soft-closing doors. In the middle, there's a drawer for additional storage. 
You can purchase this in brown, gray, or white. This storage cabinet stands taller than the other options we have mentioned, meaning the most storage space. 
Side cabinets are smaller storage options that still provide additional space in your bathroom. They are often a more cost-effective option. Choose between side cabinets that act as a medicine cabinet on the wall or ones that stand freely on the ground. 
At only 12", this cabinet doesn't take up too much space. However, it still adds style and storage to the bathroom. This cabinet has three drawers that are soft-close. This is convenient and can store your medications and products. It's easy to build, and the countertop is made of white phoenix stone. 
We couldn't not mention this gorgeous Lexora option on this list. It features four drawers and a gorgeous, rich navy blue shade. If you're looking for a pop of color, this is it. 
Finished with a white Carrara marble countertop, you can trust the sleek finish of this product. The hardware is chrome and complements the piece perfectly. Lexora uses an 8-stage painting process to ensure it's durable and long-lasting.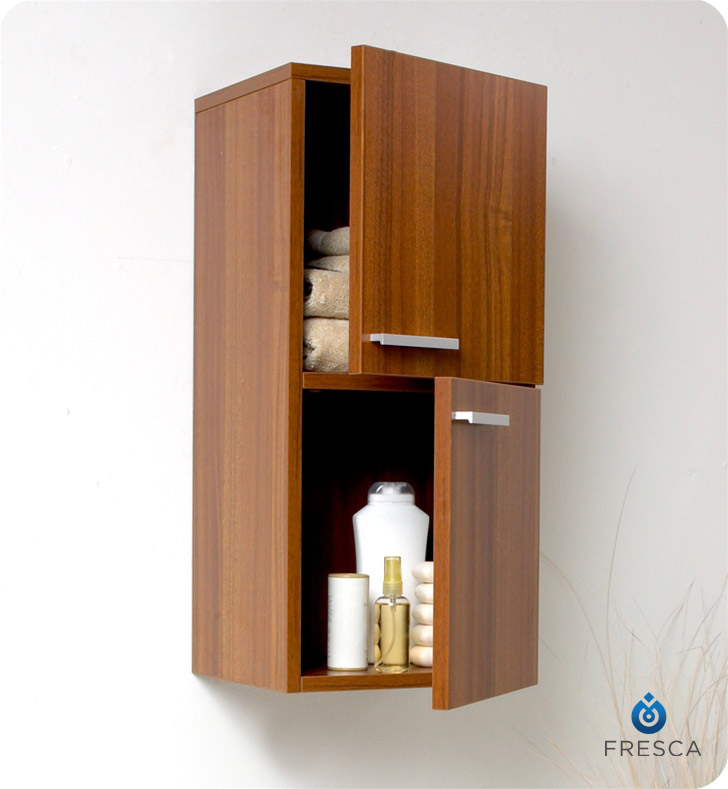 Sometimes the exposed look is better than doors! We love this simple open storage option. Finished with teak, it brings a natural element into your bathroom. 
This Fresca cabinet is made from MDF and laminate. It'll last ages in your bathroom. Measuring at 11.88" W x 5.88" D x 19.63" H, you can fit this cabinet almost anywhere! Most importantly, it's a breeze to install.
Many women love the idea of having a vanity to do their makeup. Having a space to store makeup products and get ready for a big night out is a luxurious experience. If you have a roomier bathroom, then adding one of these in is a no-brainer. 
Our makeup tables are relatively thin and will fit into different spaces. If your build-in vanity doesn't include makeup storage, consider adding an additional piece.
This table is relatively sleek, with plenty of room for a comfy chair. Featuring one large drawer, you'll be able to store your most beloved makeup products. The distressed gray shade adds a little rustic flair to the sleek design. 
On top, you'll find a Carrara marble countertop that is easy to clean from makeup fallout and spilled products.
Navy blue cabinets have become a hit in the past couple of years. There's something so sleek and elegant about a deep, navy blue. This freestanding makeup table is no different! 
The drawer has a soft-close finish to ensure you don't slam it. Construction is easy, and the white Carrara marble top is a standout piece. This simple design is easy to clean and will make a statement in any bathroom.
You can also check our articles on the 33 Best Storage and Organization Products for Small Bathrooms.
Conclusion
Whether you're looking for a linen cabinet, side cabinet, or makeup table, we have you covered. The bathroom cabinets & storage we have shared are high-quality pieces. Furthermore, they will ensure that your bathroom is as functional as possible. 
Having adequate bathroom storage is a game-changer. It'll allow you to store must-have products such as towels, cleaning supplies, and makeup. For smaller spaces, investing in additional storage will make a big difference. We appreciate the sleek finishes and unique touches of the eight different storage options we have shared.