8 Double Vanity Ideas for a Beautiful and Functional Bathroom
Vanity is any bathroom's integral part. Positioning your sinks and mirror carefully is crucial, but you shouldn't forget the overall area design. If you want everything tailored to your décor, you need the best bathroom vanity ideas. This article offers a selection of tips that will help you design this area to exceed all expectations. Check out these suggestions and pick your desired décor options!
8 Best Double Vanity Ideas
1. Go for Wall-to-Wall Bathroom Vanity Ideas
You can place the double-sink arrangement on an entire bathroom side. This is convenient if your area size is compact. If there isn't an impressive amount of space to work with, honor the natural boundaries.
A wall-to-wall vanity can look classy, and two persons can get a generous room around their sink. That includes drawers and cabinets underneath, and it also leaves room for large mirrors. A light that stretches above both sinks can be a touch of elegance. However, consider the door position. You don't want to block the entrance and have to move whenever the other party wants to enter or leave.
2. Vanity Isn't Your Entire Bathroom
A double-sink design is often the area's focal point. However, it's not the only feature that exists in your bathroom. It's vital to match all fixtures, so the overall décor makes sense.
Your first task is to identify the desired approach. Are you going for a modern design? If yes, bathroom vanity ideas with a white quartz countertop are a smart choice. Traditional decors can fit natural and durable wood finishes. 
While choosing colors, make sure there's cohesion and consistency. For example, if you have white tiles, it's not a bad idea to add a fixture that presents dark colors. Accents improve the overall design and show you made an effort when decorating the bathroom.
3. Turn a Double Sink into One Large Unit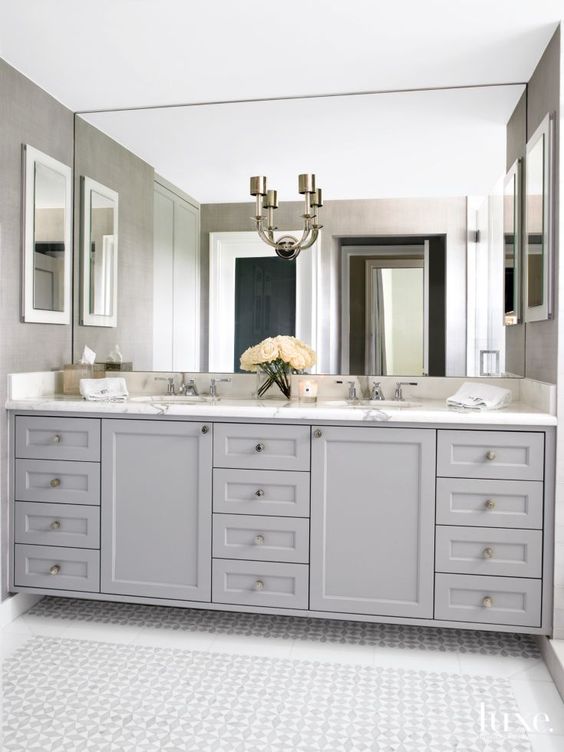 The basic idea of this design is that it serves two people. That doesn't mean you should separate the sections completely. Furthermore, the most intriguing double vanity bathroom ideas involve merging the sinks and mirrors into one large unit.
You'll need a big wall to ensure this looks neat. The idea is to put a long ceramic sink that stretches over a wide area. Place the faucets separated so both users have sufficient room. The mirror can cover the entire wall if you find that fitting.
4. Find a Mirror That Attracts Attention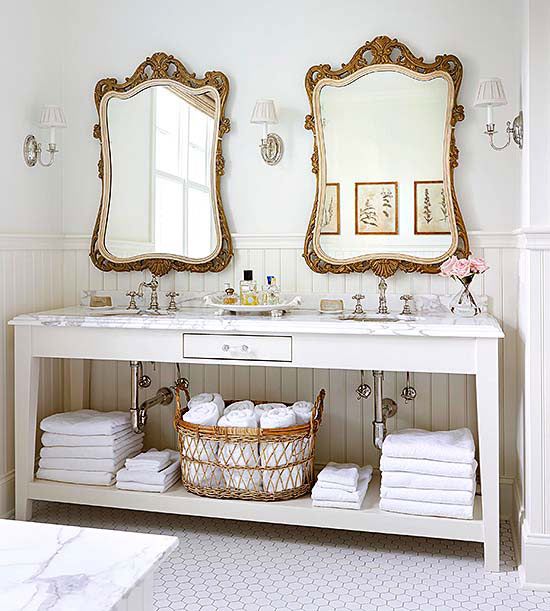 You picked a classic white sink or another simple design that fits your décor. That gives you space to get creative when choosing a mirror. You can pick a unit that generates attention the moment a person walks into the bathroom. 
It could be an unusual mirror shape, as long as you ensure it is functional. Alternatively, use a color that contrasts the sinks well. Dark tones are perfect for a white sink setup. If additional space could come in handy, pick a unit with a shelf in front of it. You have many bathroom mirror ideas for a double vanity, and it's all about finding a suitable style.
5. Don't Forget to Choose Suitable Faucets
Imagine walking in a luxurious bathroom with carefully chosen items, only to see the faucets don't fit that idea. Homeowners often forget there's room to experiment with this fixture's appearance. Modern designs often feature polished chrome and faucets with a metallic finish. These look great, but you need to maintain them carefully since stains are highly visible.
If your bathroom features classic décor, go with a solid brass construction with a brushed nickel finish. A handle with an odd shape can also stand out and impress visitors. Rectangular items are popular nowadays, but you can pick any design you deem fit.
6. Show That You Can Make the Most with a Compact Vanity
Your bathtub might take the entire wall, which doesn't leave much room left in a compact area. But even if there's not much space available, a double-sink design could also be welcome. This is where the art of making the most of the available room begins.
Homeowners with a compact space should apply these tips:
Make a joint drawer area in the middle. The central section can contain compartments that you would divide equally. It ensures you don't waste an inch of space while getting an additional storage option.

A large cabinet beneath each sink is the smart choice. This big unit could feature multiple compartments inside. That design ensures you can maximize the available room and adjust it to the individual's needs.

Add shelves behind the mirror. You can have extra storage space with these cabinets. A recessed mirror construction might be a smart option if you have limited space.
7. A Rug Will Boost the Room's Warmth
Bathroom tiles and fixtures often feature metallic and other finishes that can look and feel cold. If you often enter the area barefoot, it could lead to unpleasantness. A rug is there to add warmth both to your feet and visually.
The usual approach is to position this fixture below the sinks. That way, two people can stand on the rug and be warm. If the overall design is simple, go for a bold pattern on the rug. Material is imperative because you should like how it feels when you step on it barefoot.
8. The Importance of Premium Lighting
Using windows for natural light can help, but you still need optimal illumination in your bathroom. You can place bulbs right above the mirrors but also put them higher on the wall. Pendant lights are a nice touch since they hang from the ceiling and add elegance to the overall décor.
Apart from the appearance, make sure the lighting is functional. If you are putting on makeup or shaving, make sure you can see properly. Lights can also be a way to accentuate primary bathroom fixtures, which gives you space to be creative.
You can also check our article on The Best Vanity Lighting of 2021.
Final Thoughts
Many bathroom vanity ideas exist for a double-sink setting. It starts with functionality and serving your needs, but you don't have to undermine aesthetics. Many online stores have huge selections of sinks and other items that fit the double vanity setting perfectly. You can pick from traditional, modern, and other styles and choose from different sizes and colors. Don't hesitate to find your ideal option and decorate the bathroom to suit your taste!