8 DIY Bathroom Vanity Ideas for Custom Storage and Style
A bathroom vanity is often one of the most used pieces of furniture in a home. Not only does it provide storage for all of your grooming supplies, but it can also be a stylish focal point for your bathroom.
If you're looking for a way to add extra storage and style to your bathroom, why not try a DIY bathroom vanity plan? 
There are many different ways to do it, so you can customize it to fit your exact needs. Plus, it can be a lot cheaper than buying a premade vanity. 
Here are some bathroom vanity ideas to get you started.
What Are the Best DIY Bathroom Vanity Ideas?
Renovations to a bathroom can be costly. But with one of these bathroom vanity plans, you may modernize your outdated bathroom inexpensively.
1. The "Hutch" Bathroom Vanity
This is one of the simplest bathroom cabinet ideas that can provide a lot of storage for your bathroom supplies. It is ideal for people who want a large surface area for doing their make-up or shaving in the morning but don't have room to add a full bathroom cabinet.
All you require is a flat piece of wood that functions as the top of your vanity. It should be approximately 12 inches deep and at least 5 feet wide. From there, just add a frame around it to keep everything in place.
You can use metal piping if you want, but wooden dowels or even cardboard tubes will also work well. Just make sure that you paint the frame with waterproof paint before installing it in your bathroom.
2. Farmhouse Style Bathroom Vanity
This is one of the best bathroom vanity ideas that features a rustic farmhouse design. It is best for people willing to put in a little bit of work, but it will definitely add some style and beauty to your bathroom.
To build this vanity yourself, you'll need multiple boards that are at least 6 feet long. Lay them out on sawhorses in the shape of a rectangle about 4 feet wide by 5 feet long. Mark the studs in the wall so that you know where to install the vanity, and then screw it into place.
If your wall is made of drywall instead of studs, you may need anchors. Then, just attach a countertop above it and add some legs.
3. The Floating Bathroom Vanity
This very modern vanity would look great in any bathroom, no matter the style or color scheme you have chosen. It does require some DIY skills, but it's not too difficult to do if you follow the following instructions.
First, cut your plywood down into two pieces about 6 feet long. Ensure you measure your plywood before doing this to ensure it will fit in the bathroom because plywood can vary in thickness and size quite a bit.
Then, use thin strips of wood as supports for attaching the two pieces. Drill holes through the sides and screw them into place to create one large piece of plywood.
Cut a hole in the center of the top, then take a board about five feet long and lay it across the top of your vanity. It will serve as a shelf for your accessories.
4. The Corner Bathroom Vanity
If you have a small bathroom with inadequate storage space, this is one of the perfect DIY bathroom cabinet ideas for you. You will need to find two cabinets and attach them at an angle to form a "U" shape.
You can customize the look of your corner vanity in various ways, but it all relies on how much effort you'd like to put into it. You can use pressed wood and paint or install some pretty countertops and tile for a more stylish look.
5. The Framed Bathroom Vanity
It's one of the most straightforward DIY bathroom vanity ideas requiring almost no carpentry skills. All you will need is a flat piece of plywood – about 5 feet by 3 feet should do – and four trim pieces.
Cut the plywood so that it fits perfectly in the corner of your bathroom, then attach one side of each piece of trim to two adjacent sides to keep it in place. Now you have a perfect spot for displaying artistic or sentimental items that can serve as a great conversation starter.
6. The Rustic Bathroom Vanity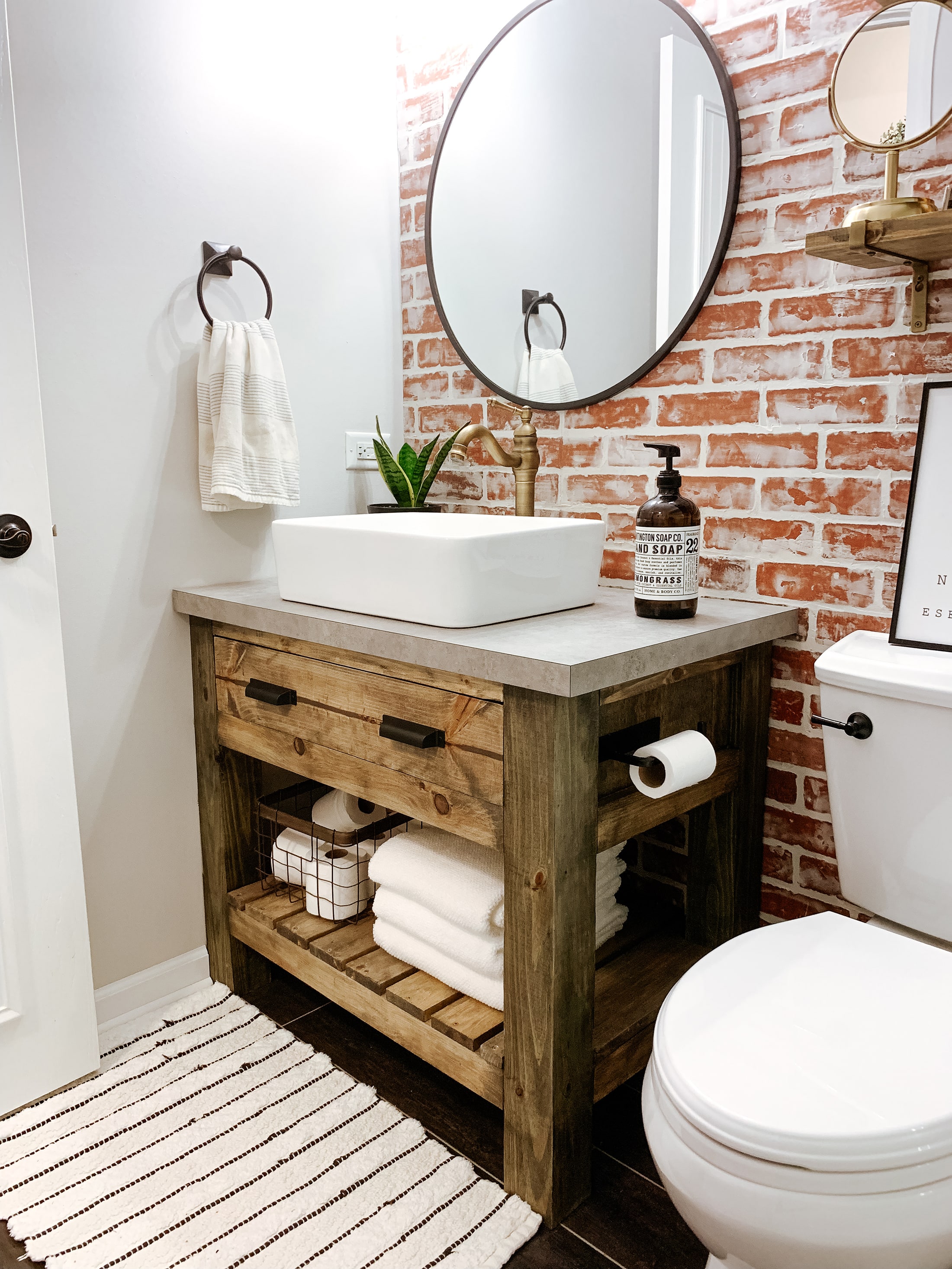 This is a great vanity for people looking for a cabin style touch in their bathroom. All you need for this project are four pieces of wood, one glass pane, and a stylish above mount sink.
The first thing you'll need to do is cut your wood down into two pieces about 3 feet long and another two pieces about 4 feet. Then, connect the shorter pieces to the longer ones as legs.
Next, secure a glass pane to the top of your bathroom vanity with screws from underneath. You can use any type of glass, but frosted antique-style glass is generally the easiest for bathroom vanity plans like this one.
Then, attach a sink to the top and finish it off with a faucet that fits your bathroom style. You can easily complete this project on the weekend, so it's perfect for those who don't have adequate free time.
7. The Flat-Packed Bathroom Vanity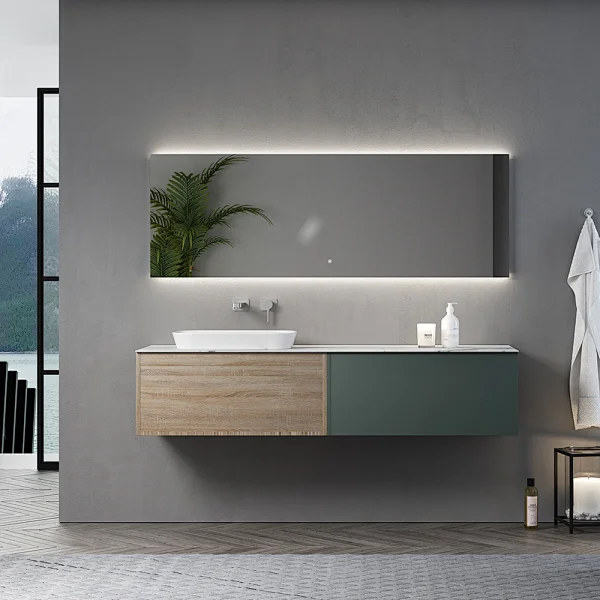 This is one of the best bathroom cabinet ideas for people short on funds but still want to add style to their bathroom. You will need a piece of plywood that's about 5 feet by 2 feet and three flat-packed cabinets.
First, screw the plywood onto the backs of the cabinets to create one large piece of wood. Then, secure the cabinets to the wall with screws, and you're ready to go.
To create a more personalized look, use multiple stain colors on each cabinet and paint your flat-pack knobs bright colors. This is an ideal plan for you if you want a stylish bathroom without spending too much money.
8. The Recycled Bathroom Vanity
This is an unbelievably easy DIY project that you can complete in less than one weekend. You will need to cut a piece of plywood to fit perfectly on top of your current bathroom vanity, then attach some legs underneath it. Finally, stain the wood and paint or decorate as desired!
Creating a custom look with recycled bathroom vanity is extremely simple. You can use one solid color for the entire piece, or you can create a multi-colored mosaic design by gluing small pieces of tile to it.
You can also check our article on the 10 Small Bathroom Vanity Ideas That Pack in Plenty of Storage.
Conclusion
The 8 bathroom vanity ideas presented in this article are straightforward to implement, yet they also offer a wide range of custom looks. And with the addition of essential tools and supplies, you should be able to complete any of these DIY projects in about one weekend.
Even if you don't have any experience working with wood, you shouldn't have trouble figuring out how to complete any of these DIY bathroom vanity plans. 
All you need to do is carefully follow the step-by-step instructions provided in this article and get a ready-made bathroom cabinet to create your classy bathroom vanity design.