The 8 Best Modern Bathroom Vanities of 2021
Are you looking for a sleek, modern vanity to complete your bathroom? A vanity is an eye-catching piece. It's likely one of the biggest investments in any bathroom renovation. Furthermore, it can completely change the look of the space. 
Modern design has been well-loved over the past several years. It balances subtle accents, decor, and colors with standout fixtures. There's no wonder there's a demand for modern bathrooms! In order to help your remodeling, we're listing eight of our favorite modern bathroom vanities. These vanities will help you transform your space into a calm, relaxing bathroom. We'll give you options for different sizes of bathrooms and functions. 
Your Perfect Modern Vanity 
Before diving into our favorite eight modern vanities, it's important to understand the different types you can choose from. Depending on your needs, size of space, and general style, you may find some vanity types work better for others. There are three types to shop between: 
Pedestal.

A pedestal sink is especially perfect for smaller bathrooms, such as powder rooms and half bathrooms. They feature a tapered base and then the sink on top. Typically a pedestal sink won't have counter space. They lack the cupboard and storage space that other sink options do not. Because of this, a pedestal isn't necessarily great for a high-traffic bathroom, such as a master ensuite. Pedestal sinks can also be interchangeable with stand-alone sinks, where the base may be slightly bulkier. 
Single.

If you have limited space but still want storage and counter space, a single vanity is perfect for you. Single vanities are small, easier to install than double vanities, and offer a clean look. Choose one with cupboards that match your style and accent your bathroom. Because there is storage space, you can store makeup, products, and cleaning supplies seamlessly.
Double.

If you want to complete a master ensuite or a jack-and-jill bathroom, a double vanity may just be what you're looking for. Double vanities feature two sinks with twice the amount of cupboard and storage space. For larger bathrooms, a double vanity will fill in the space nicely while adding the design style you crave. 
Eight of our top modern vanities include: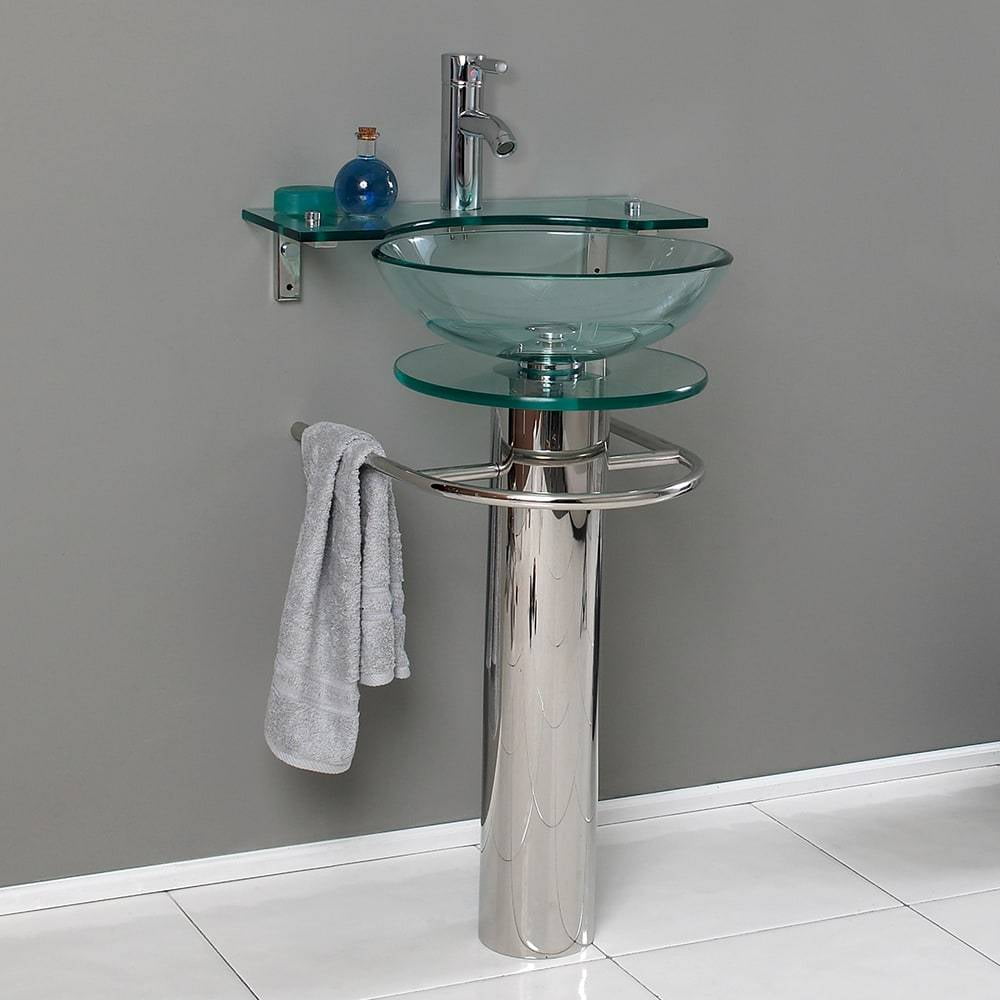 This pedestal sink will completely transform your space. With it, your bathroom will quickly become the talk of this household. It is simple, yet it features a stunning and elegant design. The basin is made out of a glass vessel, and there is even some tempered glass countertop to store your soaps and other products on. 
The stand of this basin is a standout! Made of chrome with a towel bar to match, this pedestal sink juggles functionality more than most on the market. 
If you love the look of wood, then this vanity is for you! This 18.5-inch vanity is small enough to fit in most bathrooms yet features the design to make an impact. Balance rustic charm with modern accents and your bathroom will quickly look complete. 
The cupboard is made out of reclaimed wood. Because of that, you can feel confident in it being environmentally friendly. On top sits a white porcelain sink for easy cleaning and a beautiful finish.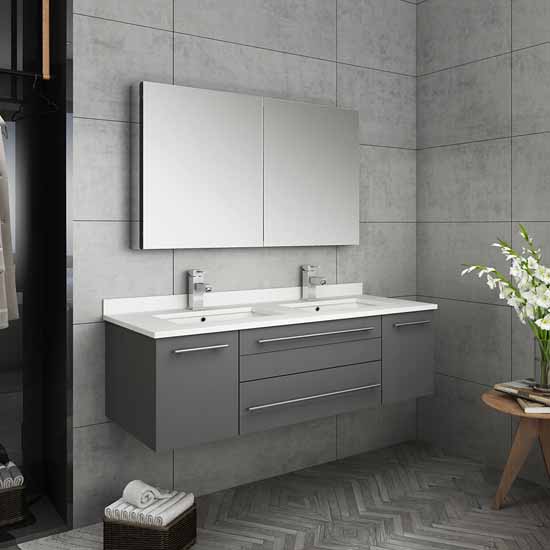 If you're looking for a gorgeous sleep statement piece, this is it. One way to quickly elevate the look of your bathroom is a floating vanity. Though they take a little more care to install, they can completely transform a room. 
This vanity features clean lines and an incredibly modern gray shade. It has additional room on one side of the vanity to store skincare and makeup products. The handles are made of brushed metal, and the countertop is an incredibly durable white quartz. 
This single vanity also features an incredible white quartz countertop. Quartz is excellent because it's easy to clean and durable. With 48" of space, you'll get two cupboards and two drawers to store your belongings. The doors are soft-close, so you won't have to worry about banging around looking between cupboards. 
Is there any better way to achieve a modern look than with white finishes? This gorgeous, asymmetrical vanity is exactly what your bathroom needs. The base is made of medium-density fiberboard (MDF) wood, which ensures it will last for ages. Its high gloss finish will make your bathroom look elegant and modern. 
The countertop is made with a white reinforced acrylic countertop with an integrated sink. 

If you want to include an edgy take on the modern trend, this KubeBath is the way to go. This wall-mounted single vanity includes two drawers and two cupboards to store your products. The base is made of marine veneer wood construction, while the top is reinforced acrylic composite. 
Featuring soft-closing hardware and a gorgeous black finish, your bathroom will take on a whole new look. 

Another winner by KubeBath! This product is a bit of a splurge, but for a good reason. Featuring a gorgeous rustic-style base that is wall-mounted, the wood veneer finish will last you ages. 
Installation can be a little tricky due to the size of the console. Take your time and transform your bathroom with this perfect vanity. 

Meet this beautiful double vanity by Fresca! It's the perfect mix of contemporary and modern, and it has all the functions you'll need in your bathroom. At a generous 72", ceramic sinks, quartz countertop, and plywood with veneer cupboards are the perfect addition. 
Fresca included a slight backsplash to complete this look. 
You can also check our article on the 5 Modern Bathroom Vanities That Overflow with Style.
Conclusion
If you're looking to transform your bathroom, any of these vanities are a perfect choice. Before choosing a vanity, measure your space and determine the function you need. After that, choose between these modern bathroom vanities for a sleek look in your space.