8 Bathroom Mirrors to Complete Your Stylish Vanity Setup
During your bathroom renovation, you'll have to decide on a mirror. Mirrors are both practical and beautiful additions to your bathroom. They come in many different shapes, sizes, and styles. Most commonly, the mirror will be placed above the vanity. This gives a finished look while providing functionality. 
If you're ready to renovate your bathroom, we can help! We'll discuss nine common types of bathroom vanity mirrors and recommend our top eight mirror favorites for 2022. 
Guide to Bathroom Mirrors 
To learn more about vanity mirrors, keep reading! 
Types 
Here are nine common types of bathroom mirrors: 
A framed mirror is a basic mirror with a border around it. It emulates a framed photo, except the center is a mirror. Framed mirrors can come in a variety of different styles and colors. Choose a basic option or opt for something more complex and ornate. 
A medicine cabinet mirror features a mirror on the front with a cabinet behind it. Simply pop open the mirror (which works as a door) to access a small shelving unit behind it. This is a perfect place to store medications and pharmaceuticals. A medicine cabinet mirror can be inset into the wall or bought completely separately. 
Playing with light is all the rage lately. Including LED features throughout your bathroom is a great way to brighten the space and add a feeling of luxuriousness. A lighted mirror will often feature lighting in the frame or behind the mirror. It's especially useful when doing makeup. 
Venetian style was especially common in the 1990s. However, there is still a place for it today. Venetian-style mirrors feature gorgeous etching and detail in the glass or frame around them. It brings a layer of opulence and luxury to any bathroom. 
For a simple look, opt for a frameless mirror. This will be just a simple piece of glass that functions as a mirror. There is no frame surrounding it. This is often cost-effective and adds a simplistic vibe to the bathroom. Frameless mirrors have become more popular in the last few years. 
A ledge mirror features a frame, or border, with a ledge on the bottom. This acts as a shelf to store small goods, such as fragrance, soap, and skincare. Ledge mirrors are not as common as they used to be. However, they do boast functionality. 
Get a flexible option with a pivot mirror. A pivot mirror works with a subtle tilt that allows you to set the mirror to a position that works for you. Tilted mirrors work great for shared bathrooms or for homeowners that are shorter or taller than the average mirror caters to. 
Captain's mirrors have become more common. They are usually round, which used to be virtually unheard of. They have a slight beachy feel. These mirrors are often connected with a rope in which the mirror hangs. 
Turn your mirror in different directions with an extension mirror. These mirrors are secured on a swing-arm and accordion mount. They work quickly to extend from the wall. This is especially useful in smaller spaces. 
2022's Top 8 Mirrors 
Our favorite mirrors for the year include: 
This gorgeous mirror is a perfect fit for longer vanities, such as those in a master bathroom. The entire mirror illuminates with innovative LED lighting placed in the frame. There's a unique defogging aspect that keeps the mirror fresh and useful despite the bathroom humidity. 
For a budget-friendly option, opt for this choice from Fresca. Made with a convenient black frame, this mirror is easy to style. It's perfect for a powder room or half bath. Made of solid wood, this mirror will last ages comfortably.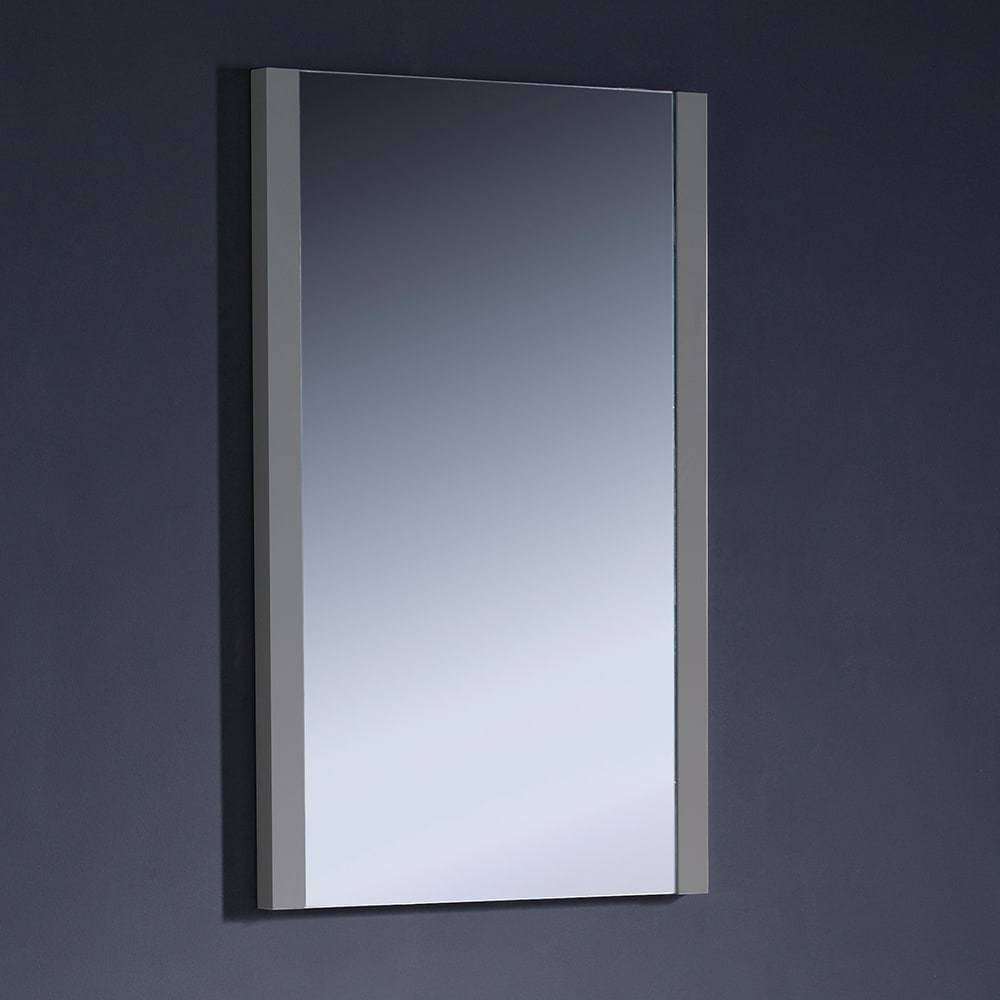 For a sleek and modern finish, opt for this 21" mirror from Fresca. The Torino comes in a gorgeous gray color, which complements any contemporary bathroom. The top and bottom are frameless for a luxe finish. Made from engineered wood, the Torino is a perfect budget-friendly option.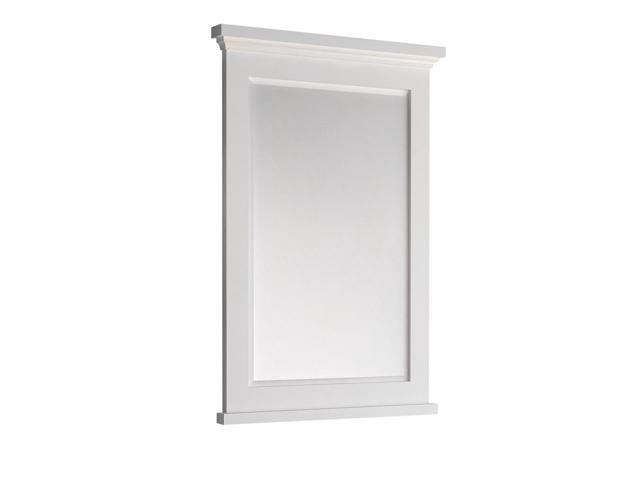 The frame on the Windsor is elegant and one-of-a-kind. It features a shaker-style that is thicker than many other options from Fresca. Available in matte white, the Windsor will perfectly pair with many different decor styles.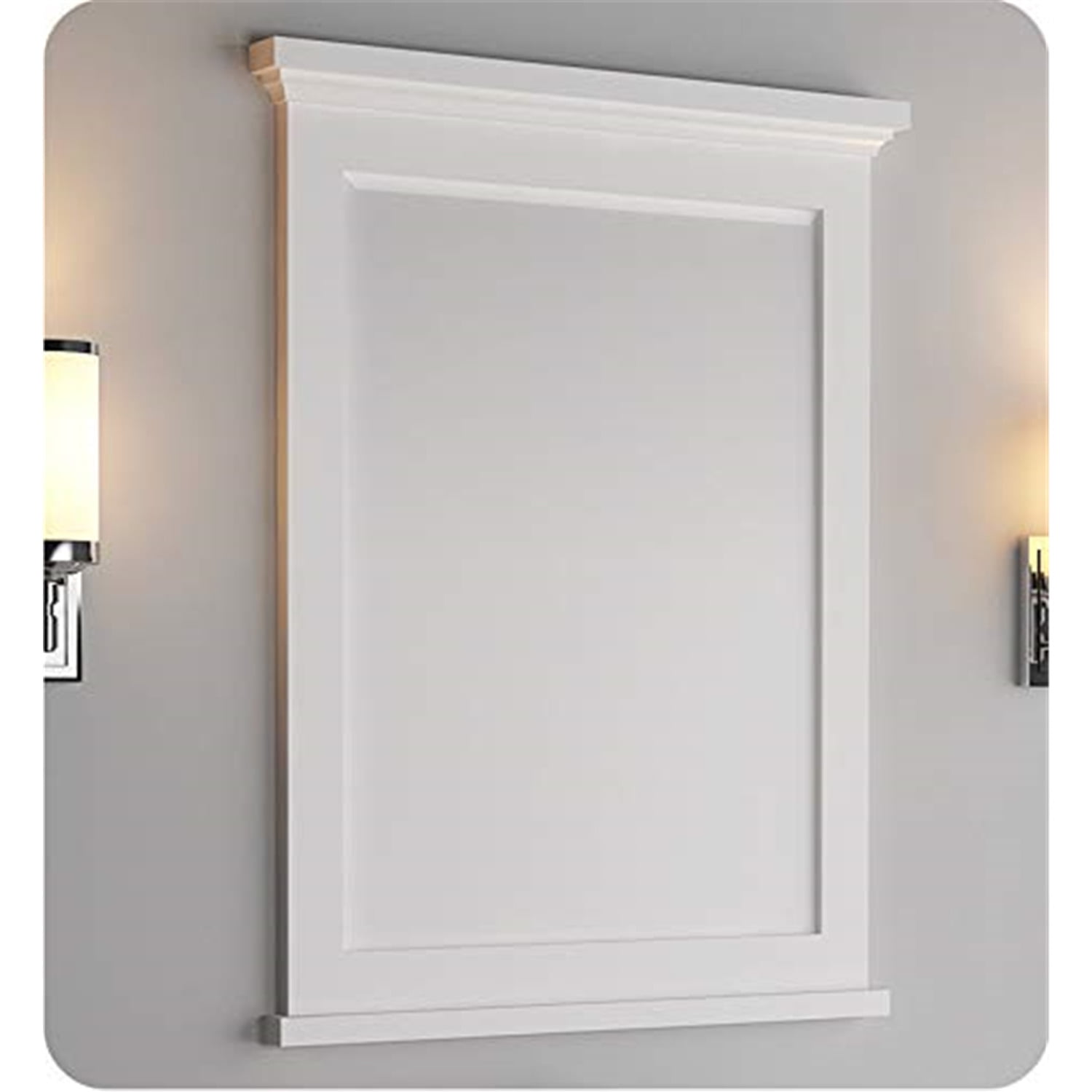 This ledge mirror is the perfect addition to any bathroom! It offers a retro feel and is made with plywood with veneer. It offers a great additional storage option while perfectly accenting your bathroom. The shelf is deep enough to allow you to store your must-have products. 
This antique silver mirror made of durable MDF is the perfect addition to your bathroom. It's made by Fresca, which is a well-loved and respected bathroom renovation brand. The finish is water-resistant, so you don't have to worry about humidity in the bathroom. 
This mirror may be an investment, but its sleek design is worth it. The frame features an innovative LED technology that illuminates the bathroom. The defogger feature will make this mirror usable in even humid environments. Made from an IP44-rated frame and backplate, this mirror will work for years. 
For smaller bathrooms, or if you want a square mirror, look no further. The Angelo by Fresca features the same brilliant LED technology and defogger switch that makes their products well-loved. 
You can also check our article on the 5 Modern Bathroom Vanities That Overflow With Style.
Conclusion
Are you ready to purchase the perfect bathroom vanity mirror? These options are luxe and useful in any space. Once you determine the style you want, you're ready to start shopping. Whether you want a framed, lit, or frameless mirror, these eight popular options will cater to your bathroom reno.