7 Gorgeous Bathroom Floating Shelves Ideas You Have to Try
Unless you have a really huge bathroom that can fit a whole walk-in closet without being a hindrance to the users, adding floating bathroom shelves is one of the simplest ways to add a bit of storage to your small space. Bathrooms are usually small, so a lot of people found a way to bring more storage without taking up too much floor space.
If what you need is a stylish option, we've got a lot of floating shelf ideas that would really bring your bathroom to the next level. Are you ready to turn your small bathroom upside down? Here are some of the best floating shelf ideas that you can consider.
Top Floating Bathroom Shelves
1. Traditional Style
When you talk about the traditional style, it's the use of wood as floating shelves. You don't need any cabinets or any fancy shelves attached to the wall. All you need is a long and thick dark wood. We've always seen this style in bedrooms and living rooms, but they can work wonders inside a bathroom as well.
It is minimally invasive, but it offers ample storage space for specific items. Since it's not too big, you can put your personal things on the floating shelves. You can also put a small towel hook below if you want. It's very sturdy, so you can expect that it can hold anything that you want to place on top of it. This type of shelf can even hold heavy creams and shampoos.
2. Metallic Shelves
Most of you might disagree with this because metal can easily rust inside the bathroom. If you're going to use cheap metallic shelves, then you might run into several problems after a few months or years.
High-quality metallic shelves are usually made of stainless steel, so it is protected from rust. Although it doesn't offer large storage space, you can use it for aesthetic purposes. You can add small plants on top of the shelves and display a few decorations as well that would complement the design of your bathroom.
3. Use Glass Shelves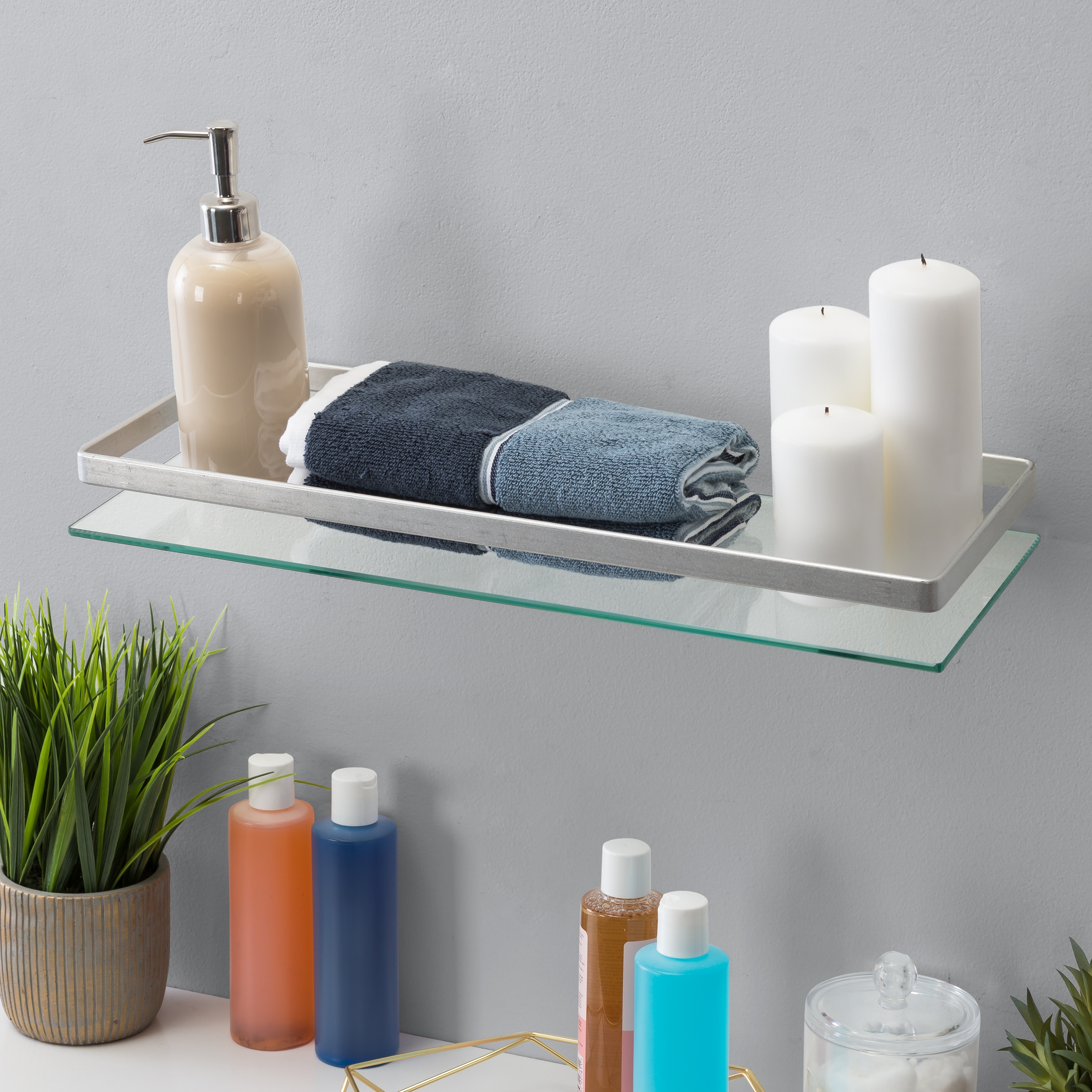 Most people would opt for wood options when it comes to floating shelves, but don't count out glass shelves. This is a perfect addition to bathrooms that are fully white. Also, glass shelves are very sturdy as well, and they don't get dirty easily. You just need to wipe them a few times every week, and they're as good as new.
However, you need to be very careful with glass shelves as they are prone to breaking. You cannot put heavy things on top as well. Glass shelves can be a great choice if you are not planning to use them as a storage space.
4. All-Black Shelf
White bathrooms are very common nowadays, and instead of using other colors, most people would use white fixtures as well. You can always use contrast to make your bathroom more beautiful. Using black shelves can easily complement the white design of your bathroom.
You can choose metal or wood if you want, as long as you paint them black. If you want to put something on top like designs, make sure that you use neutral colors or simply stick with white and black displays. Since the shelves are made from wood or metal, you can put anything you want on top of them.
5. Hanging Shelves Under the Sink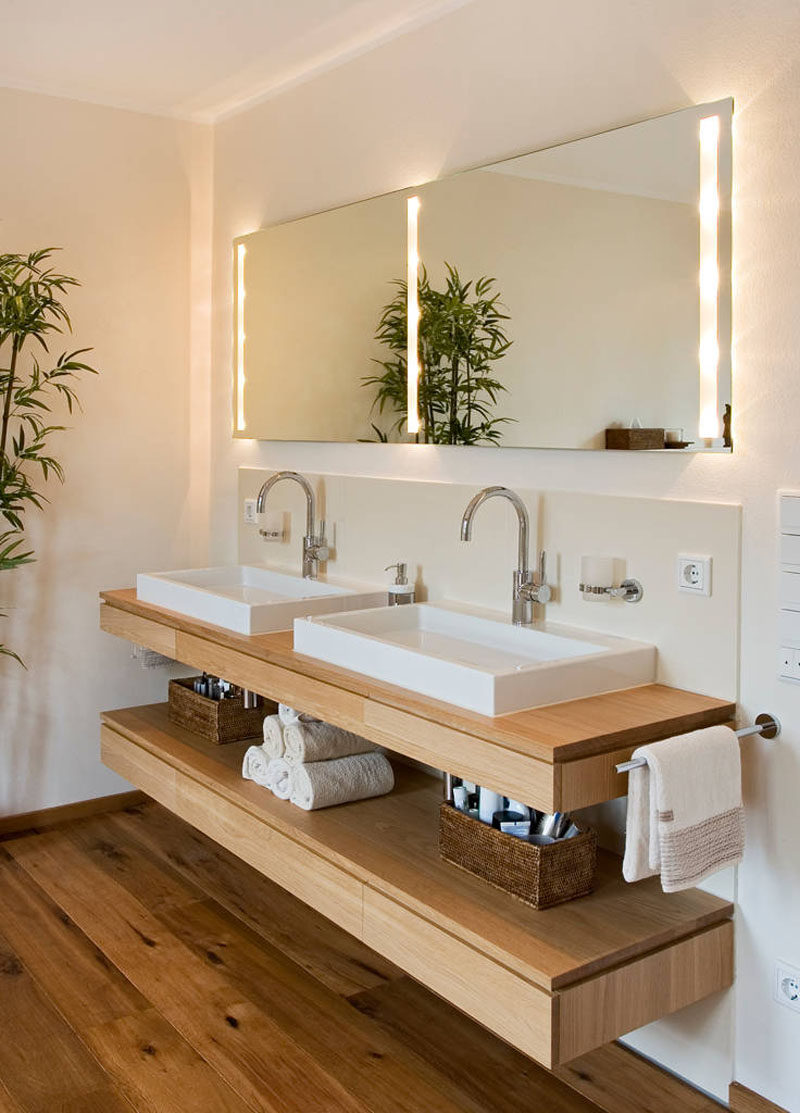 This is a bit special because it will only be possible if you already have hanging cabinets in your bathroom. Hanging cabinets are amazing because it provides more floor space for your bathroom, and it will make your small bathroom look bigger.
However, if you still have enough space below your hanging cabinets, you can also add hanging shelves under them. This would be a good storage space for specific items like bathroom cleaners and other cleaning materials. You can also put your towels on these shelves if you want.
The best thing about adding shelves under your sink is that you can make the shelves thicker than normal. You can make it look like an extension of the hanging cabinet. It adds more storage space without compromising the available space of your bathroom.
6. Floating Shelves Over Your Bathtub
This is a unique way of adding floating shelves to your bathroom. Usually, your bathtub should be clear of any obstruction, but it doesn't mean that you can't add any shelf on top of it. You can use a long and thick wood, and place it at the top of your bathtub. This is perfect for a free-standing tub.
You can put all your bathing essentials on the shelves so you won't have to climb out of the tub to look for them. It provides convenience, and it prevents bathroom accidents as well. You just have to make sure that the floating shelves are high enough, but they have to be within your reach.
7. Floating Ledge Below the Mirror
One of the reasons why this kind of floating shelf is very in demand is convenience. When you're in front of the mirror, you can put all of the beauty products that you are using on the floating ledge. You don't need to reach out to the drawers below the sink or find the products on the side. Everything can be placed on this small floating ledge.
Don't be afraid to add a small ledge because it will look amazing. Just make sure that there's enough space below the mirror and that the products will not block it. Wood is the best choice for this, but you can opt for a metallic ledge if you want.
You can also check our articles on the 33 Best Storage and Organization Products for Small Bathrooms.
Conclusion
Adding floating bathroom shelves is not only about functionality. There are instances when you're adding them to your bathroom to improve its aesthetics. If you're going to put some floating shelves in the bathroom, you should ask the help of a professional, or you can do your own research. Hopefully, these floating shelf ideas can help you pick the right one for your bathroom.
If you are looking for pre-made floating bathroom shelves, we can help you find the design that you're looking for.