7 Genius Pedestal Sink Storage Ideas for Your Home
The bathroom storage space bears a heavy load between extra towels, toilet paper, hairdryers, make-up, and the rest. Quite often too, after the bathroom fittings have been installed, it's like a game of Tetris trying to think where you can squeeze it all in!
So if you have a pedestal sink vanity, what's the best way for you to approach this conundrum? That is precisely what this article aims to provide – some truly genius storage ideas that will open up the options for you and your bathroom. 
Prepare to be wowed! (or, at least, mildly pleased)
7 Genius Pedestal Sink Storage Ideas
1. Hang some shelves
Let's start with the most obvious one - when space on the floor is limited, use the wall space. 
Shelves above the sink - or even elsewhere in the bathroom - give a lovely extra storage option, with the items all readily accessible. 
A glass shelf - like the one pictured above - gives the room a pleasant, airy feel and won't be hassled by the splish-splash of the water below it.
Even shelves underneath the sink itself - you can have a little system that can keep all the cleaning supplies out of the way and yet within hand's reach at all times. 
Over the toilet is another area often forgotten when people consider their storage options. 
2. Spice things up!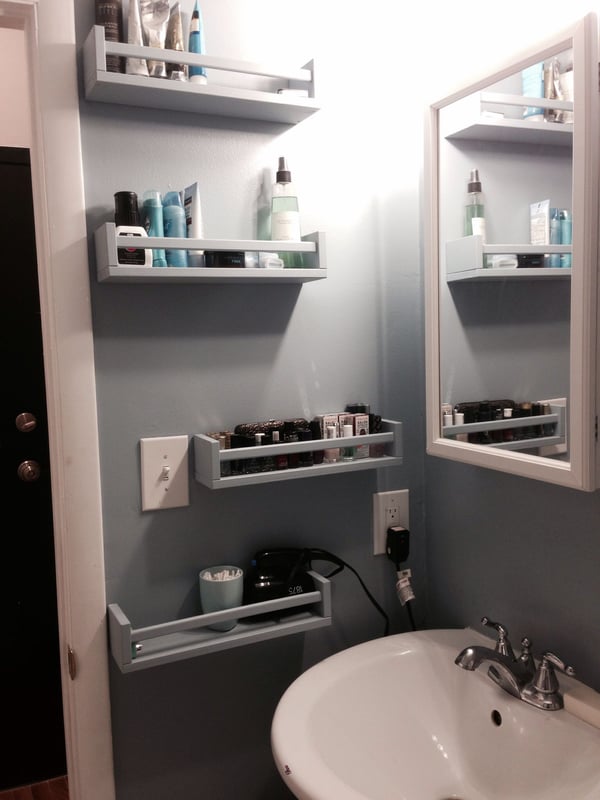 Who said spice racks were only for the kitchen? They have a whole host of uses, not least as a cheap, easily installed storage option in the bathroom. Out of their natural habitat, they add a bit of character too.
In the bathroom, they can be a superb option for storing and organizing your make-up and grooming products.
3. Under-sink shelving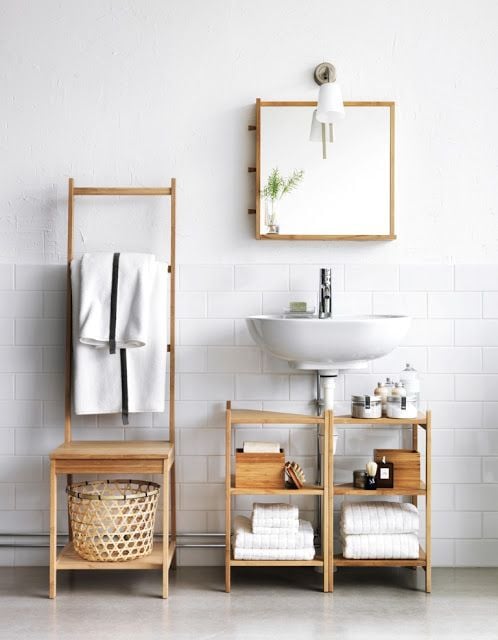 RAGRUND shelves are a great option too, and they won't break the bank. This range is actually designed to fit around a pedestal sink or even a pipe protruding from a wall-mounted one: simple, stylish, and fantastic use of the space.
I absolutely fell in love with this one when I saw it. Quirky and yet super-practical. In fact, if you had some decent DIY skills, you could probably make something similar yourself. It's beyond me, unfortunately, but I can dream.
4. Get a narrow cabinet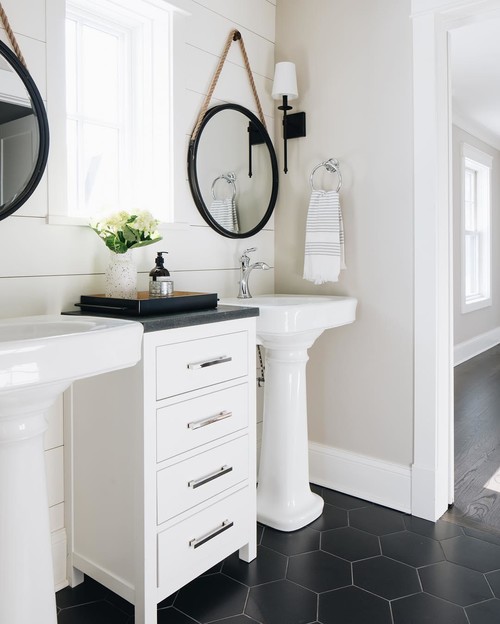 If you have lemons, as they say: make lemonade. If you are squeezed for real estate, then work with what you do have.
Narrow cabinets can actually fit a lot more than you think. We have one in ours that feels like something out of Alice in Wonderland, the amount we have crammed in there!
Tuck yours in beside the toilet or even up against a wall.
5. Add some baskets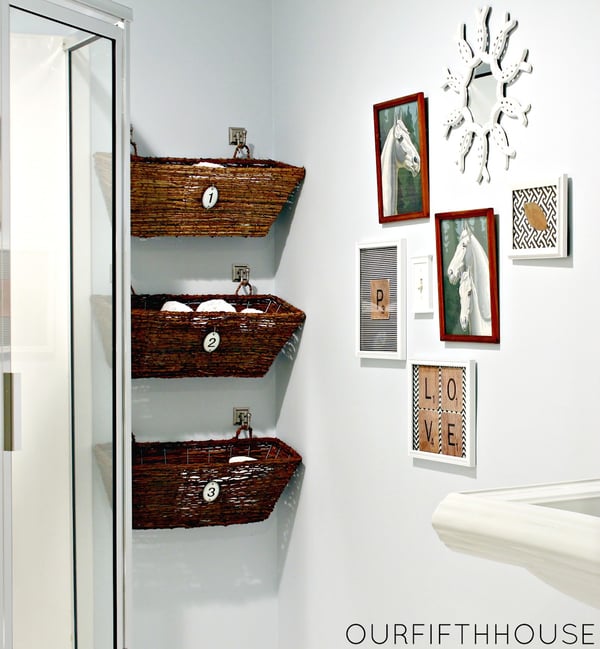 Adding a few baskets - wooden or plastic - is a great way to add a bit more storage space in your bathroom too. The versatility of wood is a godsend in the bathroom, working with almost any style you're likely to have.
Why not hang them on the wall to give you even more space?
The under-sink area is typically used for cleaning materials and household products, and baskets (even bins) are a natural choice here. You can have quite an array of products sitting in there, be it bottles, sprays, whatever. 
The fact that you can buy them at your local dollar store is just the icing on the cake!
Be wary of going overboard, though – there's a fine line between utilizing that space and bringing an unwanted cluttered look to the room.   
6. Hang things on hooks
Another cheap but cheerful option. You can get hooks in all kinds of stores - from home improvement to the big box retailers - and the type you go for is down to personal preference. Again, as an item not generally associated with the bathroom, their use can add a nice bit of character to go along with their practical benefits. They're a great space to hang your cleaning rags, even towels, freeing up space below for the bulkier items. 
7. Hang up a curtain
Curtains are a simple way to give our bathroom that extra space and yet hide that clutter away from the eyes of you (and your guests).
Again, alongside the practical benefits are the economic ones - they won't cost you much more than the price of the fabric. You may even have some lying around the house. A shower curtain could even do the trick!
First, you need to choose one that matches whatever theme or style you have going on at the minute. After you've got your material, just follow these steps:
Measure your sink vertically and horizontally with a measuring tape. Take the horizontal measurement you noted and multiply it by two. Then, add two inches to whatever your vertical measurement was for the hemming.
Cut the fabric according to these two measurements. 
To hem it, stitch the top and bottom edges of the fabric. Don't worry if you aren't much of a whizz with the needle; you can hide the hand-sewn side under the sink! (It'll be our little secret)
You now need to create the gathering at the top of the curtain. Hand stitching along the top hem with a long piece of thread is the way to go. Once the entire top has been stitched, pull the thread to create the gathering (using a sewing machine to sew along the top of the gathering, keeping it in place).
Cut some Velcro to size, with one side on the top hem of the pink skirt, the other side at the bottom.
With the Velcro in place, match the Velcro strips together to hang the curtain. Et voila!
You can also check our articles on the 33 Best Storage and Organization Products for Small Bathrooms.
Conclusion
What is the best pedestal sink storage? Well, that will depend on you and your budget. Hopefully, what this article has done is opened up your eyes to the storage possibilities for you and your pedestal sink vanity. The benefits are not merely practical; I think you'll agree some of them look pretty darn funky too!
For more bathroom ideas, check out our exciting range at bathcabinetsdepot.com. Our friendly experts are always on-hand to answer any questions you have to help you get the bathroom of your dreams!