6 Bathroom Design Ideas to Inspire Your Next Renovation
Renovating your bathroom can make a big difference in your home. In fact, both kitchen and bathroom renovations result in the biggest return on investment for resale. There are several different directions you can go on with your remodel. We'll provide bathroom remodel ideas on a budget for you to consider. 
When remodeling your bathroom, there's a lot to decide on. You'll want to be strategic with all of the fixtures. Furthermore, you might consider common trends. Lastly, we'll provide you with 6 tips or ideas for an innovative remodel. 
Your Bathroom Renovation
By following this simple guide, your bathroom renovation will seem easy to tackle. We discuss some of the hottest ways to transform your powder room. For direction on your remodel, keep reading! 
Fixtures to Consider 
When beginning your remodel, there are several different fixtures to consider. Each fixture has an important role in the function of the room. 
There are six general vanity styles to choose from. Each option will vary in size, functionality, and material. It's important to understand that some vanities are better-suited for half bathrooms, while others cater to a larger space. 
A pedestal vanity is perfect for a main floor powder room or half bathroom. It is simply made up of a porcelain base, or stem, and the sink itself. It is often one freestanding unit. There is no room for storage. Because of this, it doesn't provide a space for you to store cleaning products, makeup, and other goods. 
The pedestal vanity is extremely versatile. That's largely why many builders use it today. It's a cost-effective option that complements many design choices. Though you lose the function of storage with one, it provides a quick way to wash hands. Pedestal sinks are also easy to clean. 
A free-standing sink is very similar to a pedestal sink. However, the two do have minute differences. For example, a free-standing sink is usually a bulkier square or rectangular shape. This contrasts with a pedestal sink, which has a tapered base. 
Because of their unique appearance, free-standing vanities can make a big impact on design. Despite this, we recommend its use in half bathrooms. Similarly to pedestal sinks, you lose the opportunity to store products underneath. 
A vessel sink is a great option for any bathroom. You can expect a roomy vanity with cupboards and lots of storage. The special thing about a vessel is that the sink bowl will sit on top of the vanity. This optimizes storage space. Furthermore, it looks incredible. 
The downfall to a vessel sink is that it can be expensive, bulky, and more difficult to clean. However, what they lack is gained in their style. Due to the sink being on top, you have more storage than a traditional sink. 
A wall-mounted or floating vanity, is mounted to the wall. It lacks legs to stand on. These vanities look extremely sleek and modern. Furthermore, they offer storage for products. 
The downside to a wall-mounted sink is that they often have a weight limit. You'll have to be mindful of how you store products. Otherwise, you can cause damage to your wall and vanity. 
For a unique experience, add LED lighting under the cabinets. 
Under-mounted vanities are the opposite of vessel vanities. The sink itself will be sunk into the vanity. Under-mounted vanities are some of the most popular. These are slightly easier to clean; however, you'll lose some storage. 
There are nine types of common mirrors for bathrooms. 
A framed mirror consists of a basic mirror with a border, or frame around it. Similar to a framed photo, a framed mirror can come in different styles and colors. 
Get dual-functionality with a medicine cabinet. The mirror will be the "door" of the cabinet and open up to a storage space for pharmaceuticals and products. The cabinet itself can sit on top of the wall or be sunken into the wall. 
Add a little extra light to your bathroom with a lighted mirror. Not only does this look sleek and modern, but it gives a convenient place for doing makeup and hair in the morning. A lighted mirror will illuminate the space and make the bathroom feel luxurious. 
Venetian style refers to a gorgeous etching inspired by traditional Venice architecture. It was once commonly used and now it's a little bit rarer. However, it adds opulence to any space. 
A frameless mirror provides a simple look. It is just a mirror with no border or frame surrounding it. A frameless mirror is cost-effective and simple. 
A ledge mirror offers the functions of a mirror with an added shelf. The shelf can be found at the bottom of the mirror. Here you can store fragrances, skincare products, and soaps. 
Captain's mirrors are unique as they feature a round shape. They are secured with a hanging rope. It offers a nautical feel but you can style it however you see fit. 
For smaller bathrooms, an extension mirror is a great option. Pivot and turn your mirror in any direction. An extension mirror is secured with an accordion mount. 
3. Bathtub 
There are four major bathtub types. 
A generic bathtub is the most cost-effective. It is a built-in unit with access to a shower as well. This way, the fixture serves a dual purpose. Generic bathtubs are often white. 
A soaking tub is highly sought-after. It provides enough room for a full-body soak. It is often deeper than your generic bathtub. Soaking tubs, also freestanding tubs, can come in a variety of different styles. They take up more space than a generic tub but add a luxe experience to your bathroom. 
A walk-in tub features a convenient door that securely opens and closes. They are similar to generic tubs. Walk-in tubs are especially useful for those that struggle with mobility. 
Whirlpools feature convenient jets throughout the tub. This provides a hot tub-like experience and is great for muscles. A whirlpool tub is often larger than other tub options. It may be found in the corner of a bathroom or connected to the wall. 
4. Showers 
There are two ways to install a shower. 
Pre-fabricated showers are common. They come in one large piece. It is often made from laminate, plastic, or fiberglass. Pre-fab showers are cost-effective and easy to install. Furthermore, they are easy to clean. 
Get a custom shower in your home. Custom showers can be fully tiled and customized to your space. They are a lot more visually appealing than a pre-fab shower. However, they are more expensive than the latter option. 
Common Bathroom Trends 
Though there are dozens of designs to choose from, we have found five bathroom trends that we love. When beginning your remodel, it's important to choose a theme or design trend. This will help everything stay cohesive. Furthermore, it will make decisions moving forward easier to make. 
Five of our favorite trends include:
1. All-white modern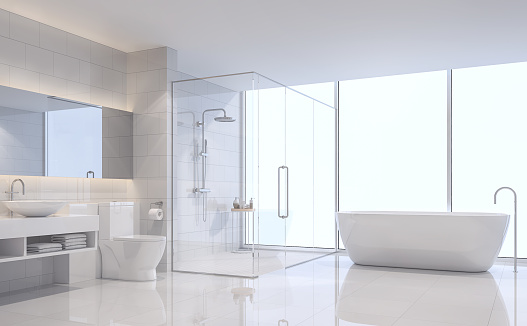 The all-white trend has become extremely popular the last several years. It gives a very crisp, clean aesthetic. If you choose to go all-white, you can decorate with little colored accents. An all-white modern bathroom will be extremely calming and relaxing. 
Choose white subway tiles, white countertop, and white cabinetry. This look is extremely easy to accomplish. Attempt to stay within the same tone of white throughout the entire look. For example, some whites can look more creamy or buttery. Whereas others are more crisp and bright. 
2. Bohemian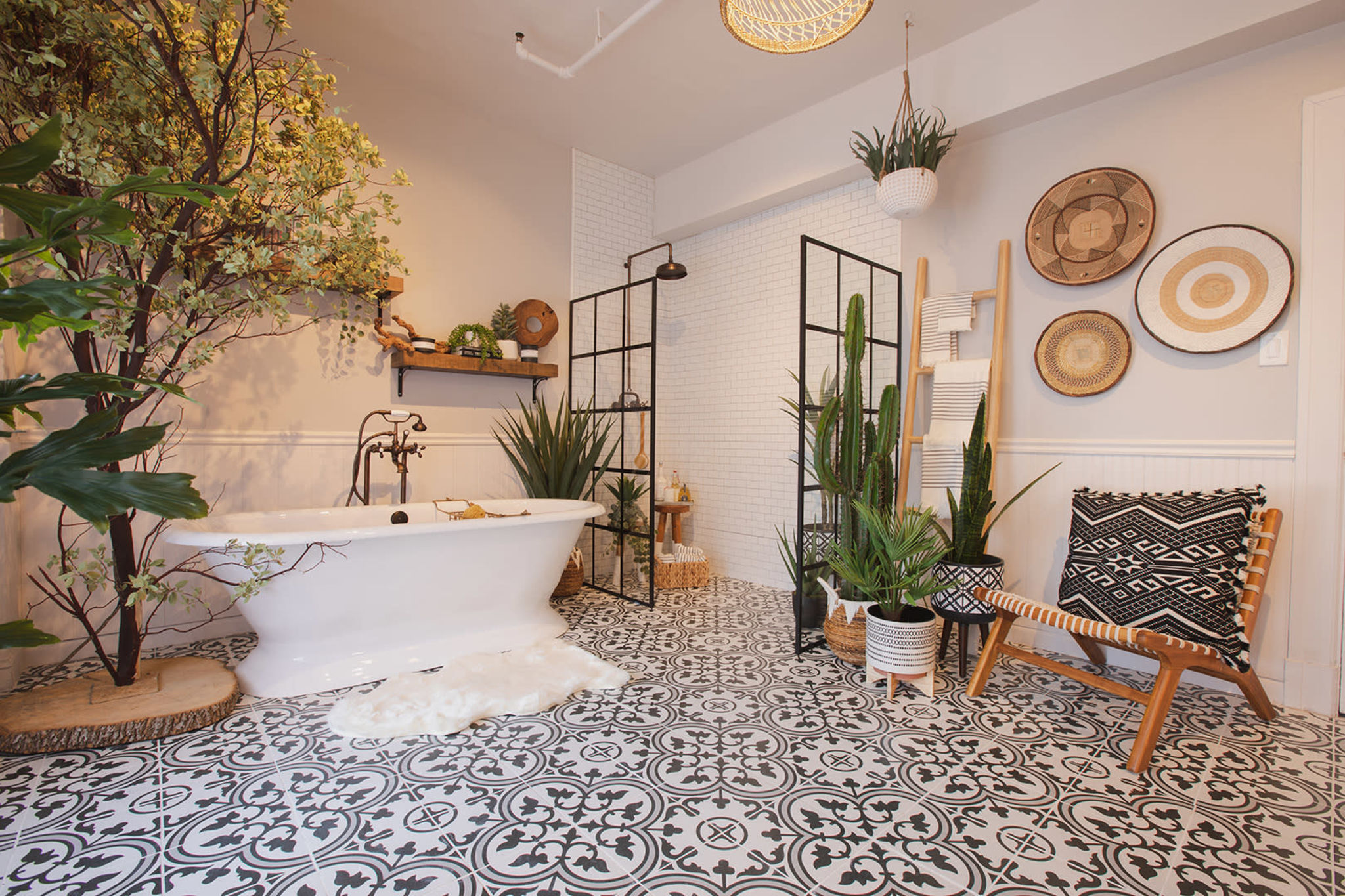 Bohemian is another trend that has made a big impact in recent years! It brings a wanderlust feeling into any space. To achieve a bohemian style, you'll want to pull on global, worldly colors such as terracotta, pale blues, and beiges. 
Woven accents are perfect for this look. Add patterns where applicable, such as on your floor mat and towels. Stay away from harsh colors such as black. Bohemian can be achieved with thrifting. Look for unique items that work together but don't match perfectly. Add humid-friendly plants to their area where you can. 
Bohemian is a great style because it doesn't require too much fuss. However, the end product is gorgeous.
3. Dark and moody 
Dark and moody bathrooms pay tribute to trends from the 1920s era. They certainly make a strong statement. However, they are beautiful in their own right. Planning a dark and moody bathroom can be more difficult than some other trends we've discussed. 
To really flatter this design, focus largely on the paint and tile of the bathroom. You'll want the paint and tile to both add an edgy accent to the room. For paint, you can opt for a rich, emerald green or dark navy. For a more neutral option, choose charcoal. Many design experts recommend pulling the paint color up onto the ceiling as well. 
Decide on a tile that complements the paint color but doesn't steal from it. Put everything on a color board for a cohesive experience. 
4. Spa-like 
For many of us, we want to feel like we're enjoying a spa in the bathroom. After all, a warm shower or bubble bath is the perfect way to unwind after a long day. A spa is known to be one of the most tranquil, relaxing places. Why not emulate that with your bathroom at home? 
To create a spa-like bathroom, you'll want to stay with pale colors and neutrals. Creamy beige, pale blues, or sage greens are excellent choices. These colors will all easily pair with white accents. Stay away from tile or countertops that are too overwhelming or busy. 
All aspects of the bathroom should offer a calming effect on you. Opt for a large soaker tub or steam shower to really add to the overall experience.
5. Mid-century modern 
Do you love wood accents? Do you want to make a statement bathroom without being too harsh? Opt for mid-century modern! This design trend brings in rich wood accents. Consider opting for a wood vanity. Play with different textures, shapes, and colors to complete the look.
Paint the walls white and choose clean lines, different shapes, metals, and woods for the remainder of the bathroom. Mid-century modern has become well-loved over the past few years. 
Bathroom Design Ideas 
Are you ready to plan a one-of-a-kind bathroom? To do that, we recommend using some of these design ideas. We've chosen some of the trendiest designs over the past five years. This will help you plan a bathroom that is uniquely your own. 
1. Tile
Tile is one of the best ways to make your bathroom stand out from the rest. Over the last several years, homeowners have learned to play with tile. What was once used as mandatory flooring has now worked its way up walls. 
By featuring a completely tiled shower or tiled wall, your bathroom will begin to look more unique and elegant. You can choose a statement tile that makes a splash. Furthermore, you can opt for a couple of different designs throughout the bathroom. 
Some of our favorite tile styles are:
Graphic. Graphic tiles are often busy and feature different colors. These tiles tell a story and quickly add personality to any space. They often feature large, cohesive designs. You can choose them in soft hues or bold patterns. 
Matte. Glossy tiles have already had their share of the limelight. Now we recommend opting for matte tiles. Matte tiles will immediately add a level of elevation to the bathroom. They are more subdued and allow you to accent with other features. 
3D. 3D tiles have a pattern etched into them. They add a lot of character to any space. You can find 3D tiles in different shapes and styles. 
2. Wallpaper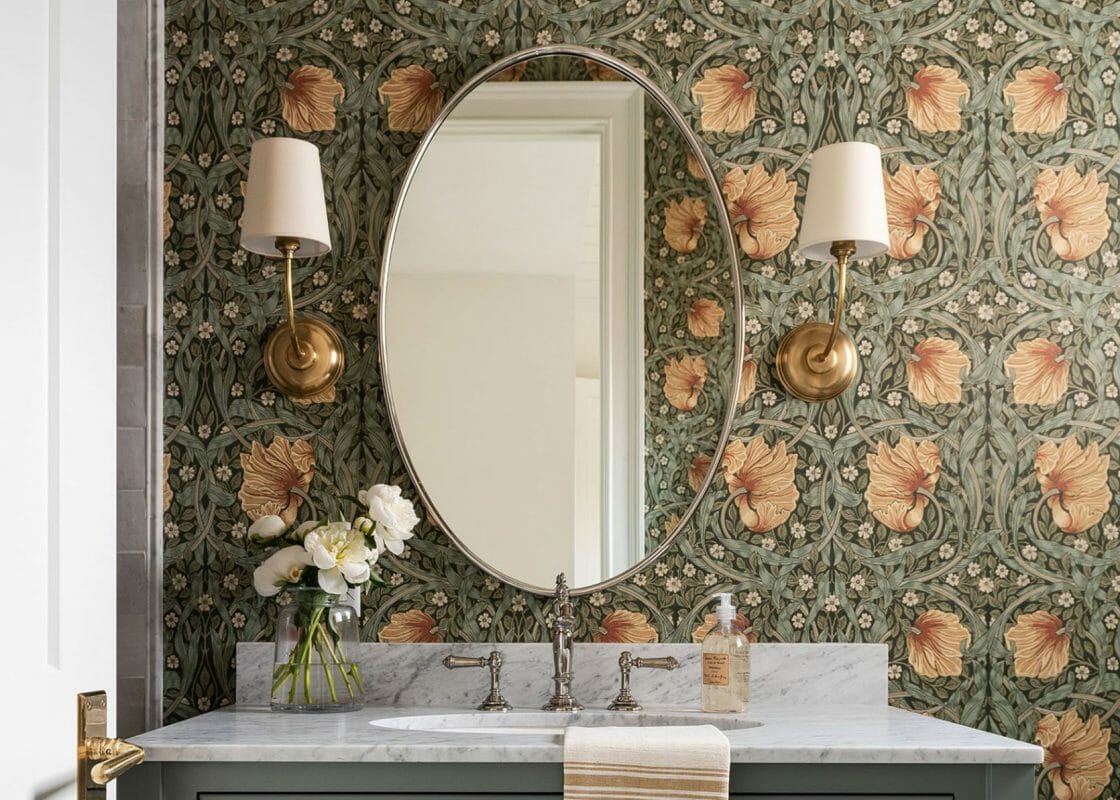 Wallpaper has made a huge comeback. It is a beautiful addition to any bathroom, and it makes a big splash. Wallpaper has really improved since the 1970s. Many people recall it being difficult to install and remove. In fact, it could even damage your walls. Thankfully, modern-day wallpaper (often peel and stick) is much more user-friendly. 
Purchase wallpaper in many different patterns. Some of the most notable are geometric shapes and florals. Furthermore, you can get 3D wallpaper that adds a dimensional effect to the space. 
The one thing to keep in mind with wallpaper is that the bathroom is humid. Only install the wallpaper once you've determined that the space is well-ventilated. Thankfully, this is just a precaution. Many manufacturers claim that their paper can hold up in humid environments. However, we recommend being mindful of this, as it can be expensive and time-consuming to install. 
Choose a peel and stick wallpaper, and make sure your bathroom can manage the humidity before applying. Either do a single feature wall with wallpaper or commit to it throughout the entire bathroom. 
3. Shiplap
Shiplap has really seen an incline in popularity over the last few years. However, recently some shiplap trends have changed slightly. When shiplap first became popular, horizontal, white shiplap was everyone's favorite look. However, more versatility is now appreciated. In fact, many homeowners opt for vertical shiplap. This gives a more modern look. Furthermore, many will paint the shiplap brighter or moodier colors. 
While horizontal shiplap is considered to be a little rustic or add to a farmhouse feel, vertical shiplap is more modern. Installation of shiplap should be on a wall that isn't directly near water. For example, avoid the same wall that your shower is on. Unlike tile, shiplap isn't waterproof, so be mindful of where you place it. One of our favorite choices is behind the vanity. 
Paint the shiplap the same color as your bathroom or opt for a statement wall. This will draw the eye's attention. We recommend choosing UFP-Edge shiplap for humid spaces. 
4. Wet room
If you're looking for an extremely luxe way to design your bathroom, consider a wet room. This is mostly recommended for large spaces, as it can take up quite a bit of room. However, it looks extremely elegant. Furthermore, it makes cleanup and maintenance easier. 
To achieve a wet room, you'll include a freestanding bathtub essentially inside a shower. Or, at the very least, the shower and tub will be separated from the rest of the bathroom with a glass wall. This completely separates the bathing areas from the sink and toilet. 
A wet room often features quite a bit of tile. This portion of the room is made to be completely waterproof. This means that splashing during bath time isn't as much of a concern. 
The tiling of a wet room can be expensive. However, it often makes your space look even larger than it is. The good news is that you will likely see a return on investment. It's likely that potential buyers will love this unique feature and pay more for it. 
5. Accent with metals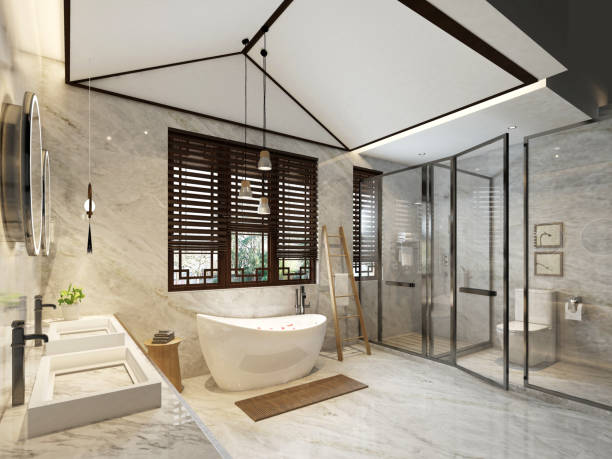 Traditionally, bathrooms used pewter or silver bath fixtures. This includes taps, handles, faucets, and hardware. However, homeowners are beginning to play with different metal fixtures. Black, copper, and gold are more common now than ever before. 
Playing with different colored metals can completely transform your space. They can add merit to the design style you've chosen. Furthermore, they look more unique and opulent. 
If you choose to go for a moody and dark bathroom, consider accenting with gold. This will add some brightness to the space. If you've chosen an all-white modern bathroom, you might contrast it with black hardware and fixtures. This will add some unexpected edginess. 
These small considerations will make a huge impact in the final product. Be mindful of the color tones you're going with. For example, if your primary colors are cool, opt for cool metals. If your primary colors are warm, opt for warm metals. 
6. Play with lighting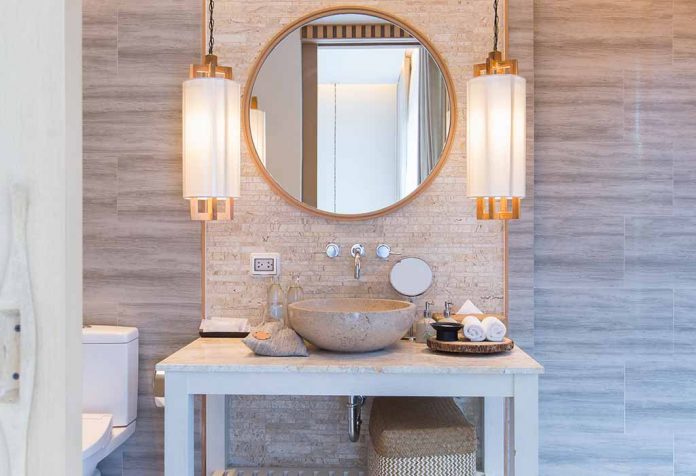 Lighting can make a huge impact in the space. Furthermore, it illuminates it and makes the space more usable. Lighting can be found in unexpected places. For example, invest in a lighted vanity mirror. These can be motion censored or turned on with a switch. Another common lighting option is under-cabinet lighting. This will illuminate your feet and add a beautiful glow when you're in the bathroom. 
Not only can you play with lighting like this, but go for non-traditional lighting options. Where sconces were once the norm, consider opting for pendant lighting or chandeliers. This will add an unexpected aura to the bathroom. 
Make sure your lighting matches the metals of your hardware and fixtures. Lighting that can be dimmed is especially useful for calming baths. 
How Much Does a Bathroom Remodel Cost?
Bathroom remodels can vary greatly in price. Depending on the size of the renovation, you can expect to spend anywhere between $2500 and $30,000. Labor is often the most expensive part of a renovation. Therefore, if there are any parts you can DIY, we recommend that. 
With that being said, fixtures aren't inexpensive. A new bathtub or shower can cost thousands of dollars. Before beginning, set a strict budget. Know your priorities and what you want to splurge on. 
Some ways to spend less during a remodel is to opt for a generic tub/shower combo, laminate countertops, and simple mirrors. However, if you want to budget for more, you won't regret it. A gorgeous bathroom remodel will likely pay itself back with the resell of the home. Buyers love an elaborate bathroom - especially a comfortable and welcoming bathroom in the master bathroom. 
Conclusion
If you're looking to begin a bathroom renovation, consider starting with one of these bathroom remodel ideas on a budget. Look for fixtures and decor on sale and choose design elements that complement the trend you're going for. Renovating your bathroom may seem overwhelming, but it'll be worth it. Not only will you have a nice place to unwind, but it's a great way to improve resale value.
With all renovations, make sure to stay within the budget you initially set for yourself. This will remove any financial stress that a remodel can result in.