5 Pedestal Sinks to Streamline Your Bathroom Design
Pedestal sinks are huge space savers. Regular models require a vanity. That takes too much room and attention from other bathroom fixtures. This modern alternative is convenient for compact spaces. It can also look beautiful and add to the overall décor.
If you'd appreciate pedestal sink ideas, this article features units that fit different bathroom styles. Take a look at the detailed descriptions and pick a unit that suits your taste!
How to Choose Pedestal Sinks?
The main factors to consider are the following:
Dimensions. You should consider the sink's height but also basin specifics. It'll likely be wider than the pedestal, so secure enough room for it.

Design and style. You'll find modern glass sinks but also more traditional options. These units come in different colors, so go with the one that fits the décor.

Materials. These can go from glass to ceramic, stone, and metal.

Faucet holes. Do you need a single unit or prefer more?

Price. Budget plays an important factor since the pedestal sink price can vary.
In the next section, check out the reviews of the top products available in the market!
Features
Pedestal dimensions

: 28.75 x 18.25 x 34.25 inches

Materials

: Stainless steel, tempered glass

Vessel sink dimensions

: 16.5 x 5.5 inches
Description
If you need a modern pedestal sink, Fresca Attrazione will fit that description. The secret lies in simplicity, and Fresca Attrazione proves that. You'll find the stainless steel stand features a sleek chrome finish. The base is stylish but also practical and ensures stability. It contains a towel bar to secure additional functionality.
It's the basin and the countertop that give uniqueness to this unit. The manufacturer used tempered glass for the sink and the countertop. The latter is semi-circular, and the sink is of modest size. It makes the unit suitable for compact bathrooms and small spaces.
The faucet mount features a single hole. You'll find the installation is simple since you get all the necessary tools. Overall, this sink features impressive usability for a compact unit. The towel bar and the countertop for soap dispensers maximize the fixture's value for money.
2. Foremost Series 1920 Pedestal Combo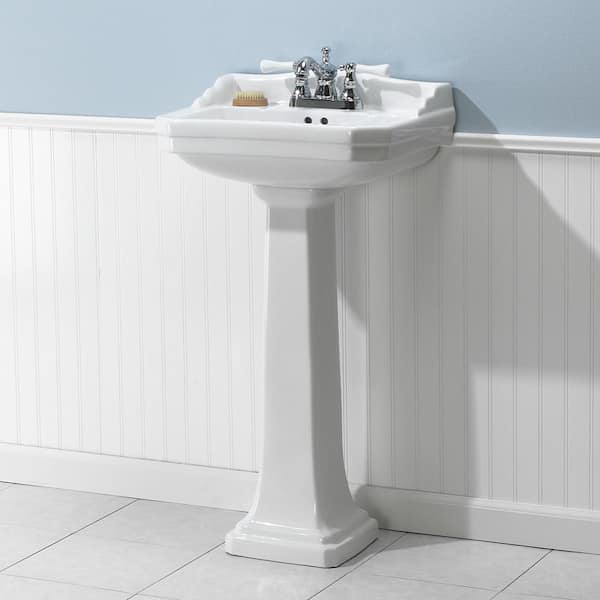 Features
Pedestal dimensions

: 15x20x38

Material

: Vitreous china

Finish:

White
Description
Some people like unique pedestal sinks. Others prefer a classic white finish. Foremost Series 1920 is for the latter group. This is a high-quality unit that uses vitreous china. We often see this material used for pedestal sinks. This manufacturer combined classic durability and modern design.
The stand is durable and wider at the bottom for added stability. The top features an unusual design and multiple faucet holes. You'll also find overflow outlets that eliminate the risk of spillovers. You can put a small soap dispenser on the faucet hole sides. However, there could be more room for toiletries overall. Another notable thing is that the overall sink height is a bit higher than expected. That might make it inconvenient for children. But overall, this is a durable pedestal sink that provides plenty of bang for the buck.
Features
Pedestal dimensions

: 24 x 19.5 x 34.5 inches

Materials

: Stainless steel, tempered glass

Vessel sink dimensions

: 16.5 x 16.5 x 5.5 inches
Description
If your pedestal sink ideas involved a clear basic, Ovale could be a smart pick. You'll notice some similarities with other Fresca products. The stainless steel pedestal is there. However, the towel bar is much narrower than in the Attrazione unit. It's still useful since it prevents reaching for a bar on the side. This towel positioning reduces the risk of water drops ending on the floor.
The countertop isn't that useful since the basin is wider. Adding the glass shelf over the sink resolved that problem. You can use it for soap dispensers, perfumes, and other frequently used items. Mount the sink on the shelf, which puts it higher over the basin.
The manufacturer offers a compatible mirror, but they sell it separately. It's not a big additional investment, and it'll ensure the entire area is from the same collection.
4. Kohler K-2362-1-96 Cimarron Sink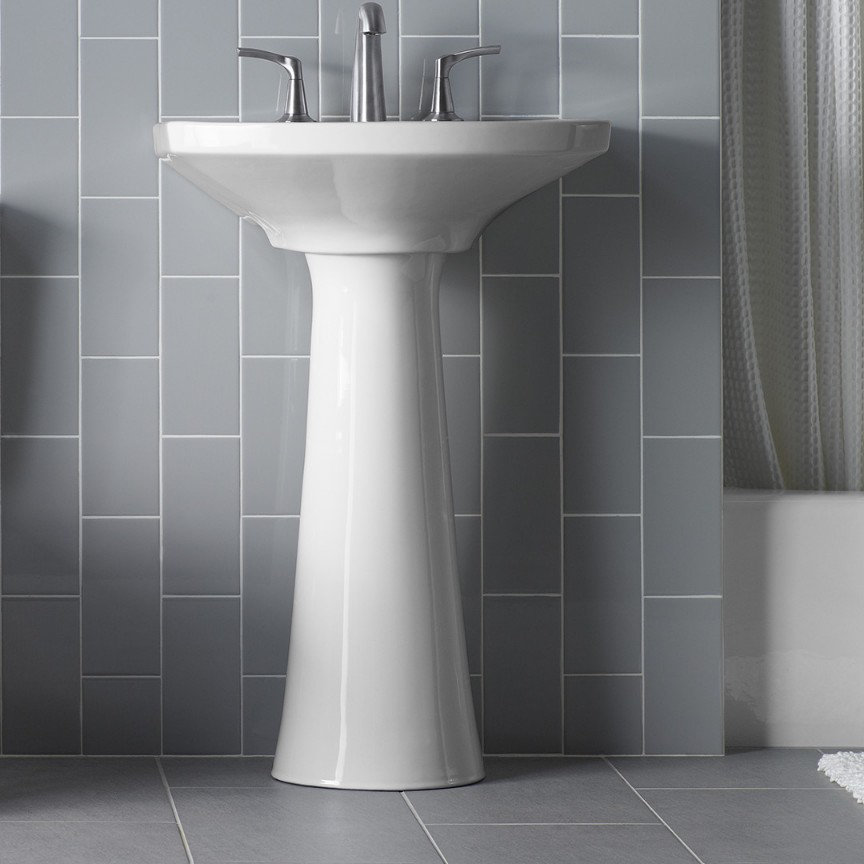 Features
Pedestal dimensions

: 18.8 x 22.75 x 34.5 inches

Materials

: Vitreous china

Vessel sink dimensions

: 21 x 12.75. x 3.65 inches
Description
Kohler is a famous bathroom brand, and this pedestal sink is their classic product. The manufacturer uses vitreous china and a white finish. It will fit with the bathroom décor seamlessly. If it's better for your style, other colors are available. They range from biscuit and almond to "Black Black ™." The latter is a unique option that can be the bathroom's focal point.
This unit is convenient if you need generous sink space. It offers a spacious basin and an overflow drain. Cimarron features a single faucet hole. You'll notice beveled edges that add to the overall design. The price tag is a bit higher, but this is a top-quality sink that can last for decades.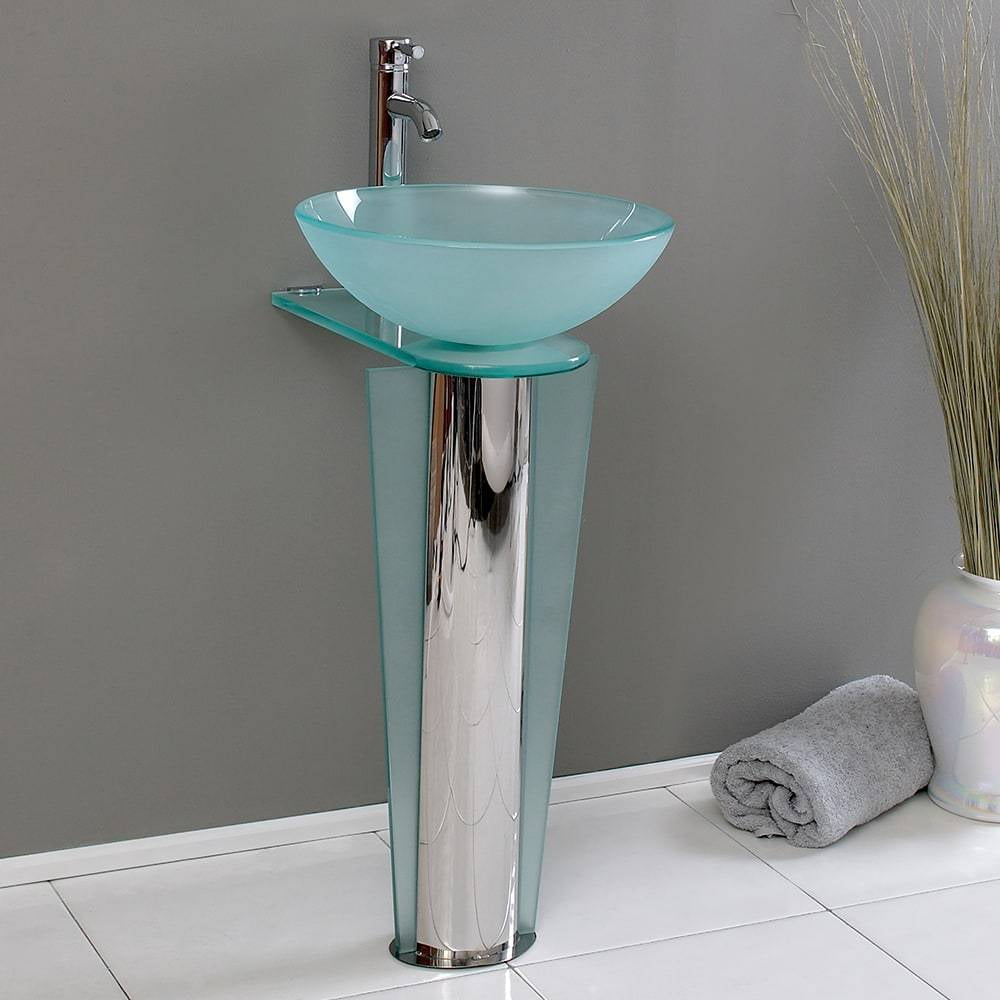 Features
Pedestal dimensions

: 16.5 x 20.38 x 34.38 inches

Materials

: Stainless steel, tempered glass

Vessel sink dimensions

: 16.5 x 16.5 x 5.5 inches
Description
This is a great pedestal sink for small bathroom areas. Its stand is less than 17 inches wide, which is impressive. Apart from the stainless steel base, you'll notice glass panels on the sides. They are a unique addition to the Vitale unit.
As for the upper area, there's a glass countertop with the basin. The single-mount faucet hole is in the back. You have little room for your essential items, which can be a downside. The basin itself is adequate since it has a 16.5" diameter and it's 5.5 inches deep.
Fresca ensured the installation process was effortless. You get all the necessary hardware and clear instructions. The turquoise sink color looks neat. It also requires some effort to fit in with the rest of the bathroom.
You can also check our article on Small Vanities & Sinks You Can Squeeze Into Even the Tiniest Bathroom.
Final Thoughts
If you don't have room for a vanity, a pedestal sink is an excellent replacement. It saves space while offering maximum functionality. You can choose from pedestal sink ideas in this article or look for an alternative online. Make sure to stick to reliable internet stores that will make the purchase process effortless. Most sinks will be easy to install, and they'll be a long-term solution for your bathroom!