5 DIY Bathroom Vanity Plans
Your vanity can completely transform your bathroom. It adds the design style you're looking for while being functional. Depending on your vanity, you may opt for one or two sinks, and potentially even a place to do your makeup. 
Thankfully, you can save money and construct your vanity yourself. We've outlined five DIY bathroom vanity plans for you to look at. Each plan will help you take your bathroom to new heights. 
Bathroom Vanity Plans
If you're deciding whether to DIY your vanity or purchase one already made, we can help. There are certain pros to doing it yourself. We will outline the benefits of a DIY project. Furthermore, we will discuss some common materials that people use. 
To learn everything about DIY-ing your vanity, keep reading! 
Pros of DIY-ing Your Vanity 
There are many benefits to creating your bathroom vanity yourself. If you're on the fence about buying a premade one or building your own, these points might help. Though DIY-ing might be more time-consuming, there are plenty of reasons to do it. 
Custom-fit.

If you want your vanity to fit a certain area, a do-it-yourself project is the way to go. A premade vanity won't be the perfect dimensions. With a DIY, you can make the vanity fit perfectly into any space.
Choose your materials.

There are different materials that you can choose from. Each material will perform differently and have different benefits. Depending on your needs, some materials may work better than others. With a DIY project, you can choose whatever materials you prefer.
Cost-effective.

Building your own vanity will save you money! This is a more cost-effective option than purchasing a pre-made vanity. If you're looking to transform your bathroom on a budget, this is the way to go.
Customize storage.

In some bathrooms, you'll want more storage than in others. For example, a main floor powder room often doesn't hold many products. On the other hand, a master bathroom will hold hair products, makeup, and more. With a DIY vanity, you can customize your storage solutions. 
Materials 
When building a vanity, there are two things to consider: The material of the vanity top and the material of the rest of the vanity. Finding a material for the base of the vanity can be difficult. Because it's in a humid bathroom, the material must withstand humidity. Unfortunately, some woods will warp over time. Avoid this by finding good material. 
Another thing to consider is the sturdiness of what you're using. Your vanity will hold products, a countertop, and a sink. It's important that the base can withstand this. You want your vanity to last years. Some of our favorite base materials are: 
Particleboard.

Particleboard is relatively inexpensive. It consists of wood particles pressed together with heat. To make particle board bathroom-friendly, melamine or veneer will be applied. This will ensure it doesn't damage. 
Solid wood.

Solid wood is the pricier option of the two. However, it is a sturdier option and will withstand humidity and heat. If you're looking for a trustworthy, long-lasting option, this is a good choice. 
Top 5 DIY Plans
We've outlined five of our favorite bathroom vanity plans. These plans differ in function. Determine your needs, budget, and design preferences before beginning your remodel! 
1. Double Bathroom Vanity 
A double vanity is perfect for master bathrooms and jack-and-jill secondary bedrooms. It includes two sinks. Having a double vanity looks more luxe and opulent. Furthermore, there is more storage than a single vanity. 
This plan from Sawdust Girl features a 32" double vanity. The plan includes cupboards and drawers for maximum storage. 
The plan is helpful and includes tools, supplies, materials, pictures, and instructions. 
2. Vintage Vanity 
If you have limited space or you like vintage decor, this vanity is for you. It's a single vanity with drawers and storage. It is relatively easy to build. This DIY from Build Something took functionality and space into consideration. Many powder rooms don't have a lot of room. Thankfully, this vanity will accommodate that. 
The unique thing about this plan is you don't have to sacrifice storage. There is still plenty of room to keep towels, products, and other necessities in. The plan includes lists of tools, materials, useful diagrams, and directions to follow. 
3. Spa Vanity 
If you're looking for a spa-like feel, this is the way to go! This vanity doesn't have closed-in storage, such as drawers. However, it features open shelving. For powder rooms, this is a great option! 
We wouldn't recommend this plan for a bathroom where you need to store a lot of products. However, it looks chic in the right setting. The unit holds two stand-alone sinks on top. Check out this plan from Space Between for written instructions. 
4. Builder Vanity 
This is a vanity that you've probably seen in many homes! It is perfect for a secondary bathroom. This vanity is a single sink with lots of storage underneath. Guests will have everything they need in their guest bathroom. 
Ana White makes this build easy and includes instructions and photos to help your process. 
5. Farmhouse Vanity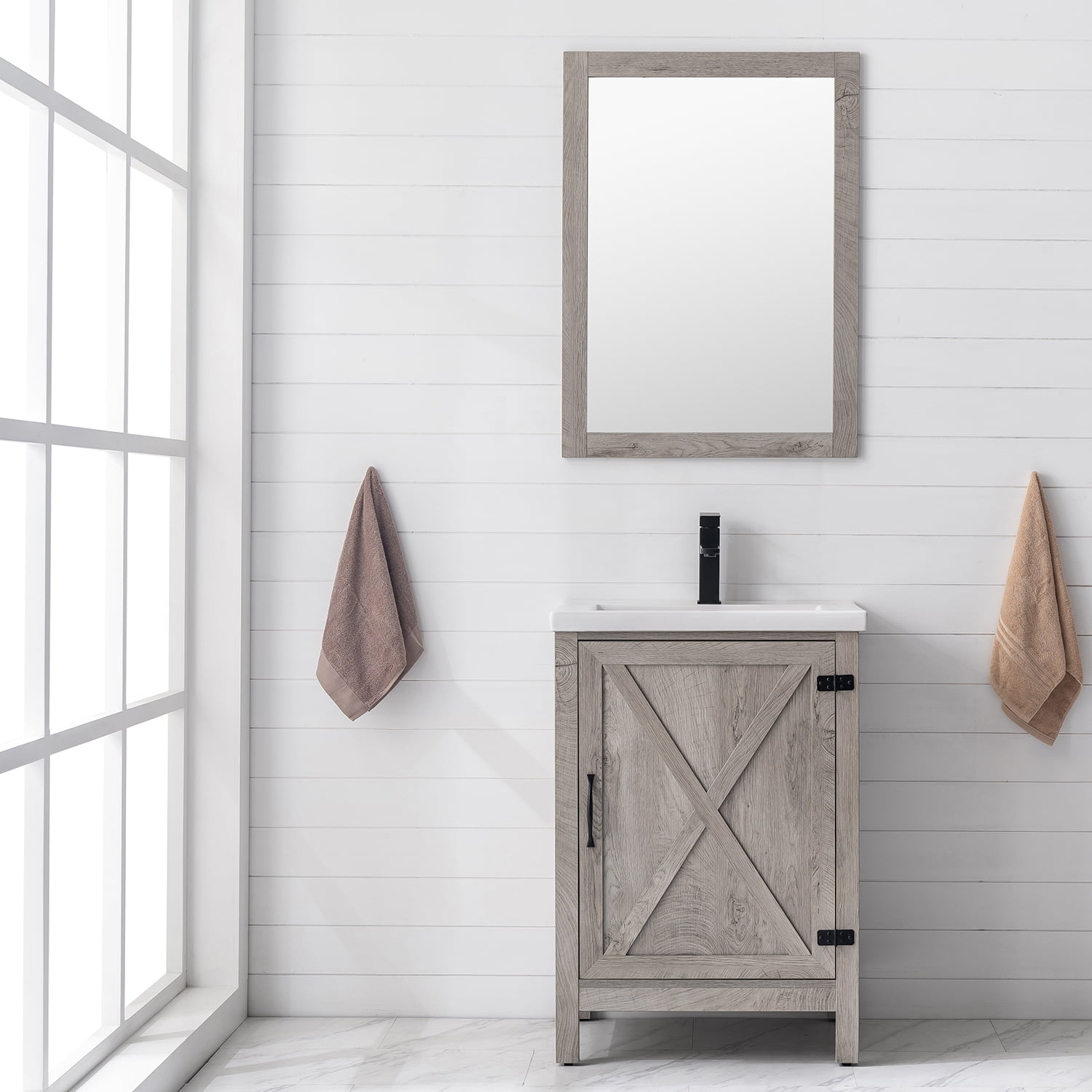 If you love that eclectic, rustic farmhouse style, then this vanity is for you. Designed by Shanty 2 Chic, this single-sink vanity pays attention to detail. It's great for a smaller space, such as a powder room. Pair with a gorgeous mirror for a perfect end result. 
This DIY plan also includes instructions, diagrams, and lists to help you prepare for the build! With unique barn door-like features, it's no wonder that this DIY plan is such a fan favorite. 
You can also check our article on the 10 Small Bathroom Vanity Ideas That Pack in Plenty of Storage.
Conclusion
It's time to build your own vanity with our DIY bathroom vanity plans! Following any of these plans will result in a beautiful end product. Choose plans that suit your space and provide the most functionality. 
Consider what materials you want to use before beginning. Taking the time to plan ahead will save you a headache once you begin. However, by using these DIY plans, you'll save money and customize your bathroom.