4 Beautiful Bathrooms with Stylish Pedestal Sinks
Designing a bathroom is a fun but challenging task. Different styles are available, so it's all to your taste. Do you like a traditional or rustic style? Would you like to upgrade to a modern room or focus on a specific color?
Whichever style you choose, you can't go wrong with a bathroom pedestal sink. These are fantastic additions that don't take away an inch of space more than necessary. They are functional and can fit the design perfectly. Check out these suggestions and pick the option you like most!
What are the Most Beautiful Bathrooms with Stylish Pedestal Sinks?
You have two different approaches. The first one is to come up with a bathroom style and choose the sink that accommodates it. A vice-versa approach is also possible. Pick a bathroom pedestal sink and other fixtures that complement it. The latter is easier if building the space from scratch or renovating it completely. Here are the most popular models currently available!
Glass is an elegant and stylish material for contemporary designs. Fresca is a premium brand that uses its potential to the fullest. Attrazione has a classic chrome pedestal. It looks classy, and it's 34 inches high. 
The unique addition is the towel bar at the top. It adds to the unit's functionality. It also makes this an excellent pedestal sink for a small bathroom. The bar means you won't have to worry about where to hang towels.
The glass countertop is a beautiful touch. While it's not generous pedestal sink storage, it's convenient. You can put soap dispensers, toothbrushes, and other essentials. If you clean it regularly, maintaining the glass surface will be effortless. The tempered material is more durable and has better heat resistance.
The glass vessel sink is transparent. Its diameter is 16.5 inches, which is big enough for all users. You'll notice the sink is high, too. This dimension is 5.5 inches to prevent splashing the bathroom. Despite this, avoid using maximum water flow. The setup has a single faucet hole ready for the desired installment.
2. Swiss Madison Well Made Forever SM-PS307
This sink can be a fine choice for those looking for affordable models. Its main advantage is its peculiar design and two different colors available. If you want a classic bathroom, the glossy white finish is okay. But if you need a modern and bold design, how about a matte black finish? It will dictate the rest of the décor. However, you'll end up with a modern and stylish bathroom.
The manufacturer used ceramics for this classic pedestal sink. It's 33.8 inches tall but narrow to ensure it takes little space. The faucet hole is ready, and you'll find an overflow drain. The basin is large, and the sink features smooth sides. These make cleaning easier and the appearance more attractive.
You'll notice the glossy finish, which also has a functional side. It ensures the unit is resistant to stains and scratches. You need to mount this sink to the wall during the installation.
This is another pedestal sink bathroom fixture designed by Fresca. Although it belongs to the same collection, the manufacturer made it different. For starters, the pedestal is only 16.5 inches wide. This compact option is excellent for small bathrooms. 
The depth is around 20 inches, primarily because of the glass side panels. Fresca designed the classic chrome stand with a modern appeal. They added glass panels to this unit to make it stand out more. It ensures the stand attracts attention despite being compact.
Fresca Vitale has the same sink as the Attrazione unit. The basin is 5.5 inches high and has a 16.5" diameter. It's the maximum vessel you can fit with this design. But unlike the other model, this basic is turquoise. It fits great with the glass panels, and it adds to the overall décor. 
The countertop is narrow to ensure maximum space-saving. It'll impress you how little space this unit takes. The faucet mount is in the back, which is convenient.
4. Kohler Memoirs Sink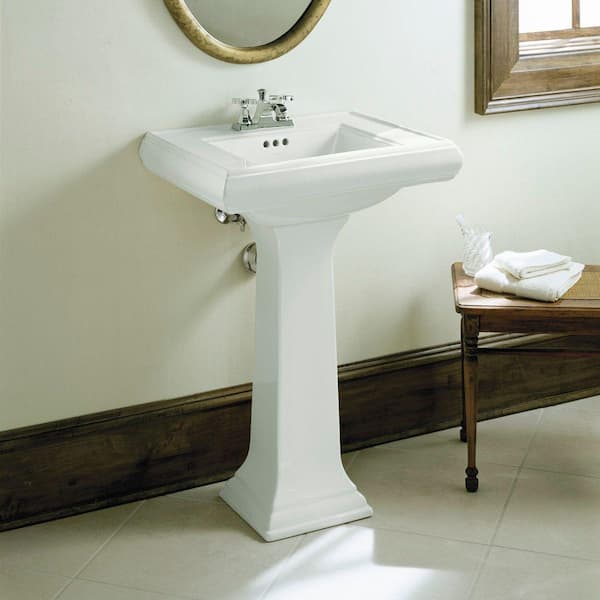 This pedestal unit is a mixture of traditional design with unique details. Kohler is a famous brand, and its Memoirs collection comes in many colors. White might be the easiest to fit with the décor. If you are more courageous, pick cashmere or thunder gray. Lighter options like almond or biscuits are also available.
The pedestal sink has three faucet holes in the central section. You'll find a drain hole, while the basin itself is rectangular. This unique shape with a five-inch depth makes the sink's design unique. You'll also notice the pedestal that spreads at the bottom. The entire unit features crisp lines. It looks antique in some colors while elegant in others. Either way, it adds classiness to your bathroom.
What Other Items to Add to Make Your Bathroom Beautiful?
Pedestal sinks are only a single element in your bathroom. If you want to spice up the area's design, don't forget other pieces. These expert suggestions could be great pointers:
Cabinets. If you have enough room, this unit helps to store stuff. The rustic walnut options or modern light tones can be great choices. You can also go for side cabinets that you'd put in a corner.

Makeup tables. Females will appreciate having a unit that makes putting on cosmetic products easy.

Mirrors. This is a bathroom necessity. It's also a unit that can add to the décor if you place it well. You can pick from antique coffee, traditional white, and other frames.

Unique fixtures. Add an original shower attachment or faucet. Different colors, shapes, and even functions are available.
You can also check our articles on Types of Kitchen Sinks.
Final Thoughts
A bathroom pedestal sink can be compact and easy to fit in small areas. You also have bigger units that can even serve as the section's focal point. It depends on your preference, budget, and desired functionality. Visit online stores and browse collections from premium brands to find your favorite. Thanks to the comprehensive selection, it will be easy to find a sink that impresses you!