15 Inspiring Ways to Use Wallpaper in Your Bathroom
Renovating your bathroom is a fun and exciting experience, but it's also difficult. Choosing new tiles and fixtures, and adding other designs is a whole lot of work for someone who doesn't have a lot of experience with renovations. This is where the best wallpaper for bathrooms comes in. Even if you're not creative, you can easily turn your bathroom into an elegant space.
Choosing wallpapers instead of tiles for bathrooms may seem like an absurd idea. Well, it might be true in the past, but with the advancement of technology, modern wallpapers can now withstand the humidity and moisture inside the bathroom.
If you're exploring the possibility of using wallpapers for your bathroom, we'll give you a short review of its benefits, the best types of wallpapers to use, and a few design suggestions on how to properly use these bathroom wallpapers.
The Benefits of Bathroom Wallpapers
It's easy to look at the disadvantages of using bathroom wallpapers. We've known about it for a long time and not a lot of people would actually use them for bathrooms. However, modern wallpapers have become more in demand because they can now withstand moisture. If you are still not convinced that wallpapers are better alternatives for tiles, here are some of the benefits that you should know about.
1. Versatility
One of the primary reasons why wallpapers are very in demand is their versatility. Unlike tiles, you can change the wallpaper anytime you want. They can also be used in a variety of décor styles and you can even combine them with other materials. It doesn't matter what type of finish your house has. You can always find a wallpaper that would fit your preference.
Wallpapers will look great when combined with plastic panels, ceramic tiles, or even wainscoting. They can be painted in any color as well. These wallpapers also come in a variety of styles and colors so you can always find what you're looking for.
2. Easy Installation
Tiles would take time to install. You need adhesives and other things to make sure that they would stick with the wood or concrete. Wallpapers are not complicated to install. As a matter of fact, you won't even need special skills to install this. It is one of the DIY projects that you can complete by simply watching a YouTube video.
So how do you install wallpaper?
Start by preparing the wall where the wallpaper will be placed. You just have to make sure that it's clean and there are no bumps that would be visible once the wallpaper is laid out. You can use a primer/sizing product to make sure that the wallpaper will not shrink.

Measure the wall where the wallpaper will be installed. You need to cut the wallpaper to make sure that it fits perfectly on the wall.

The next step is to apply the paste to the back of the wallpaper. You can use a paint roller to apply the paste evenly.

After applying the paste, you can start sticking the wallpaper to the wall. Smooth out the wallpaper so there won't be any bumps or creases.

The installation won't even take half a day. If you're putting it in your bathroom, it will only take a few hours since your bathroom is not too big.
3. Visual Appeal
Tiles come in different varieties and designs, but wallpapers are the same. Actually, in terms of visual appeal, wallpapers are superior because the designs of tiles are very limited. When it comes to wallpaper, you can think of any design that you want and you can get it.
The different textures, patterns, and colors of the wallpaper can even affect the size of the bathroom. There are designs that would make your bathroom look more compact and some designs can visually increase the size of the area.
You can even create an art wall or an accent wall in the bathroom depending on your preference. Mixing and matching different wallpapers can also bring a unique vibe to your bathroom.
4. Maintenance
When it comes to maintenance, wallpaper finish is definitely the best choice. It literally has very little maintenance and you don't even have to use any special chemical to keep it shiny and clean. All you need is to wipe it with water and dry it afterward.
Also, removing and replacing wallpapers is easier compared to tiles. Removing your tiles will require professionals while removing wallpaper can be done on your own. Because of this, you can change the look of your bathroom anytime you want without hiring someone to do the renovation.
Wallpapers also require minimal repairs and it won't require you to spend a lot of money. If a specific area is damaged, you can just cut it out and remove it. Replace with a new one and you're good to go.
5. Price
Wallpapers are usually more affordable than tiles. However, there are some designs and color schemes that are extremely expensive. For bathroom wallpapers, you can expect them to be a bit more expensive since they have sufficient protection against moisture.
How to Choose Your Bathroom Wallpaper
Aside from the design, there are other important things to look out for when choosing a bathroom wallpaper. Don't be lured by the style and design because the wallpapers will be placed in your bathroom. You cannot buy regular wallpaper as it will get damaged in just a few days or weeks.
The best quality wallpapers are made with high water resistance and can withstand changes in temperature and moisture. We listed down some of the different types of bathroom wallpapers that you can use.
1. Peel and Stick Wallpapers
This is known as the simplest and the most affordable material to decorate the walls of your bathroom. Although it's the cheapest, you can find wallpapers that are water-resistant. The main benefit of choosing this type of wallpaper is that they come in different patterns and colors. Also, they are easier to install compared to the other types as the process is very straightforward.
The only downside is its quality. Since it is the cheapest material, you cannot expect it to last for a very long time compared to the others. With proper maintenance, it can last for several months. You will have to replace it eventually so it is a good choice if you plan to change the design of your bathroom regularly.
2. Washable Wallpapers
As the name implies, this kind of wallpaper can be washed. It means that it has very high water resistance. This is a paper-based material that comes with a waterproof film so you can expect it to last for a long time inside the bathroom even under high humidity.
Aside from its water resistance, what are the other things that made this type of wallpaper stand out?
The waterproof film prevents staining. Even if you accidentally spill something on the wall, you can simply wash it with water and it will come off easily. You can also keep it hygienic at all times by using a sponge or a damp cloth to remove the dirt, dust, or fungus.
You can apply washable wallpaper to any type of surface. Whether it's concrete, paint, or plaster, this kind of wallpaper can stick to the walls of your bathroom without a sweat.
This type of wallpaper is easy to hang, remove, and maintain.
The price is very affordable as well. Although it is not as cheap as the peel and stick wallpapers, it is still more affordable than tiles.
3. Vinyl Wallpaper
Among the types of bathroom wallpapers, this is known as one most popular. Vinyl wallpapers are made to resist steam, moisture, and temperature, but they can also directly resist contact with water.
You're buying vinyl wallpaper for its durability. If you're the type of person who sticks with the design for many years, then you should get this type of wallpaper as it can retain its original appearance for a very long time. It doesn't fade easily, so it will still look brand new after a few years.
Vinyl is easy to clean and maintain. You can wash them with soap and water without worrying about the design fading. It's also a great choice if you want to hide the unevenness of your walls. Take note that there is a vinyl-coated type that is different from bathroom wallpapers. They have a very thin coating and the backing is paper. This is completely different and it is also cheaper.
Vinyl wallpaper is a more durable option as it can be placed even in high humidity areas. The only drawback of this type of wallpaper is the price. You'll have to spend a bit of money if you plan to cover your entire bathroom.
4. Liquid Wallpaper
This is a very unique type of wallpaper because it is only a decorative plaster. Liquid wallpaper is an emulsion or powder that you need to mix with water. It contains binding components, silk fibers, and cotton to create its unique design.
This type of wallpaper is versatile as you can put it on any surface. You can place it on drywall, brick, concrete, and more. Using a roller or spray gun, you can create different colors and textures on the wall.
After applying this on the wall, it will be treated with an acrylic coating. It will harden after that so the design will be protected against moisture. This is a good choice for bathrooms with surface defects as it can perfectly hide them.
5. Fiberglass Wallpaper
This type of wallpaper is made from limestone, dolomite, soda, and quartz sand. After that, it will be woven to create the wallpaper. The surface will depend on the method used by the manufacturers. They can either have a relief surface or a smooth surface.
This is a popular option since it provides the highest water resistance among the different bathroom wallpapers on the list. Also, it doesn't cause allergic reactions, doesn't retain dust, and doesn't emit any kind of harmful substances.
Another important benefit of fiberglass wallpaper is air circulation. Because of this, you won't see any mold or fungus on the surface of the walls. They are very durable as well and you can install them on almost any surface. Just like vinyl, fiberglass wallpaper can also retain its appearance for many years. If its appearance starts to fade, you can repaint it using water-based paints or latex paints. You can repaint them up to 20 times so this type of wallpaper can last for decades.
The only issue with this wallpaper is installation. Unless you are a professional in handling fiberglass, don't do this on your own. It is better to ask for the help of a professional to handle the installation process.
Best Wallpaper for Bathrooms
Now that you already know the basics about bathroom wallpapers, it's time to know the best designs that would fit perfectly to your bathroom. We listed down some of the trending designs for your bathroom as well as the most popular picks of homeowners.
1. Springtime Yellow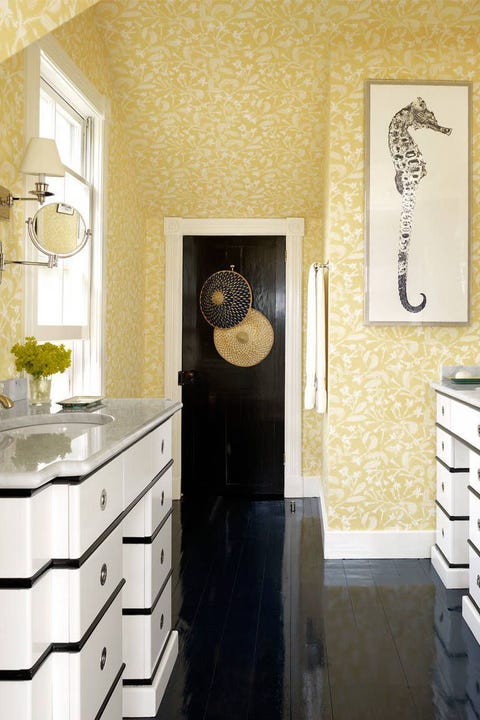 This wallpaper features a floral design with a sunny yellow hue. It's not every day that you see yellow color in the bathroom. As a result, this kind of color scheme can easily bring life to your master bathroom. You will see a big difference if you have a spacious bathroom.
Paired with white cabinets and ebony blue floors, this yellow wallpaper can bring a different vibe to your bathroom.
2. Green Floral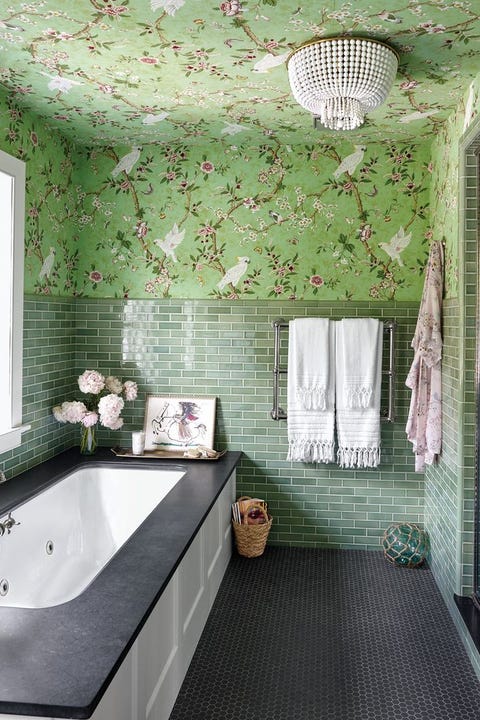 Since we are already talking about floral designs, this next inspiring wallpaper is also the same, but it comes with a green hue. This is a wallpaper designed by Brunschwig & Fils as it was used to create a unique atmosphere to the master bathroom in the Millbrook estate.
While the yellow floral gives a sunny and happy vibe, this green floral produce a relaxing atmosphere. The design fits perfectly with the fixtures chosen in the bathroom.
3. Heaven Sent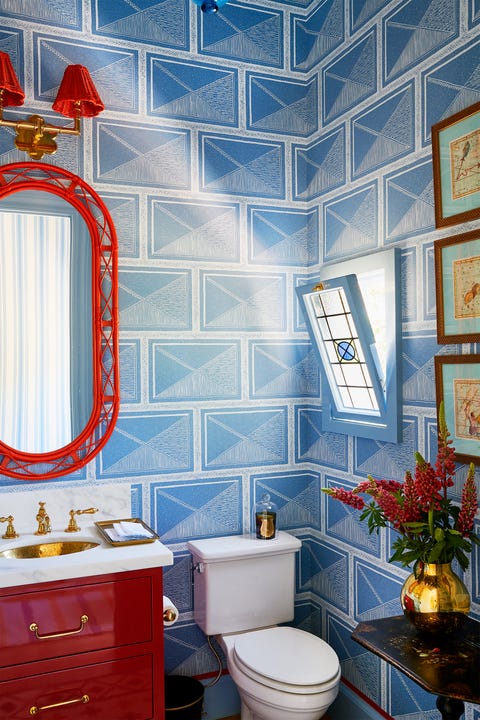 This is a unique wallpaper because it depicts the historic stained-glass window. This is an art created by Mark D. Sikes. This design elevated the wallpaper pattern. Instead of using a typical pattern, the stained-glass window is definitely a more appropriate choice.
The blue color can blend perfectly in a white bathroom. You can also add a splash of colors around the bathroom that would accentuate the beauty of the wallpaper.
4. Tailored and Sweet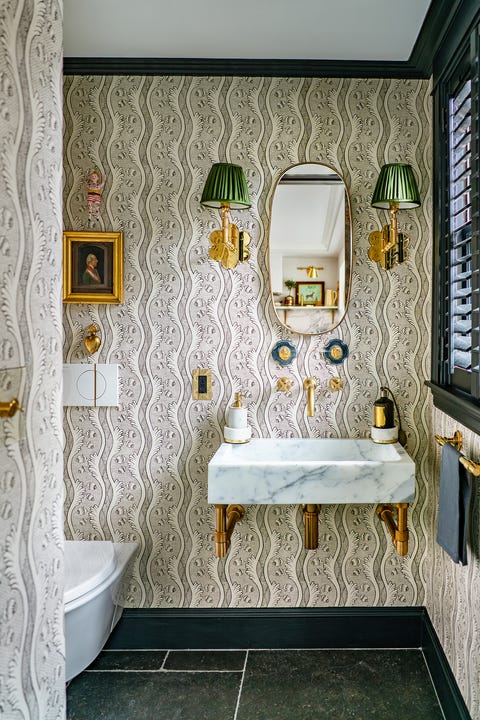 If you want to keep it simple and sweet, then this wallpaper design is just right for you. It is a design by Liz Caan which emphasizes the wavy Antoinette Poisson print. The wavy floral designs extend up to the base of the wallpaper.
If you look closely, everything would seem like they are floating. This would create a crisp aesthetic for your bathroom.
5. Modern Coastal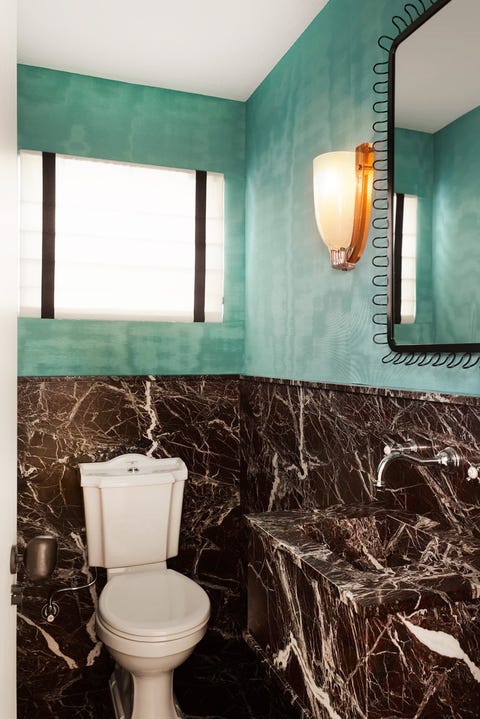 When it comes to bathroom wallpapers, you don't have to be so bold all the time. Sometimes, choosing the simplest design can already make a big difference. This modern coastal design is very casual and it doesn't have a lot of detail. However, the color is very inviting and it can work perfectly in a variety of colors. If you're the type of person who loves colors, then this would be a good base.
6. Soft Stripes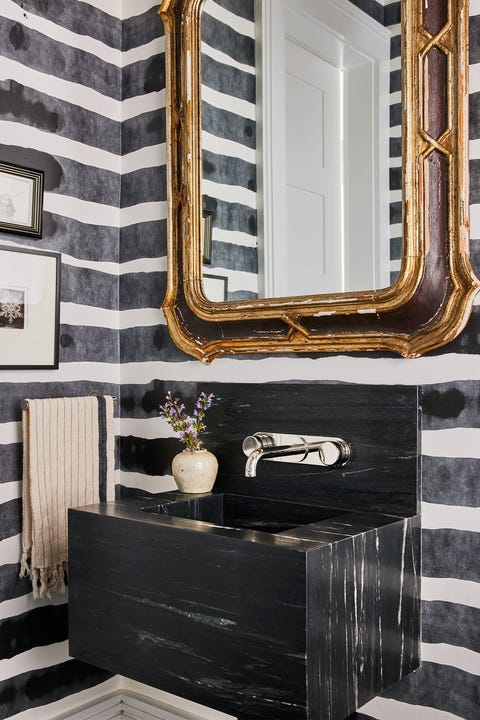 Stripes have always been a trend. It's just that most people decided not to use them because there are other better options. Today, soft stripes can improve the aesthetics of your bathroom. Using this type of wallpaper can actually bring a unique feeling. It mimics the marble veining, but it is softer.
If you want a stripe design that does not overpower the overall appearance of the bathroom, this is your best bet.
7. Woodland Whimsy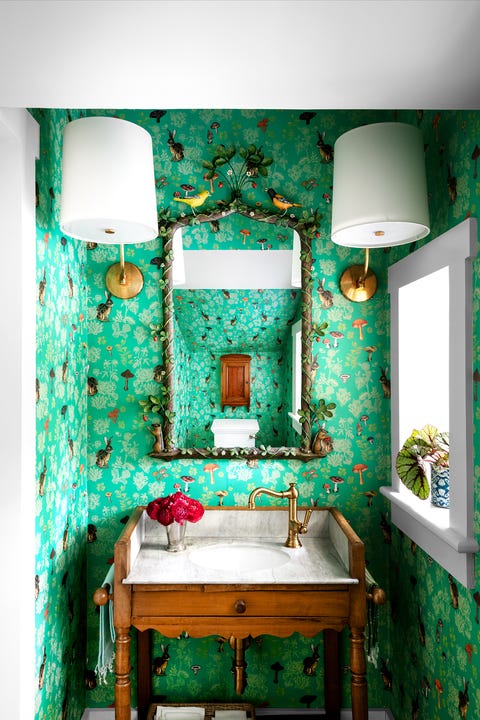 This inspiring wallpaper is very similar to green flora, but instead of flowers, the designs are fairytale-like. The design would bring you back to your childhood because of its unique vibe. The green color is very relaxing to the eyes and the small details managed to improve the aesthetics of the white bathroom.
8. Fanciful and Classic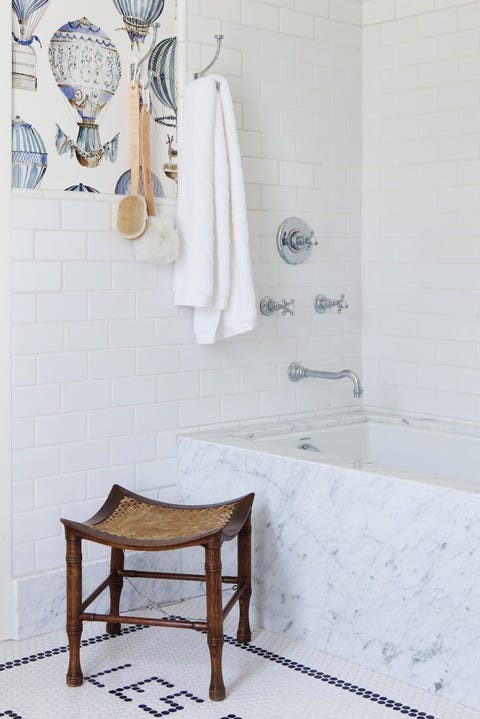 Did you know that you can get the same tile finish by using wallpapers? Yes, this Fanciful and Classic design brings the same vibe as tiles, but you are using wallpaper instead. It mimics classic floor times, marble, subway tiles, and more.
It would fit perfectly in any type of bathroom so before you buy one, make sure that you check the dimensions. You need to make sure that you won't mess up the pattern.
9. Rustic Meets Elegant
As the name implies, rustic design meets elegance as they are combined in a single design. The level of detail on the wallpaper perfectly accentuates the bathroom fixtures inside. The rustic color and the elegant plants and florals on the wallpaper made it a popular choice for people who wants to add a bit of color to their bathroom.
10. Nature-Inspired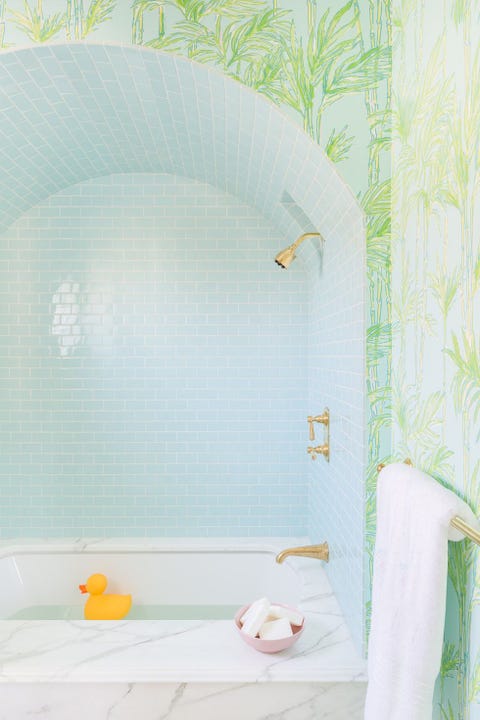 Based on the name of the wallpaper, you can already deduce its base design. Yes, it's all about nature, and like green floral, it is also using a green color scheme. This color is perfect for the bathroom as it gives a natural and relaxing feeling. With its design, this kind of wallpaper is best added to the children's bathroom.
11. Global-Inspired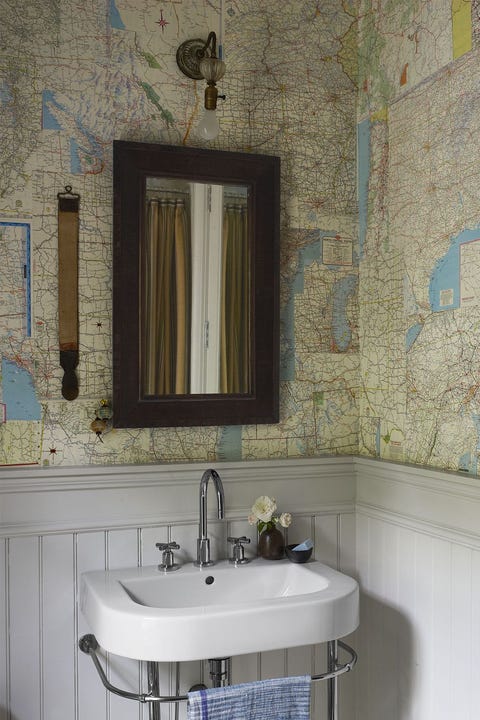 This is one of the most unique designs on the list. By looking at it closely, you will realize that the prints are actually maps. You can include whatever map you want. If you're from the United States, then you can use the maps from the country.
It creates a simplistic vibe inside the bathroom even when the level of detail is very high. You can even the map while you're taking a shower.
12. Colorful Butterflies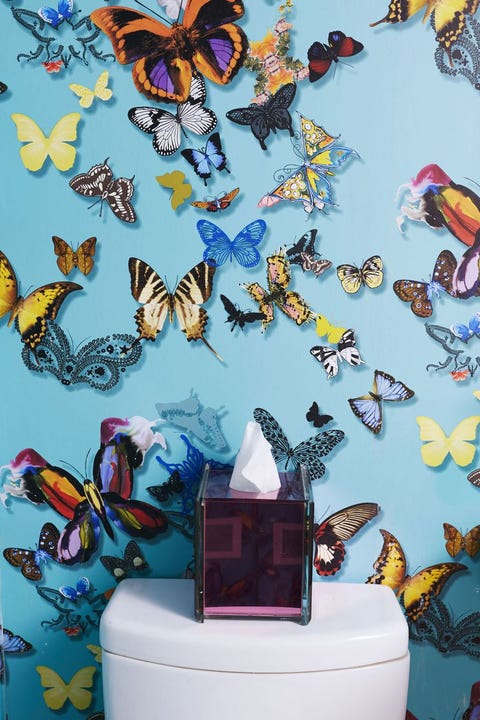 It's always a treat to see butterflies flying around the garden, but having them in your bathroom will be more fun and vibrant. You can now find wallpapers with a lot of butterfly prints. You can opt for different colors if you want or you can stick with just a few colors to complement your bathroom design.
This design is very simple and it would work perfectly for master or children's bathrooms. You just need to pick the right design if you want to make your bathroom feel alive.
13. Fish Walls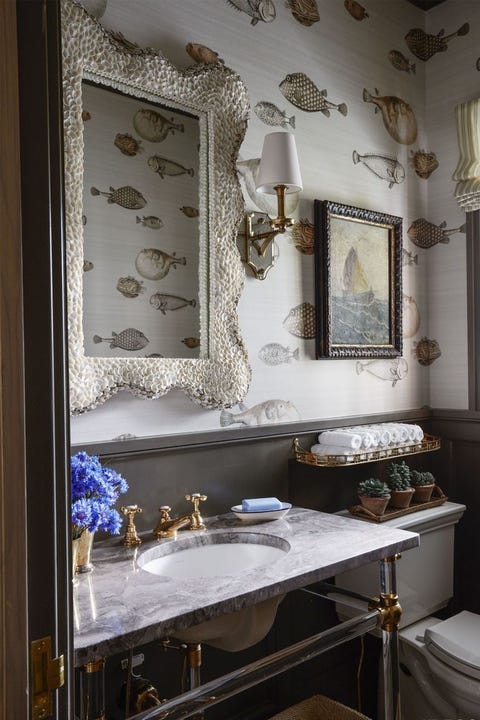 If there are butterflies, there are also fish on wallpapers. Fish walls are extremely popular for people who want a simple yet elegant design for their bathroom. Depending on the fish on the print, it would create a serene atmosphere in your bathroom.
You can do this with a light gray background along with white walls and tile flooring.
14. Antique Floral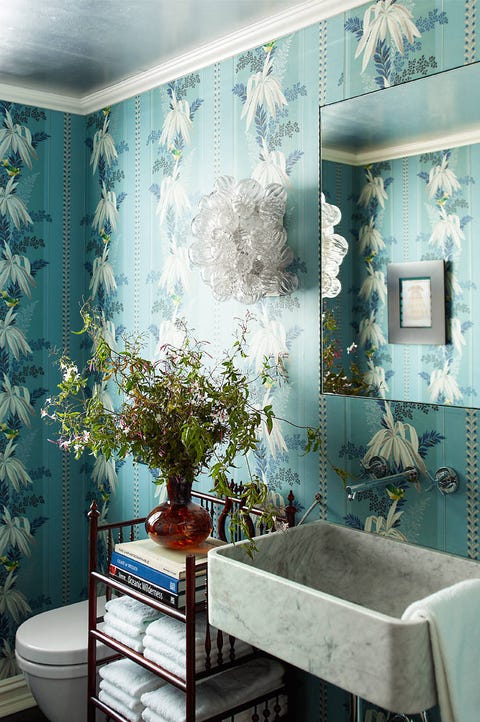 It would take a lot of guts to add so many details to your wallpaper. The more points you add, the higher the chances of overcrowding the walls. It would make the bathroom look smaller. But, this antique floral design is the complete opposite. Although it is not full of florals, it has enough prints to make sure that your bathroom will not look too big and too small.
15. The Plain Colors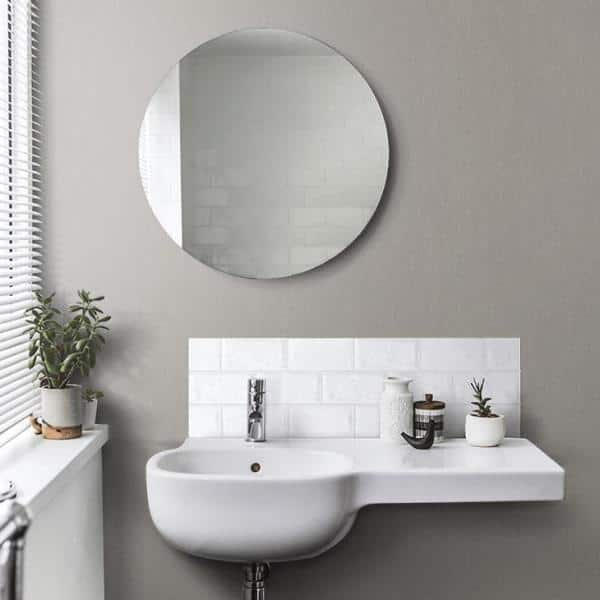 Nothing beats plain colors when you're using bathroom wallpapers. Yes, tiles can also produce the same finish, but in terms of price, installation, and maintenance, wallpapers are definitely superior. You can use white, gray, yellow, green, and other colors depending on your preference. Just make sure that the color fits the design that you want for your bathroom.
Conclusion
Looking for the best wallpaper for bathrooms requires creativity and boldness. You need to be creative enough to find the right prints and designs and you need to have boldness to try something new.
Remember that you are not only looking at the design of the wallpaper. You have to consider the bathroom fixtures as well. The wallpaper design should keep all these elements together to create something unique for your bathroom.
If you are planning to search for high-quality bathroom wallpapers, we have a wide range of designs and prints that you can choose from.