12 Clever Designs of Bathroom Linen Cabinets
I'm not sure I've ever seen a bathroom that couldn't do with a little more storage space. In fact, almost any bathroom renovation I've ever done has involved a hefty chunk of time working out just how to maximize what we have.  
Sound familiar?
If you have a large family or a small bathroom (or, like me, both!), then clever use of space for storage is essential to stop the room from looking like a bomb has hit it on a daily basis. And one of the best ways to do that is with a bathroom linen cabinet. These cabinets can help you organize all your bathroom supplies and accessories while taking up minimal space. And if you choose a clever design, it can also act as a storage unit for your towels and linens. Check out some of our favorite examples below, hopefully, you'll find a little bit of inspiration for your own.
What are the clever designs of bathroom linen cabinets?
Eviva has made quite a name for itself in the last few years, and the Eviva Smile 16" Rosewood is another top-notch addition. From the uber-stylish finish to 2 spacious compartments behind each soft-closing door, plus the multi-stage painting that helps maintain its condition. The manufacturer's 1-year warranty is just the icing on this (very tasty) cake.
15"W x 11"D x 59"H

Color: Rosewood

Material: Manufactured Wood/Brass

Doors: 2

Soft Closing Hinges: Yes
This linen cabinet beautifully complements the Fresca line of modern products. There really is a great bit of storage behind those three doors (17.75"W x 12"D x 59"H), and that's quite aside from the lovely finish. A worthwhile addition to any bathroom.
3. Fresca Black Bathroom Linen Side Cabinet w/ 4 Cubby Holes & Mirror
I am a real fan of the storage options and design of this one from Fresca too. As well as the four narrow cubby holes (15.75"W x 12"D x 67"H), and the mirror on the opposing cabinet door is a lovely touch. It is finished with a black MDF/laminate.
This Fresca works well even as a standalone unit. As you can see, the shelves are a good size for bottles, towels, toilet rolls. Pretty much whatever you need to clear away from sight in your bathroom! Made from engineered wood, it also has frosted glass on two of the doors. Dimensions here are 12"W x 15"D x 68.13"H.
Here you have a better view of those frosted doors; this being a slight twist on the Fresca we just looked at this one in a stylish espresso color. Again, it is made from engineered wood with dimensions of 12"W x 15"D x 68.13"H.
Eviva Lugano 16" not only has a lovely contemporary style, but with 3 large compartments behind each soft-closing door, it has oodles of space too. Absolutely no surprise why it's one of the very best-sellers on the market today. Classy, modern, and spacious. The added bonus is the multi-stage painting to help maintain its condition.
1-year manufacturers warranty

16"W x 13"D x 75"H

Material: Manufactured Wood/Brass

Soft Closing Hinges: Yes
As well to the 6 spacious compartments, I am a big fan of the cement gray finish of the Eviva Lugano here. I'm not sure I've seen another color quite like it in bathroom linen cabinets. But the look is all well and good, it's that spacious storage that is the real kicker here. Enough room for even a family as big as mine! Its stylish, modern design makes it one of the best-selling bathroom side cabinets on the market.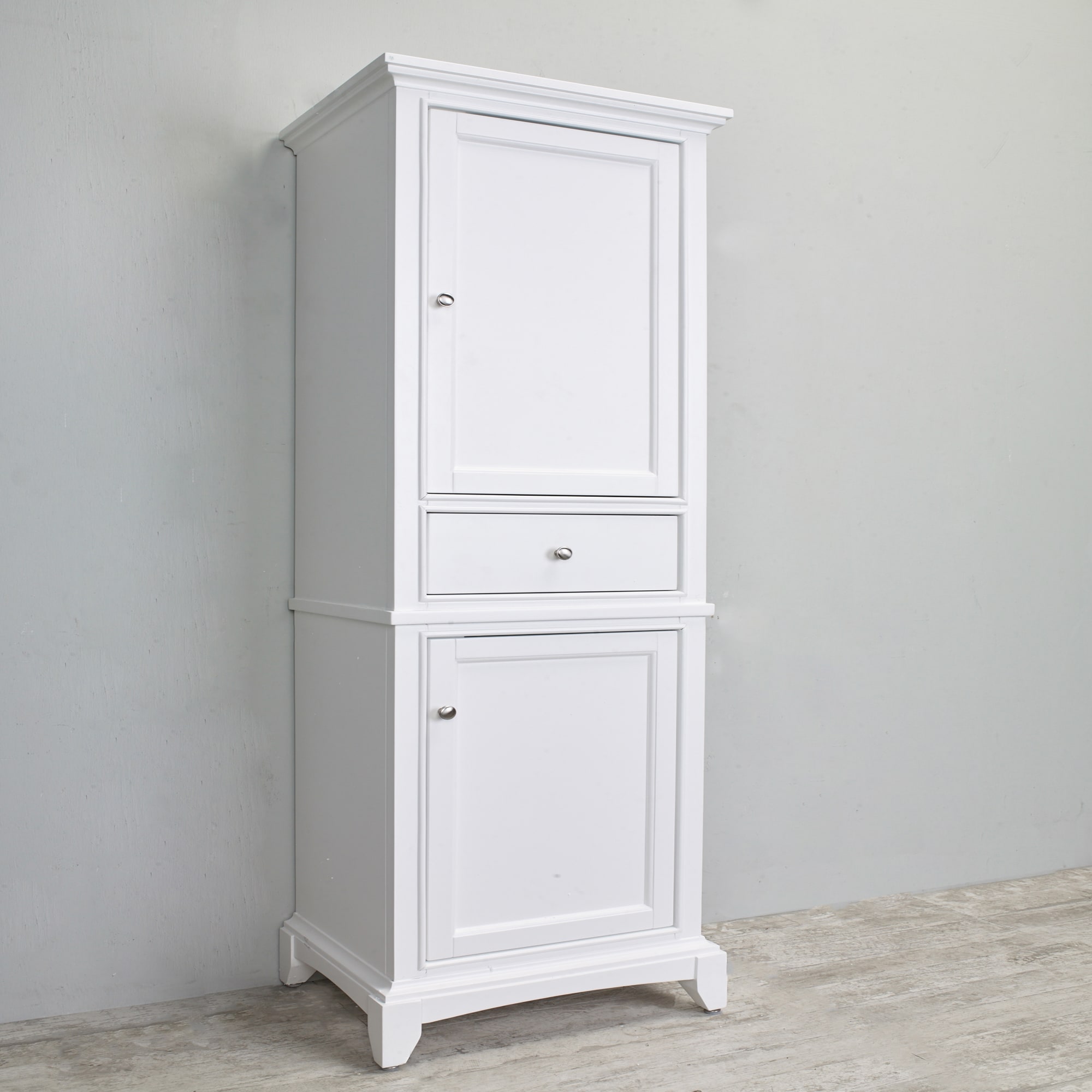 The Eviva Elite Stamford is one of the more elegant pieces on our list. It has 2 large soft-closing doors and, together with that middle drawer, there is plenty of space here. 
1 Year Manufacturer Warranty On All Eviva Bathroom Products From Delivery Date

23.25"W x 18"D x 76"H
You gotta love the walnut finish with this one, made from MDF/laminate. So classy and timeless. But never mind that, what about the storage, I hear you ask? With three large storage areas at 17.75W x 12"D x 59"H, you can see it's not left wanting for practicality either.
This is a mixture of that walnut finish I was just waxing lyrical about and cubby hole & mirror we saw earlier in the list. And I think they bring out the best in each other, making a real feature of the cabinet. 
Dimensions: 15.75"W x 12"D x 67"H

Materials: MDF/Laminate

4 Cubby Holes

1 Storage Area w/ Soft Closing Mirror Door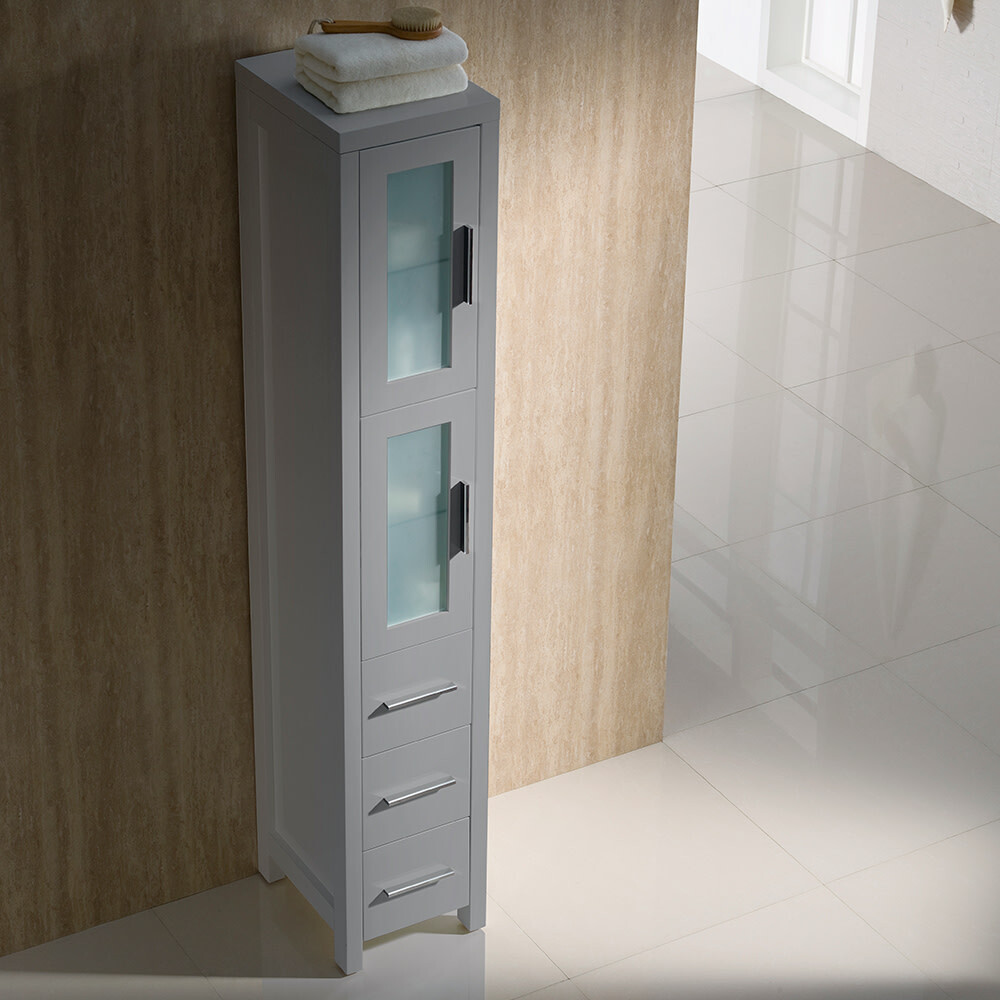 The Fresca Torino is tall, dark, and handsome. It not only combines well with the rest of the Torino vanity ensemble but is versatile enough to work with a whole host of other design choices. It can also work perfectly well as a standalone unit.
Dimensions: 12"W x 15"D x 68.13"H

Materials: Engineered Wood

2 Soft Closing Doors

3 Soft Closing Drawers

Color: Gray Oak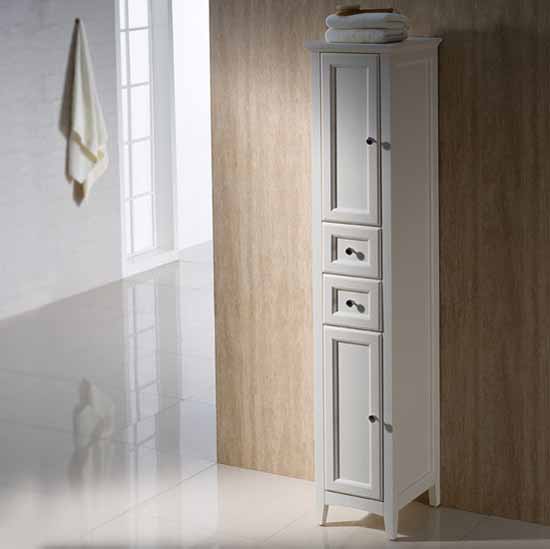 Last, but certainly not least, we have the Fresca Oxford. Another perfectly capable of working as a standalone, it is the simple elegance that wins this one its place on our list. The cabinet frame is made from solid wood and is nicely accented with dovetail drawers and plenty of storage space.
Dimensions: 14"W x 15.75"D x 68"H

Materials: Solid Wood Frame, MDF Panels

2 Soft Closing Doors

2 Soft Closing Drawers

Color: Antique White
You can also check our article on Small Vanities & Sinks You Can Squeeze Into Even the Tiniest Bathroom.
Conclusion
Well, I hope this article gave you a better idea of just what bathroom linen cabinet options you have. 
There are many options out there, and it can be difficult to find the right one for your particular space. Our friendly experts are on-hand to work with you to create an ideal layout that perfectly suits your needs. Contact us today at Bath Cabinets Depot.
We look forward to hearing from you!