11 Designer-Approved Ways to Use Subway Tile In Your Bathroom
Are you looking for a modern way to spruce up your bathroom? To keep your bathroom in great shape, it's important to incorporate tile. However, many people only use tile on the floors or showers. Over the past few years, subway tiles have gained in popularity. This trend seems to be sticking in the design community. 
We are going to break down what subway tiles are, their history, and 11 designer-approved ways to incorporate them into your space. This will include ideas for a subway tile shower and backsplash. 
Your Guide to Subway Tile 
If you're interested in subway tile, we have you covered. There are plenty of unique ways to incorporate it into your bathroom. We'll dive into some of the best tips for this modern look. 
What Are Subway Tiles?
Subway tiles have been around for decades. However, more recently, they have gained popularity. They are frequently used in both bathrooms and kitchens. Generally speaking, subway tiles refer to rectangular, thick ceramic tiles. The dimensions on these tiles are commonly 3" x 6". However, you can find some variations in size. 
Subway tiles are an understated way to make a big impact. They are versatile and work well with different accent colors and patterns. Furthermore, you can incorporate these into many different design styles. For example, subway tiles can work in a modern, industrial, or rustic farmhouse space. They are relatively inexpensive in comparison to other tiles. This has kept them mainstream for many years. 
If you're looking for an inexpensive, understated tile, subway tiles are a great option for you. The history of subway tiles is another interesting factor of these hot sellers.
History of Subway Tiles
Subway tiles are inspired by the New York City subway system. In fact, these tiles first made an appearance in 1904. The purpose of subway tiles was to spruce up the subway system to make it more attractive to commuters. Furthermore, the tiles are simple and flat. This ensures that they are easy to clean. Subway tiles were first designed by George C. Heins and Christopher Grant. 
Initially, subway tiles were 3" x 6" tiles. By the time the 1920s commenced, people were beginning to use these tiles in their homes. Now, these tiles can be square, 6" x 6", or 3" x 12". They are well-loved for their variations and flexibility. 
It's no surprise that The Big Apple is responsible for this trend. Known for their exceptional style and brilliant design, subway tiles have added to New York City's well-loved culture.
How to Use Subway Tile in Your Bathroom
Subway tile is extremely flexible. Because of this, there are many ways to use it. We will be outlining eleven of our favorite tips for incorporating this tile. 
1. Switch Grout Color
When subway tile was first introduced, it was white tile with dark gray grout. This had been the standard for quite some time. However, there are many directions you can go in. If you choose a traditional white subway tile, you can completely change the look with grout colors. You'll want to consider some additional factors. For example, do you want the grout to contrast the tile? How much upkeep and maintenance are you willing to give the grout? Furthermore, are you opting for a chic or classic look? 
Some of our favorite grout options are: 
White.

Keep the area subdued and chic with white grout. This will brighten up the space. 
Black or gray.

Opt for a traditional look with contrasting black or gray grout. This will hide stains easily for easy maintenance.
Light gray.

Opt for something in the middle with light gray grout. 
2. Use Unique-Colored Tile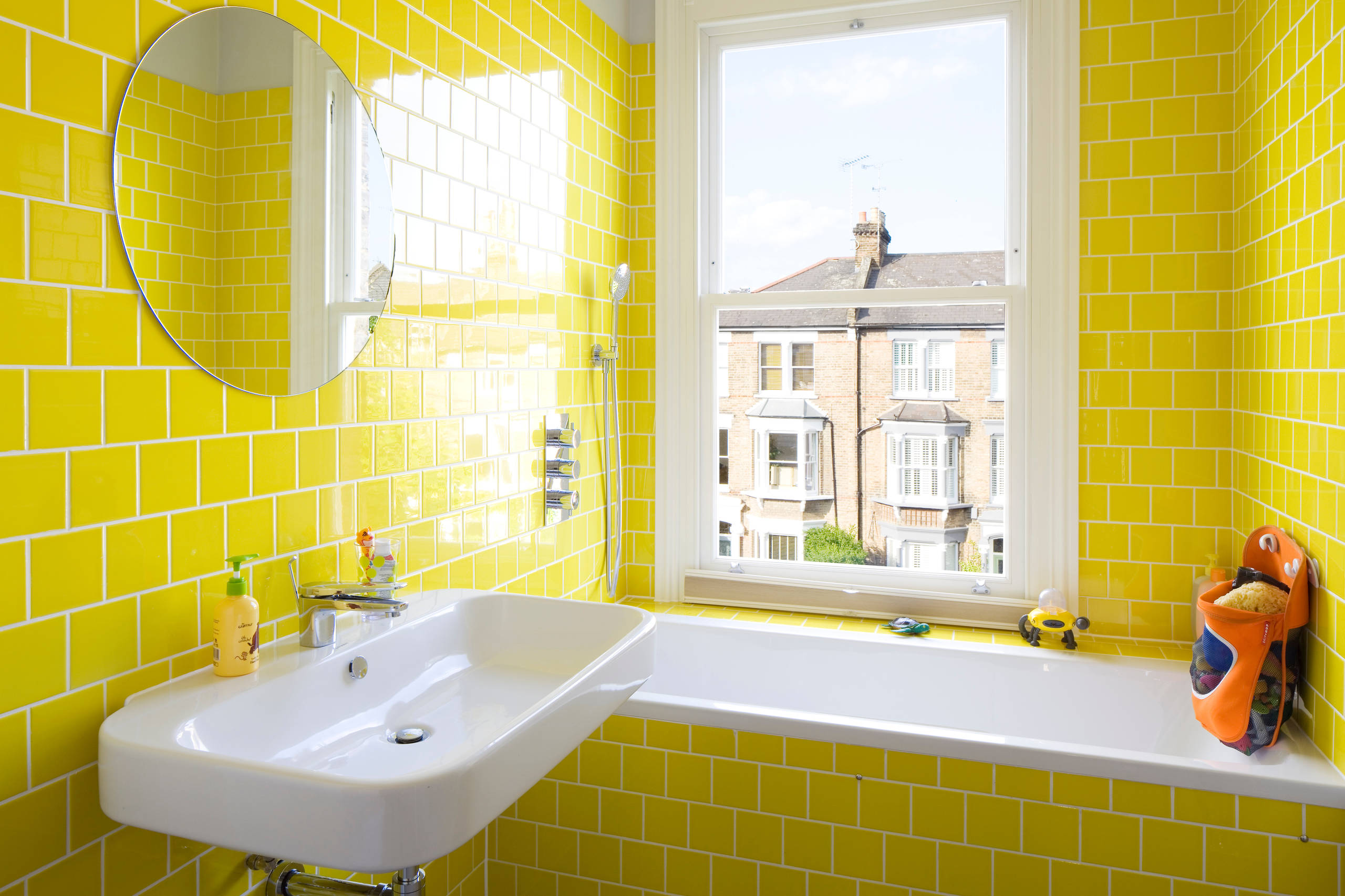 White tile is the traditional way of going. However, you can transform your space with a unique-colored tile. Many manufacturers offer subway tiles in different colors. This will make your space look more funky or fun. Opt for something completely non-traditional. Some of our favorite options are: 
Yellow.

Brighten up the space with yellow subway tiles! These look great with white grout and can completely transform your bathroom. 
Blue.

If your cupboards are blue or you want to bring a pop of color, opt for blue. There are plenty of ways to complement blue subway tiles.
Green.

Get a little spa-like with a seafoam or sage green tile. This one-of-a-kind look will flatter any bathroom. 
Metallic.

You can get subway tiles that are metallic or have a mirrored finish. Use white or black grout with them. This is a great way to complete an industrial space.
3. Add Texture
Traditional subway tiles are completely flat. However, manufacturers have now introduced textured tiles. This is a great way to make your tiles stand out. If you want something with a little more depth, opt for some of the different textured tiles available.
Beveled.

You can get beveled tiles where the center stands out slightly more than the edges. This will add dimension to the space. It is still relatively simple and classy with a slight added flare. 
Marble.

Consider getting subway tiles with a

marble

texture. This will quickly look classy and expensive 
Brick.

Get subway tiles that have a brick-like texture to them. This will add a significant amount of texture and style to the space. 
Handformed.

Add texture and drama with handformed tile. These tiles are as uniform as traditional tiles, which adds movement to the space. 
4. Use as a Backsplash
We've all seen subway tiles in showers and kitchens. However, there are different ways to incorporate it into the bathroom. Consider adding it behind your vanity for a classy backsplash. You can carry this backsplash up the wall behind your mirrors, or stop it where your mirror starts. Either way, this is a great way to add visual interest to your space. 
If you have a moody-colored vanity, this is excellent. The subway tile will allow the vanity or countertop to be the center of attention. 
5. Do an Entire Wall
Looking to really make the most of your subway tile? Commit to doing an entire wall of it! This is a great and clean way to add a feature wall. If you have a blank wall available, get tiling. If you have a freestanding tub, consider doing the wall behind it. Because subway tiles are easy to clean, you can feel good about this investment. Furthermore, it will quickly elevate the space. 
Choose a tile color and grout color that you feel confident in and incorporate it. If you have subway tile elsewhere in your bathroom, it'll all tie together well. 
6. Tile Your Shower 
Prefab showers are cheap-looking and outdated. Having a custom, tiled shower looks better and adds to property value. Instead of having a basic fiberglass shower, have tile! This will elevate the space in a big way. We love using subway tiles to complete the shower. You can have it as the shower walls and use a contrasting tile on the floor. This is a relatively inexpensive way to tile your shower. Opt for darker-colored grout to minimize maintenance. 
7. Contrast Your Floors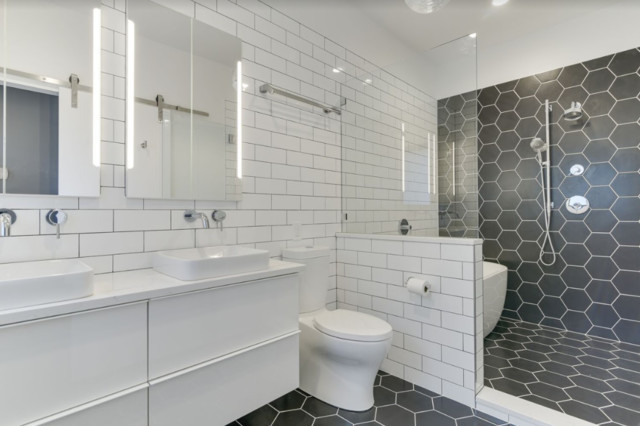 Switch up your floors to your subway tile! This is a great way to add dimension to your bathroom. For example, if you have a white subway tile backsplash, use dark tiles on the floors. This will make your bathroom look well-designed. 
You can also add color to your space. For example, opt for a yellow subway tile backsplash. For your floors, choose a white tile. This will keep visual interest up throughout the entire space. Use a mood board or color board to find a way to make all of the elements work together. 
8. Add Wallpaper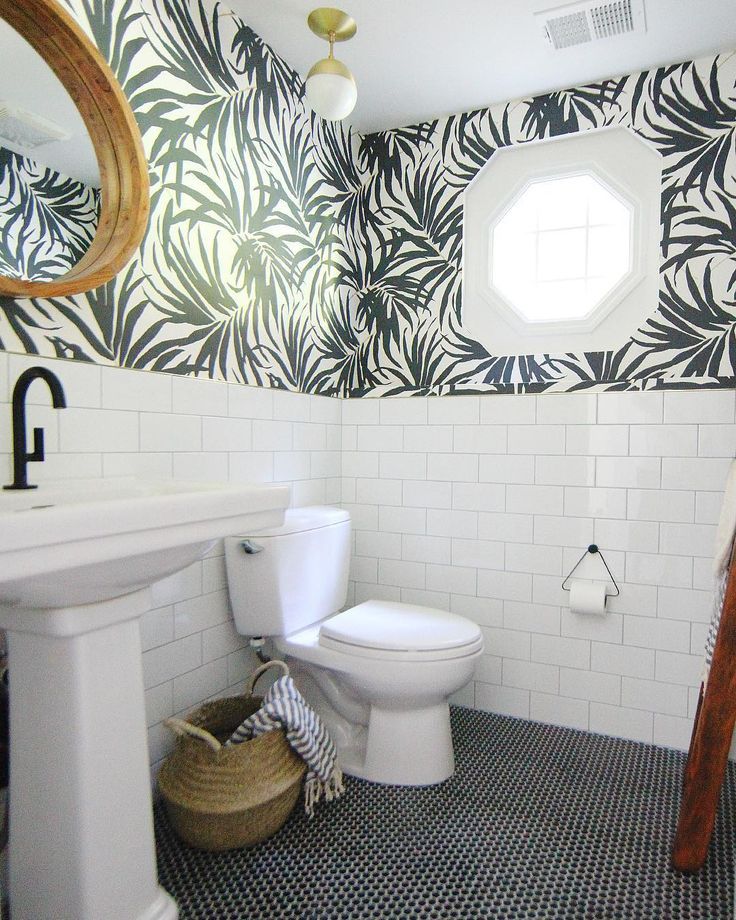 Wallpaper is very much back in style! With progress being made in the manufacturing of wallpaper, it's now bathroom-friendly. Find a wallpaper that can withstand humidity. Once you choose a wallpaper, use it to add dimension to your bathroom. 
Perhaps do a half wall of subway tile and finish the remainder off with wallpaper. You can opt for a busy wallpaper since subway tile is simple. Some of our favorite bathroom wallpapers are floral patterns and geometric designs. You can do your entire bathroom like this or choose a feature wall. 
As a disclaimer, keep wallpaper away from the shower. Due to splashing, it might require replacement earlier than planned. 
9. Get Moody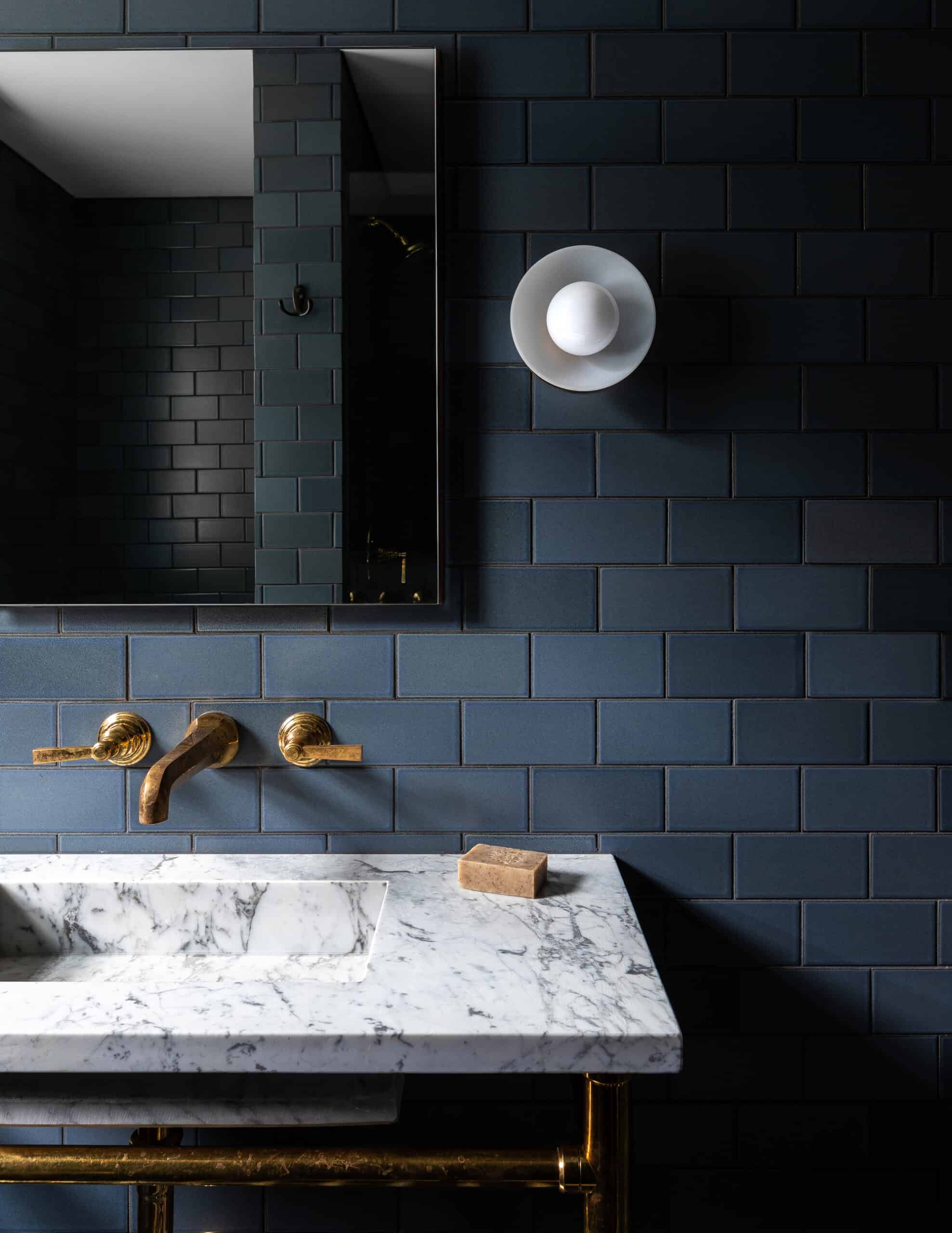 Moody and edgy spaces have become more common lately. Though your space will seem smaller, it'll have some more visual interest. Where all white was once the go-to, now people are opting for darker features. Hop on this trend with black subway tiles! 
To nail this trend, choose a dark grout. White grout may have too much contrast. You can opt for a black grout or a gray grout. This will look sleek and elegant in almost any space. 
10. Switch Configurations 
Subway tile has always been slightly offset with a horizontal configuration. However, there are different ways to configure it. You can have them line up either horizontally or vertically. Furthermore, you can try different patterns or set them diagonally. One of our favorite ways is a herringbone pattern. Herringbone has parallel rows in opposite directions. It will look extremely elegant in your bathroom.  
If you're going to switch configurations, make sure to plan ahead. Learn how to achieve a new look. The more planning, the better the outcome. Different configurations may have different starting points or tips. 
11. Install Like a Pro
If you're planning on installing your own subway tile, there are some tips you'll want to follow. Installing your own tile will save you money. It is a great way to cut down on labor costs. However, you'll want to ensure your safety and pre-planning. Some of our top hacks include: 
When installing tile, there are many chemicals at play. For example, the glue and grout. To ensure that you are kept safe from these chemicals entering your body. Use gloves. In fact, we also recommend using a mask throughout this process. Safety is the most important step of any at-home DIY. 
Plan, plan, plan! If you go in unprepared, then you're more likely to make a mistake. Planning includes watching YouTube videos and talking to experts. Read up online on how to successfully install tiles. It can be done yourself, but it is a lot of work. Furthermore, you'll want to plan how many tiles you'll need and the best way to configure them. Make drawings when necessary. Take your time with this step. 
The tile isn't the only factor at play here! In fact, you'll need to buy and consider spacers. Spacers are the small plastic pieces that go between the tiles. This ensures that everything is spaced out evenly. When doing your measurements, account for the size of the spacers. This will make sure you buy the right amount of tiles. 
If your floors are already completed, then it's important to protect them. Mud and chemicals can get stuck on flooring. Furthermore, you could drop heavy tools and damage floor tiles. Make sure to take extra precautions to preserve the work you've already done. This is a small step that can help you avoid huge mistakes. 
One of the most important tools you can use is a tile cutter! Invest in a high-quality one. This will ensure that all of your tiles are cut evenly without cracking. Cutting corners on a tile cutter will quickly cause a headache for you. 
You can also check our article on the 10 Small Bathroom Design Ideas & Solutions.
Conclusion
Are you ready to begin your subway tile journey? Whether you decide to commit to a subway tile shower or full wall, you won't be disappointed. Incorporating this traditional look will stay on trend for years. When planning, determine the best options for your space and your personality. Customizing your subway tile should be fun. 
Subway tile pays tribute to the early 1900s in New York City. We're proud that trends in the Big Apple are still spanning over the globe. Take the planning stage seriously and play with colors and textures for a unique look.