10 Small Bathroom Design Ideas & Solutions
There are so many small bathroom remodel ideas that you can consider if you plan to improve the aesthetics of your bath. With all the available designs and ideas, it would be a bit hard to choose which one would fit your preference. Well, you don't have to completely remodel your bathroom. You can just change or replace a few things to change their appearance.
We listed down some of the best remodeling ideas for your bathroom along with some of the considerations that you need to consider before you start a remodeling project.
Things to Consider Before Remodeling Your Bathroom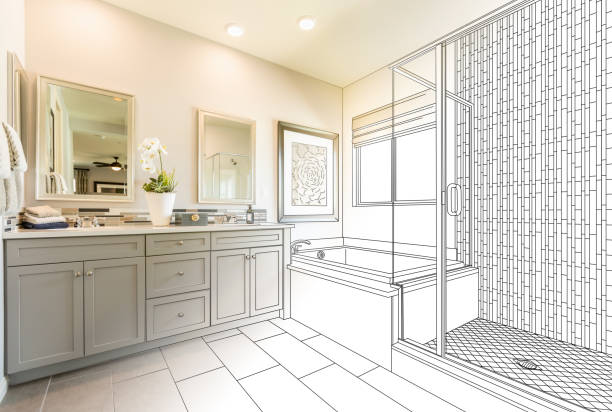 If you only have an 11-square-foot bathroom, you can still meet the national building codes, but it's not preferable if you want comfort. It's better to increase the area of your bathroom to 3 to 4 feet wide and 6 to 8 feet long.
A small bathroom is not a bad idea, but if you feel restricted when you go inside, then you need to find a way to make it a bit bigger. Making the inside look big with designs won't help because once you're inside, the bathroom is still small. If you still have some space in the house, make your bathroom a bit bigger so you will have enough breathing space.
If your current bathroom has a lot of issues when it comes to accessibility, it is one of your priorities before you start remodeling. You have to make sure that all the fixtures are accessible when using the bathroom.
The grab bars should be secured between wall studs. It has to be placed around 33 to 36 inches from the floor. Check if the sink is a bit too high and make it lower. You should think about the people who are going to use the bathroom. Do you have someone in the house with a disability? Do you have seniors living there? This will help you improve the accessibility of the bathroom before the remodeling begins.
One important consideration when remodeling a bathroom is adding a bathroom niche. Instead of using overhead organizers, you can create a recessed cubby near the shower. You can place your shampoo, soap, and other personal items here so you won't have to install overhead organizers.
If you're renovating your bathroom, it's not too hard to do. The remodeling company will just make a small cut on the tiles and add a bit of design to the bathroom niche. You can also add a small niche around your knees if you have kids.
Standard Height for Accessories
It's a bit difficult to customize the height for bathroom accessories, especially if you plan to use your height as the basis. You are not the only one using the bathroom so using standard height is the best option.
Well, there are no strict rules when it comes to the height of the towel bars and robe hooks. However, the standard heights are there to make sure that it will be more comfortable for you to access them.
The towel bars should be around 48 inches from the flooring. If you plan to add overhead shelves, they should be around 60 to 66 inches. Robe hooks should be a bit higher with a height of 66 to 72 inches. The toilet paper should be 6 inches in front of the toilet bowl.
These dimensions are just the starting point. You can adjust the height depending on your preference. The robe hooks can be a bit lower if you want or the height of cabinets can be a bit higher.
Although wirings are hidden from sight, they are one of the most important factors that you need to consider when remodeling. If you've been using 15-amp wiring in your bathroom for a long time, you've probably abused it over the years. Instead of just swapping GFCI outlets, you should replace the wiring.
If you are using 15-amp wiring, switch to a 20-amp circuit and add more outlets in your bathroom. You just have to make sure that they are far from the shower to prevent short circuits. Adding more outlets and improving the amp of your wiring will allow you to use different appliances inside your bathroom without any issues.
Adding some radiant heat beneath the tiles will make sure that you won't get chilly when you enter the bathroom. You don't have to do this on all the floorings of your house. Installing it in your bathroom is enough. Adding an electric mat can improve the heating system of your bath.
Take note that it would take around 45 to 60 minutes to warm up so you should use a programmable thermostat. It means that the heating element will start working its magic before you even get up from bed. This is to make sure that once you step on the tiles, it is already warm and cozy.
Proper Lighting of Vanity
It is very important to place some light fixtures on your vanity because the light coming from the ceiling is not enough. Men don't really care about this, but women will surely benefit from more lights, especially near the vanity mirror.
The first thing that you need to do is to add some light fixtures beside the mirror. They should both be at eye level or around 66 inches. They need to be 36 to 40 inches apart so they won't be too bright when you're using the mirror. This would allow you to check everything in your face and put on your makeup properly without relying on the ceiling lights.
We've seen a lot of wallpapers lately that are being advertised for bathrooms. They said that these wallpapers can improve the aesthetics of your bathroom without using tiles. There are products that can even withstand the moisture and remain undamaged for many years.
While this is true in some cases, there are a lot of factors that can affect the appearance of bathroom wallpapers. A lot of accidents can happen and wallpapers can get damaged easily.
It's not a completely bad idea, but most professionals suggest that you use tiles or just paint on your bathroom. This would prevent any unnecessary repairs in the future.
During bathroom renovations, most people disregard vents and fans. As long as there is a window, then all is good. It is very important to have a fan in your bathroom and you should consider it as a priority as well.
For master bathrooms, you should use a quiet unit that will not wake up your wife or husband when you go in during nighttime. For a guest bath, having a mid-range noise level won't be a bad idea as it would allow you to save more money. As for your powder room, you don't need a quiet unit. You can buy the more affordable loud units.
You should never see any pipes sticking around in your bathroom after the renovation. If the pipes from the lavatory are exposed, find a way to cover them up. You can put a small cabinet below it or you can ask the plumber to hide them behind walls.
If the bathroom is on the first floor, make sure that the pipes are placed through the floor and not on the wall. You have to keep all your pipes insulated as well. This will make sure that hot water will not go cold when you're not using it.
Small Bathroom Remodel Ideas
Now that you already have some basic information on the important things to consider before you start remodeling your bathroom, the next step is to pick a design. You don't need to follow a specific design. You can just change a few things in your bathroom. Bathroom remodeling is not only about a complete makeover. Sometimes, adding a few fixtures or changing some of the old items can already be considered as a remodeling task.
We listed down a few remodeling ideas that can help you beautify your bathroom.
1. Adding a Skylight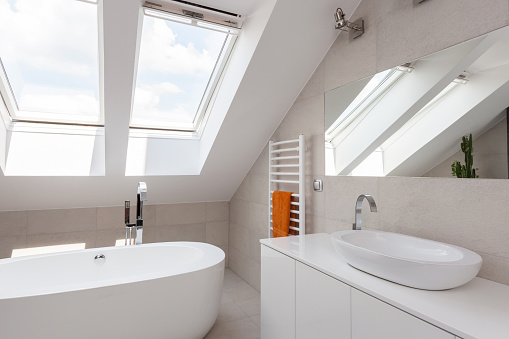 Some bathrooms don't have windows. They often use an exhaust fan to make sure that the air inside will always be fresh and to keep all the smell out. However, having a fan is not enough, especially when you are remodeling your bathroom.
One of the best ideas that you can consider is to install a skylight. By replacing your roofing with a Crystalite one, your bathroom will be flooded by natural light while still maintaining privacy. Also, adding a skylight can make your bathroom look bigger. It doesn't matter if it's in the middle of the house. As long as you can change the roofing of your bathroom, it will completely transform the space.
2. Vertical Arts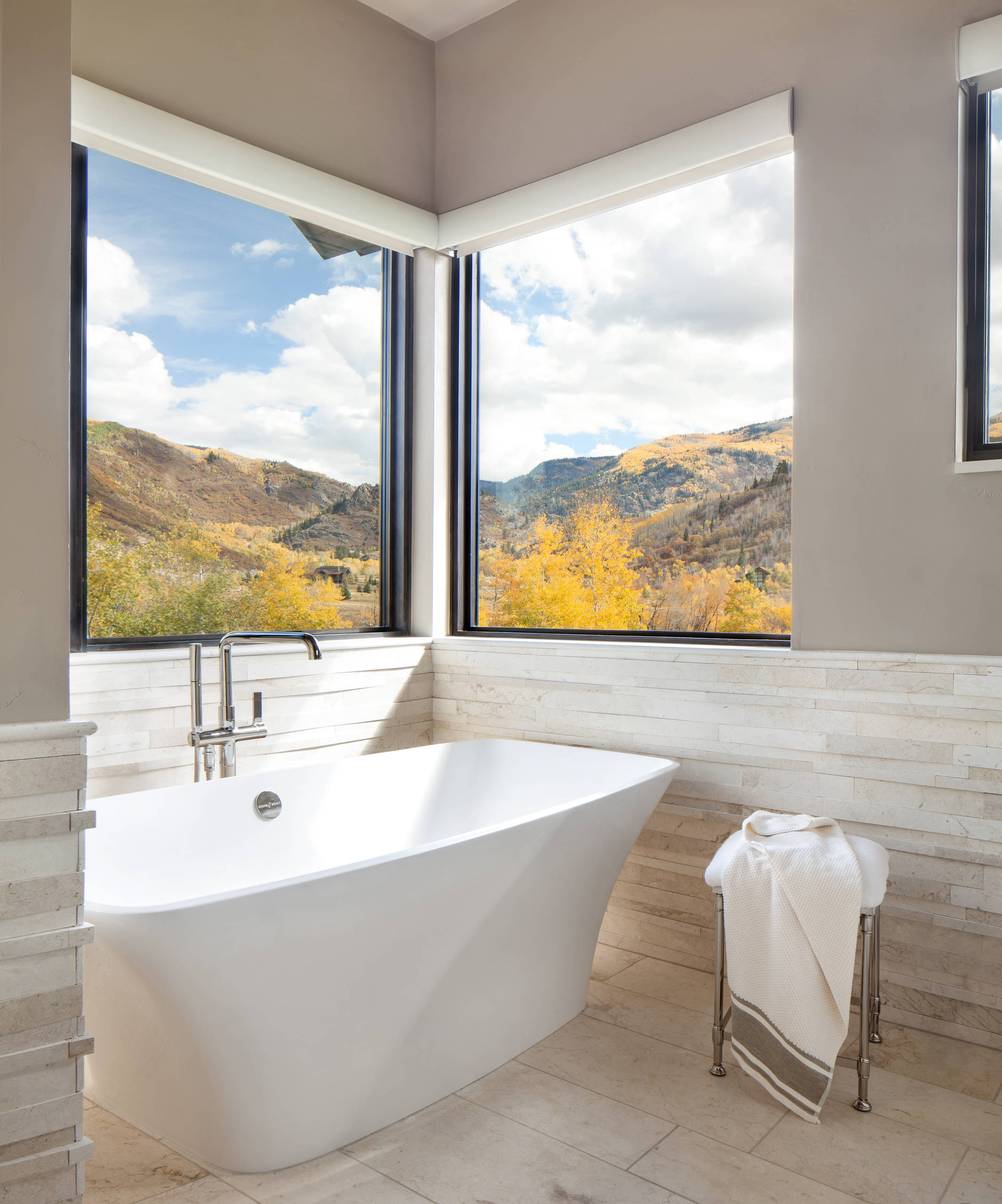 Most people want to remodel their bathroom without changing it completely. If you don't want to change the tiles or replace a few things inside, you can simply add a few vertical art pieces to change the ambiance inside the bathroom. These arts can also change the aura of the space, making it look unique and different from its previous design.
You can start with small paintings. You can place small paintings vertically above the toilet bowl. If you have other things placed at the top, you can just take them out or move them somewhere. This design can make your bathroom look big and tall while still maintaining its original appearance.
This is a great choice for people who don't want to spend too much money on the renovation. It won't take too long as well. If you already have the art pieces, you just have to install them.
3. A Secret Door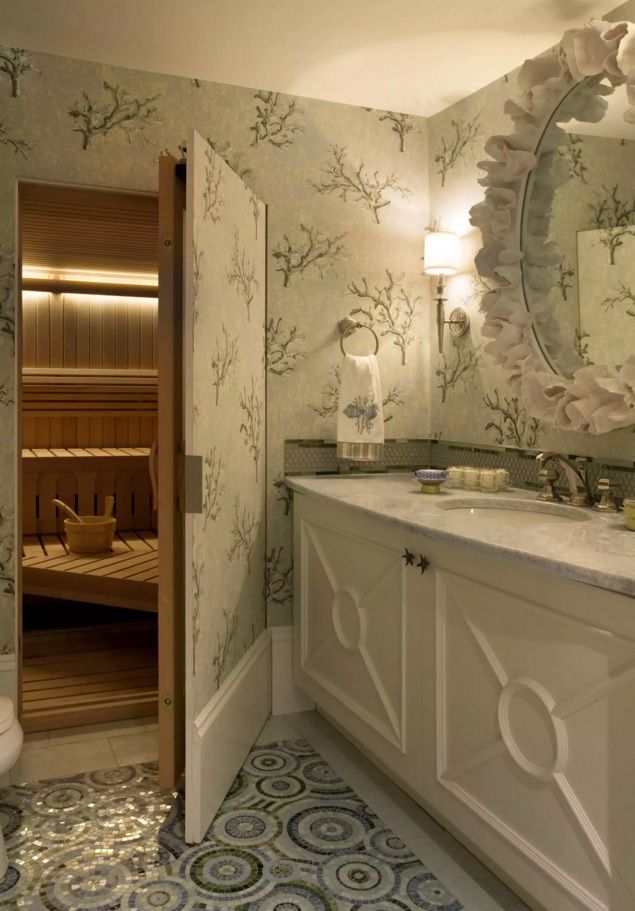 One of the best ways to completely change the appearance of your bathroom is to hide everything. If there are no bathroom essentials seen in your bathroom, it will look mysterious and clean. It's like nothing's actually there.
You just have to create a small secret door where all your essentials are hidden. This is just a unique way to keep your items in check and to showcase the boldness of the bathroom design. Sometimes, you just have to remove the clutter to make it look beautiful.
4. Switch to a Sliding Door
You won't even think about doors when you are renovating your bathroom. But, it is one of the best small bathroom remodel ideas that you can consider, especially if you have limited space.
Instead of a swinging door that takes up space in your bathroom, you can switch to a sliding door. Don't use the conventional sliding door. You can opt for a wooden model which will surely accentuate the overall design of your bathroom. You can also add other wooden pieces inside your bathroom to give it a natural vibe.
Sliding doors allow you to save more space. The space behind the swinging door can now be turned into something usable and functional. You can add more cabinets if you want or you can move the lavatory near the door and make it bigger.
5. Don't Overwhelm Your Bathroom with Colors
It's easy to get overwhelmed when you are choosing colors for your bathroom. There are so many bathroom tiles that would work well with different designs and colors. However, can you make them all work? Can you combine all these colors to create a unique design for your bathroom?
It might be possible if you have an interior designer, but if you're only relying on Google or designs from someone else, it's better to stick with a few colors for your bathroom.
You can stick with white and gray if you want or you can add a shade of blue and green to your bathroom. You can always make your bathroom colorful without incorporating too many colors.
6. Mixing Different Materials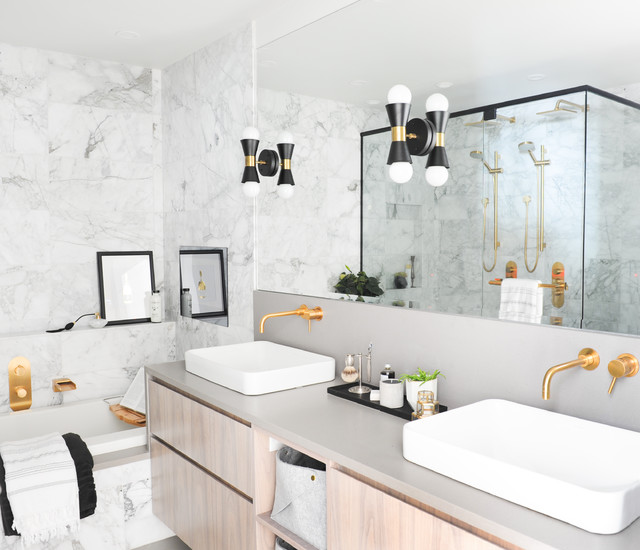 It's very common for homeowners to add fixtures with similar designs. If the designs are not similar, they will look for things that would complement the overall design of the bathroom.
Have you ever tried mixing different materials? This is a very difficult task because it requires both creativity and in-depth knowledge. Interior designing is not easy and this particular remodeling idea will tell you the level of difficulty.
You can incorporate several elements in your bathroom and still get an amazing interior design. You can use modern materials, traditional materials, outdated designs, and contrasting materials. It's very important to know how you can mix and match them and the right places where they should be positioned.
If you want to try this out, make sure that you look for a professional to help you pick the right elements.
7. Keep the Items You Love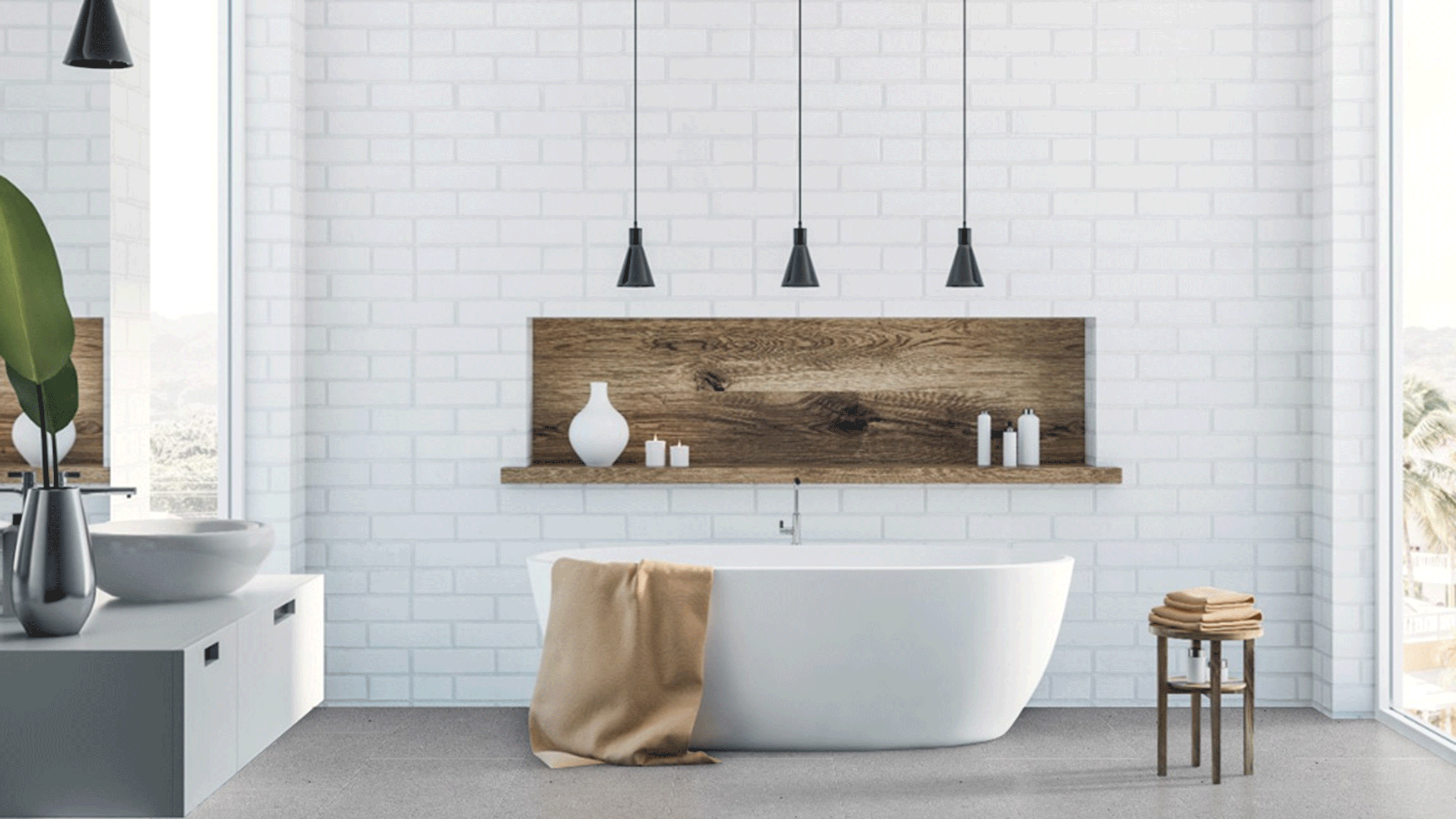 Sometimes, it's not the design that makes the bathroom. It's all about the things that are placed inside. If you are the type of person who doesn't really care what others think, you can design your bathroom based on the things that you want to put inside.
This is more of a preference type of design because you can literally add whatever you want without thinking about the design. Just place whatever items you want and it would still look good because these are the things that you love.
It's your bathroom so don't be afraid to try new things. You can always change it if you feel like the design is not suitable for you.
8. Customize a Shower Bench
It's great that you want to add a few things to your bathroom when you're remodeling. You should pay attention to the shower area, especially if it's a bit spacious. If you think that you can add a shower bench, then try to add one.
Adding a shower bench can create a unique vibe to your shower area. Imagine adding a single piece of furniture and it can already impact the overall design of your bath. It would be a lot better if you can customize a bench for your shower. You can create any type of design that you want as long as it won't overwhelm the design of your bathroom.
9. Change the Tiles
You can consider this as a major renovation. Changing the tiles of your bathroom requires a lot of time and money. It's not easy because you will have to completely remove the old tiles and replace them with new ones.
Is this a bad thing? No. It's one of the best bathroom remodel ideas that you can do to your bathroom. If your bathroom feels suffocating, use white tiles. This would make your bathroom look bigger and brighter.
10. Glass Shower Doors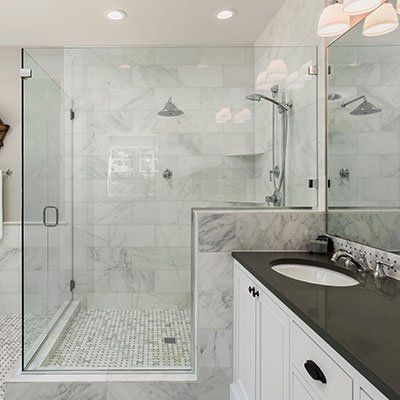 You've probably seen glass shower doors in most movies, but they are not only for show. These glass doors can actually make your bathroom look bigger. Instead of using shower curtains that would make the space too crowded, a glass door can improve the aesthetic of your bathroom.
Benefits of Bathroom Remodeling
The kitchen is the most common place in the house that usually requires renovation. A lot of homeowners focus on the kitchen without looking at the other places. Now, why would you remodel your bathroom? What benefits can you get by doing this? Is it financially advisable to remodel your bathroom? Here are some of the benefits of bathroom remodeling.
Increase the Value of Your House
A minor bathroom remodeling task can already provide a 102% return when you sell it. If you changed a few things in the bathroom like replacing the tub, floor, toilet, vanity, and fixtures, you can expect a return on your investment when you sell your house.
As long as you use the new decorating trends right now, more people will be interested in your house and you can increase its resale value. It will typically cover all the renovation expenses that you spent on your bathroom.
There are times when house renovation is done not only to make your bathroom beautiful but also to address certain issues with the plumbing and other elements.
You can replace leaky faucets and install a water heater right now so you can save more on utility costs. Remember that when these problems worsen over time, you will spend more money on repairs.
If you want to save money right now, start fixing the small issues in your bathroom and make it more beautiful during the process.
A clean and beautiful bathroom can help relieve your stress. Just looking at the cozy and peaceful bathroom can already help shave off some of that built-up stress from work.
You can just take a shower peacefully and enjoy your bath without all the clutters in your bathroom. Remodeling your bathroom can turn it into a peaceful haven for you and your family.
One of the most important things to do is to remove the clutter in your bathroom, but it's better if you can remodel it completely. By remodeling the bathroom, you are also removing the clutter. You will only leave the things that you want to stay in the bathroom.
You have to remember that poorly-designed bathrooms can actually invite clutter. You won't even notice that your bathroom is already full of things that you don't need.
By remodeling your bathroom, you are also adding new fixtures to the space. It means that you can enjoy more functionality for the bathroom. If you add an exhaust fan, the smell coming from the bathroom will be sent outside.
You can add an elegant vanity in your bathroom and improve the storage space. You can place all your bathroom essentials on these cabinets so they won't look like clutter in your bathroom.
Conclusion
It takes a lot of time and money to completely remodel a bathroom. Even if you know some of the best small bathroom remodel ideas, you should already expect that the process would be tedious. If you know what needs to be done and you already have a plan for the renovation, you won't encounter a lot of problems during the remodeling. You can follow the simple design tips above so you can have an idea of how to make your bathroom beautiful.
If you are planning to remodel your bathroom and you're looking for bathroom fixtures and furniture, we can help you find the best one in the market.