The 10 Best Single Bathroom Vanities of 2021
If you're doing a bathroom remodel, there's one major thing you have to consider: your vanity. A vanity holds several purposes. Without one, your bathroom isn't complete. Not only does your vanity hold the sink for washing your hands, but it also includes a cupboard and countertop space. 
The color of your cupboards and countertop accent your bathroom. You can completely change a look with a vanity. Regardless of the style you're trying to achieve, a vanity can help you get there. We are going to discuss some of our favorite bathroom vanities for you to consider during your remodel. 
Your Single Bathroom Vanity Guide 
If you're on the fence on whether to get a pedestal vanity or a single vanity, we can help. Before diving into our favorite vanities, we'll discuss why a single vanity is a great option. 
Why We Love Single Vanities
There are many benefits to single vanities. In fact, there are four main benefits to consider. If you're on the fence about what type of vanity to get, these points might help you decide: 
Save room compared to a double vanity.

A double vanity is an excellent option for a large bathroom. For example, many people opt for double vanities in a master ensuite. However, if you have less space to work with, a single vanity is the way to go. Not only does it offer a cupboard and counter space, but it's a space-saver. After all, you don't want your bathroom to be cluttered or lack space to comfortably move around. 
Easy install.

Compared to a double vanity, a single vanity is easier to install. Many of our vanities feature easy installation features and pipe cutouts. A single vanity weighs less than a double vanity. Therefore, you won't need as many hands installing it. Installing anything related to plumbing can be overwhelming, so take the stress out of the job! 
More storage space than a pedestal.

Pedestal and free-standing sinks just have a base to hold the sink and the sink. Though these do the trick in half bathrooms, they aren't as effective. If you like to store makeup products, skincare serums, and cleaning supplies, you'll need cupboard space. This is where single vanities come in!
More counter space than a pedestal.

Similar to the point above, single vanities have more counter space. Counter space allows you to nicely decorate with hand soap, figurines, or potentially a candle. With a single vanity, you won't lack the space you need. 
Top Ten Single Vanities 
Here is a list of our top ten favorite single vanities!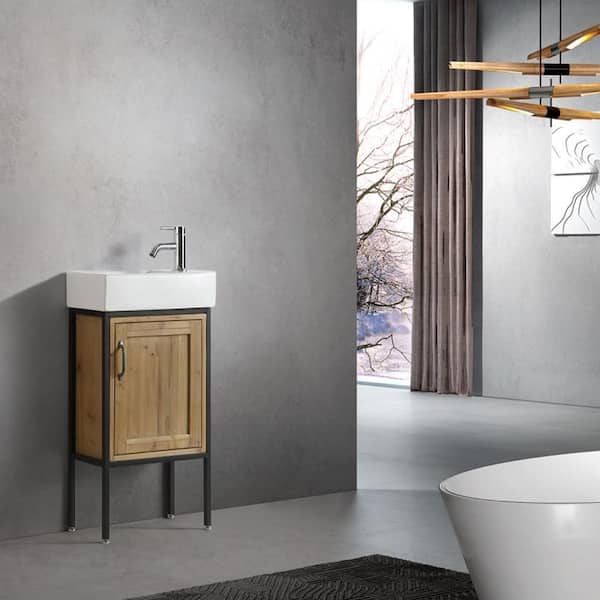 This gorgeous vanity is sleek and slim. This means that it can fit into smaller spaces. If you don't want a pedestal sink, this is a great backup option. The natural-looking wood is gorgeous. It balances rustic charm with modern features. The one-cabinet storage is enough to store your belongings. 
We are loving this sleek and modern vanity by Fresca. Finished in a gorgeous gray color, it'll accent any bathroom beautifully. This vanity features two drawers and a cupboard. Furthermore, there is additional counter space to one side. This means that you can decorate your bathroom however you see fit. 
The shaker cabinets and chrome handles scream traditional, while the black finish gives an edgy vibe. This bathroom vanity has one cupboard and a shelf underneath to store hand towels and other belongings. It's easy to install and makes a big splash on small bathrooms. 
The incredible ash gray cupboards bring all of the characters you need in your bathroom. The white quartz countertop is sleek, easy to clean, and won't stain. As opposed to granite, quartz is a low-maintenance stone and is perfect for bathrooms. This vanity doesn't lack any storage space, so you can keep your bathroom neat and tidy. 
If you're looking for sleek and simple, this vanity is the way to go. With plenty of storage and a crisp white countertop, you can have the freedom to add color elsewhere in the bathroom. For modern bathrooms, this one is a no-brainer. 
Get additional countertop and storage space with this perfect option from KubeBath. The high-gloss finish brings all of the modern character you need to your bathroom. Finished with white quartz, this vanity looks like it should be more expensive than it is. Made with high-quality materials, you can feel confident this single vanity will last. 
Floating vanities are still all of the rage! Though they can be tricky to install, they make a huge impact on any space. Carefully secure this vanity by KubeBath to the wall. Measuring at 60", this vanity is perfect for slightly larger spaces. You'll get access to six drawers and an additional countertop space to add products and decor to. 
Are you looking for a unique and traditional-looking vanity? Look no further than this option by Stufurhome. The bluish-gray color is a standout in any bathroom. Furthermore, the detailing on the vanity brings all of the charms that any bathroom needs. With eight drawers and one cupboard, you have plenty of storage space. 
If you want to stay on a budget and save space without committing to a pedestal, choose this vanity. It's extremely affordable and minimalistic. With one small drawer, you can store your must-have items.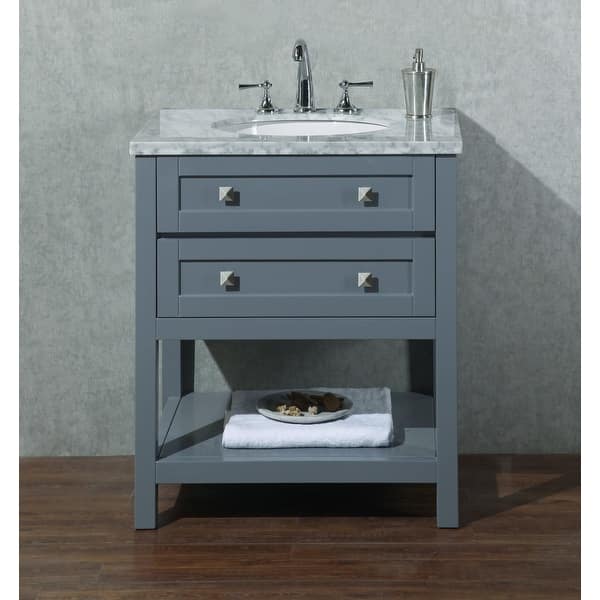 Get a matching mirror with this simple, 30" vanity by Stufurhome. Made in their iconic bluish-gray color with two easy-access drawers, this vanity will bring classy charm to any bathroom you put it in. 
You can also check our article on the 10 Small Bathroom Vanity Ideas That Pack In Plenty of Storage.
Conclusion 
We hope that browsing these bathroom vanities helped inspire you on your bathroom remodel! With so many options to choose from, it can be difficult to decide. However, single vanities provide the functionality and beauty that any bathroom needs.