10 Beautiful Bathroom Paint Colors for Your Next Renovation
Are you considering renovating your bathroom? During a bathroom renovation, there are many decisions that must be made. You'll have to choose a vanity, mirror, fixtures, and faucets. However, one of the most important factors is the paint. 
Paint can completely transform a space. It sets the tone for any room. Depending on the style you're opting for, some colors will fit better than others. Regardless, it's important to look through some common options. We'll outline some of the best bathroom paint colors for you to browse through. 
Beautiful Paint Colors for Your Bathroom
We have compiled a list of 10 paint colors that will look excellent in your bathroom. We will also discuss feature wall ideas. 
Top 10 Colors
Ten buzzing colors for 2022 include: 
1. White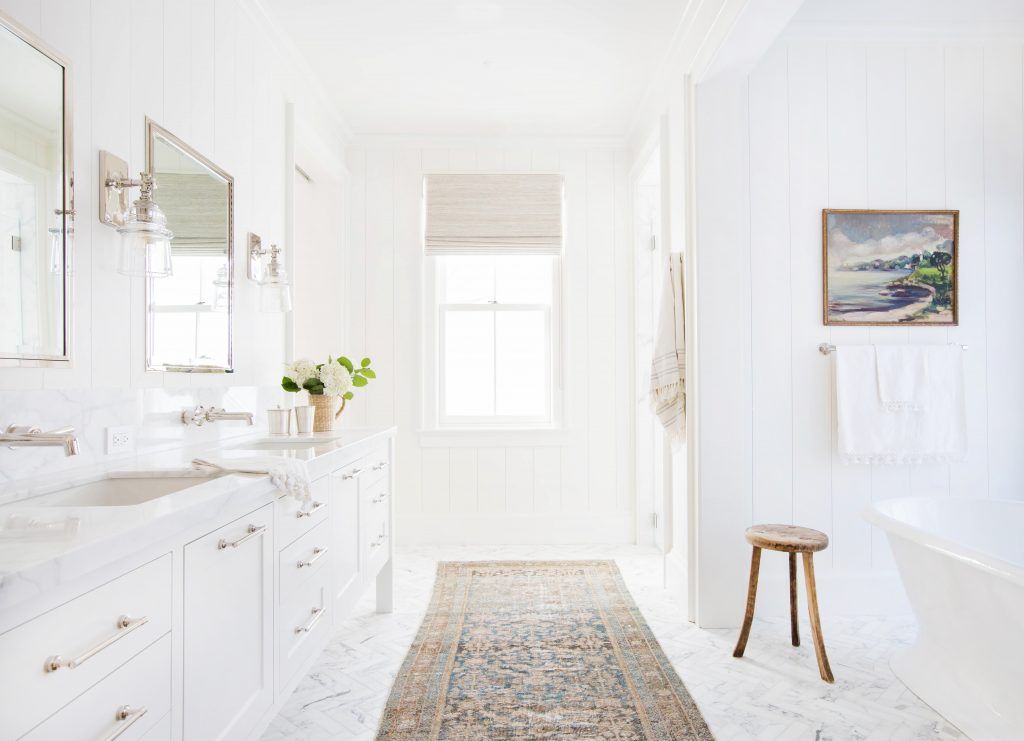 The truth is, you can never go wrong with a creamy white shade in your bathroom. It leaves plenty of room for decor options. With white, you can get extremely creative with the finished product. This crisp color is a classic that can go with any design theme. White can be considered simple; However, it can beautifully brighten any room. 
You can complement white paint with wood accents for a spa-like appeal. If you want to opt for a bolder bathroom, use bright colors as accents. The beautiful thing about white is that it's versatile. You can change the look of your bathroom with accessories and decor. Choosing white will keep your bathroom looking clean and tidy. 
2. Taupe 
Some people think taupe is outdated, but it's still a great choice. Taupe is a brown-gray shade. It is neutral, similar to white, but adds a little bit more visual interest. Taupe can commonly be found in older homes, as it was once a highly popular shade. 
Taupe can range in undertones and variations. You can choose to opt for a brownish taupe or go for one that features more gray undertones. You can even get a lighter shade for another spa-like finish. 
Taupe can be accented with white fixtures, towels, and more. Because it balances both brown and gray, you can choose either warm or cool accents for a perfect finish. 
3. Gray
Gray has made a huge comeback in the last few years. Suddenly, gray is used in most modern houses. It's moody, yet calming. A nice shade of gray is perfectly balanced. 
Because gray is extremely cool in color, we suggest warming it up with accents. Using warm wood is a great way to do this without too much contrast. Of course, using white creamy towels and tiles is an excellent way to go. 
4. Emerald green
For people that want to opt for moody colors and bold tones, emerald green is a great choice. It's an unlikely choice for many, but for those who are edgy in design, it's a wonderful option. You can lighten up the deeper tones with white accents. Furthermore, metal fixtures, such as gold, also beautifully accentuate the green. 
Some designers recommend painting the walls and ceiling this green. It's eclectic, yet beautiful. If you're looking to make a one-of-a-kind statement, this is the way to go. 
Emerald green is especially great in a smaller space, such as a powder room or half bathroom. 
5. Pale blue
Really transform your bathroom into a relaxing oasis with a pale or light blue color. This shade is calming and pulls on ocean water and bright blue skies. It will quickly make your space seem relaxing, airy, and bright. 
If you're looking to relax comfortably in a warm bath, enjoy this spa-like color. To accentuate it, consider using shades of creamy and bright white. Stick with cool-toned metals, such as silver and pewter. Gold could look too harsh.
Accents of gray will also look stunning. Marble countertops or gray granite are a great way to go. 
6. Sage green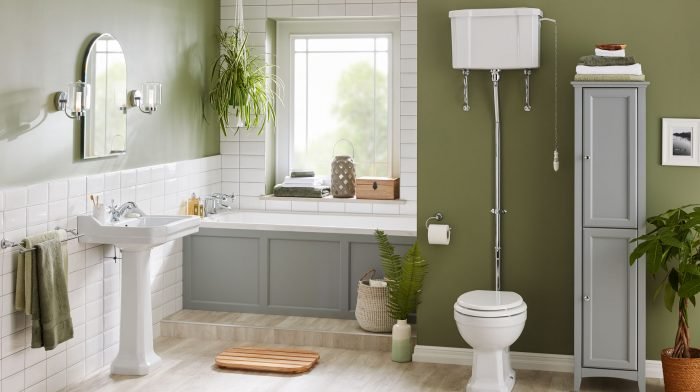 Bring out the beauty of nature with a creamy sage green color. Comparable to emerald green, sage is much more muted. It's a pale green that evokes a calming and relaxing feeling. It's not harsh on the eyes or too overwhelming. 
To pull the room together, use other earthy, warm-neutral tones. This can be taupe, sand, or beige. Opt for colors that don't pose too much of a contrast. 
Bring in natural materials that pull on the feeling of nature. This can include natural wood cabinets. 
7. Earthy yellows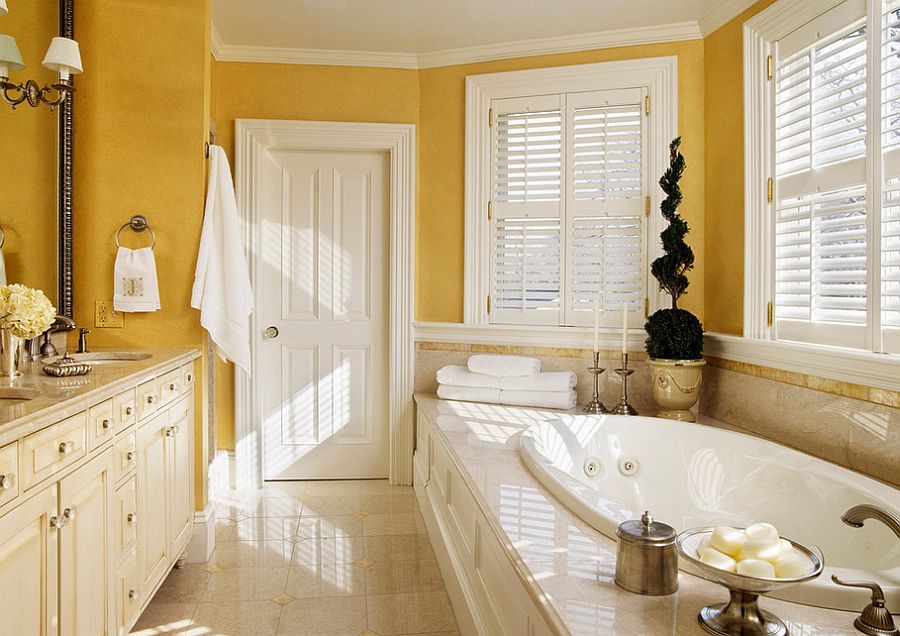 Yellow brings a feeling of happiness into any space. It's unconventional for bathrooms, but it makes a big impact. Opt for a pale or butter yellow, opposed to something too bright.
To accent, a yellow room, opt for white, cream, or tan features. Because yellow is a warm tone, try to stay away from something too cool. You can add a lot of character to the space with orange, blue, or pink decor. These decorations will make your space one-of-a-kind without being overwhelming. 
Pale wood also looks great with earthy yellow tones. Get creative to make a huge impact. 
8. Terracotta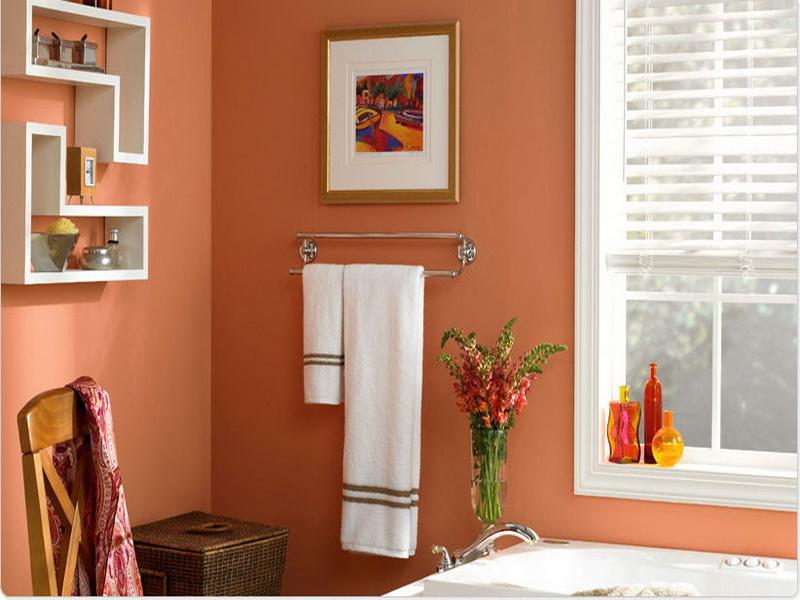 Terracotta is a light, rust-like shade. It pulls on the classic experience of clay and is especially common in Spanish architecture. It's a beautiful shade that isn't too overwhelming. It is also very versatile with different decor. 
To pull terracotta together, accent with white, pink, mustard, or cream. To bring in a more Spanish feeling, get bold with cerulean blue. 
Another way to take terracotta to the next level is with greenery. Add plants to the bathroom. Make sure they can handle a humid environment. You can also use woven baskets and boho-inspired rugs to transform the space. 
9. Navy
If you want a moody option but don't want to commit to emerald green, navy is another great route. It's a little more neutral than the bold green but makes the same edgy statement. You can also paint the ceiling with a navy shade to really make the space moody. 
To accent a navy color, use gold metal accents. This will create an opulent feeling in the space. Crisp whites will also look wonderful. Stick with cool and neutral accents instead of anything too warm-toned. You can also use blush pink and yellow accents for a unique finish. 
10. Lilac 
A muted purple such as lilac or lavender is another great direction to go in. It's calming and relaxing while remaining unique. These colors are easy to complement with decor and create a spa-like appearance. 
Many find that pale blue and sage green has been overdone. In that event, a pale purple is the best way to go. You can use gold metal fixtures and hardware to make a big difference in the space. 
For an edgier look, decorate with orange, yellow, or gray. Rose gold or rose quartz will also make a big impact. 
Accent Walls 
Many people opt for an accent wall in their bathroom. An accent wall draws attention while complementing the primary paint color. There are plenty of ways to do an accent wall, and we will outline five of the most popular accent walls to choose from. 
You can most likely find tile on the bathroom floor. However, you can also have it work its way up the wall. Tiled walls look elevated and luxe in any room. Luckily, there are hundreds of different tiles to choose from. Browse between mosaic, subway tile, and herringbone. Depending on your style, you'll find a great option. 
The beautiful thing about tile is that it's easy to clean, and is very sturdy on the wall. Tile is a long-lasting option. 
To install a tile accent wall, you'll want to prep the wall accordingly, place the tile, seal the tile, and fill it with grout. Grout will fill in the gaps between each tile. Choosing a grout color is also important. 
Doing a full wall of tile can be a pricey investment. However, it's worthwhile. It will completely waterproof a wall. Because of this, a tiled wall is especially good near a bathtub or shower. It will also add a beautifully decorative finish to the space. 
Shiplap has grown in popularity over the last several years. Initially, horizontal, white shiplap was all of the rage. However, people are now showing some more versatility. Vertical shiplap is making a comeback. Homeowners are now painting their shiplap edgy or bold colors. 
While horizontal shiplap is still considered to be a little rustic, vertical shiplap is more modern. To install a shiplap, opt for a wall that isn't directly close to water. Unlike tile, shiplap isn't waterproof. Consider doing a shiplap wall behind the vanity. 
You can paint the shiplap the same color as your bathroom. Otherwise, choose a unique color to really draw the eye's attention. Installing UFP-Edge shiplap is likely the best option in a humid room. 
Installation of shiplap is quite easy. You'll want to plan and measure the shiplap before laying it down on the wall. Afterward, secure it. Once this is completed throughout the entire wall, you can paint it accordingly. 
There are plenty of ways to get creative with paneling. Some of the most common are a plank wall, tongue and groove, flat panel, or beadboard. Paneling allows you to get creative in your bathroom. 
Similar to shiplap, paneling is an easier, low-maintenance way to do a feature wall. You can opt to paint it the same color as the bathroom or another complimentary color. 
The type of paneling you choose will determine the effort you'll need to install it. It will also add to any design element you choose. While beadboard is a little more classic, a plank wall is more modern. You can often get made-for-you panels at the hardware store. However, for a completely DIY experience, you can buy untreated wood and move forward with that. 
To install paneling, get ready to bring out your tools and carpentry knowledge. The good news is that it is relatively easy to install and allows complete creative freedom. 
Don't overlook wallpaper! Wallpaper is a gorgeous addition to any bathroom. It comes in a variety of colors, shades, and patterns. Wallpaper has come a long way since the 1970s. While it was once difficult to install and remove, modern wallpaper is significantly easy to use. 
Wallpaper can be purchased in many different patterns. Some of our favorites are geometric shapes and florals. Florals add a level of elevation to any bathroom. 
Because the bathroom is humid, make sure it is well-ventilated before committing to wallpaper. This is just a precaution. Many companies guarantee that their wallpaper will work nicely in bathrooms. However, stay diligent, as it can be expensive and timely to install.
The nice thing about modern wallpaper is it won't damage the walls underneath. This was a big complaint in the 1970s. When homeowners took the wallpaper down, it could peel the drywall. Luckily, new technology should leave next to no damage. 
Choose a peel and stick wallpaper and make sure your bathroom can manage the humidity before applying. 
This is similar to wall paneling as well. Board and batten used to be extremely popular in the 18th century. It was originally used in Nordic European countries, however quickly spread to the USA. Since then, board and batten have gained popularity yet again. 
Board and batten offer a more traditional or classic finish. You can do it on one wall or do it around the bathroom with paint on top. To install board and batten, you can either buy pre-made panels or completely DIY them. 
Board and batten should hold up well in your bathroom despite the humidity. 
You can also check our article on the 6 Bathroom Design Ideas to Inspire Your Next Renovation.
Conclusion 
If you're looking to paint your bathroom, we have you covered. Some of these unique and classic paint options can make a big difference in your space. To finish off the space beautifully, choose a feature wall as well. We have outlined a great option regardless of the style or design trend you're opting for. This will kickstart your bathroom renovation perfectly. By choosing one of these best bathroom paint colors, the finished product will be ideal.
Looking for some more remodel ideas for your bathroom? Check out this blog by our friends at Vivid Bathrooms. They are an Australian company that specializes in bathroom remodels in New South Wales, Australia.