Our Painted Bathroom Vanity: The "Before" & "After" and How-to Guide!
Few household furniture items get quite so much wear and tear as the bathroom vanity. The one saving grace is you don't necessarily need to replace them they start showing their age, you can just repaint them!
Yes, with just a lick of paint, some sandpaper, and a few hours at the weekend, you can transform the whole look of your bathroom. Breathe new life into your tired old wooden vanities. Even update their image totally.
This article will walk you through what material you need, and the step-by-step process to take and then show you a painting bathroom vanity before and after, so you can see the difference it can make with your own eyes. Ready? Here we go…
First off, here's what you need. Luckily, most of these are pretty common household items, so there's every chance they'll be sitting at the back of the garage, and you won't need to make a dash to the hardware store!
Materials you need:
Screwdriver

Painter's tape

Putty

Sponge

Sandpaper

Drop cloth

Vacuum cleaner

Paintbrush or roller

Shellac or oil-based primer

Painting tray
Got all that? Good, now put the kettle on, find a few of your old favorite CDs, and on to the fun part…
How to paint bathroom vanity cabinets
Okay, first off, here are a few steps to take before we start the paint, to ensure the best finish possible.
1. Prepare Your Vanity
As you can see, we are starting with a tired old vanity. It's seen better days but served us well!
Remove Cabinet Doors, Knobs, and Hinges, and Clean All of The Parts
Using the screwdriver, remove all the different parts of your vanity - not just the doors, but the hinges and knobs too. Then take out the drawers, laying everything spaced out on your drop cloth.
It is advisable to keep smaller parts - hinges, knobs, etc. - separate, maybe even in a sealed bag. Save them from rolling around the floor or getting lost! Then, label each piece, so you know what needs to go where at the end. You'll thank me for that one later.
Once that's done, have a close look at your cabinet for any big marks, scratches, or even holes. Use the putty (or another filler) to patch them up, and leave them to dry before we move on to the next step.
Sand to Remove Old Gloss and Paint
Now we need to sand away the original worn layer of gloss and paint, to make it easier for the new coats to stick on and help them last longer. You don't need to remove every last scrap; just get yourself the new rough surface, so you know the fresh coat will take.
Then use the sponge to collect any dust that's stuck to the vanity's surface, and then the vacuum for any remaining bits.
2. Prime Your Bathroom Vanity Before Beginning to Paint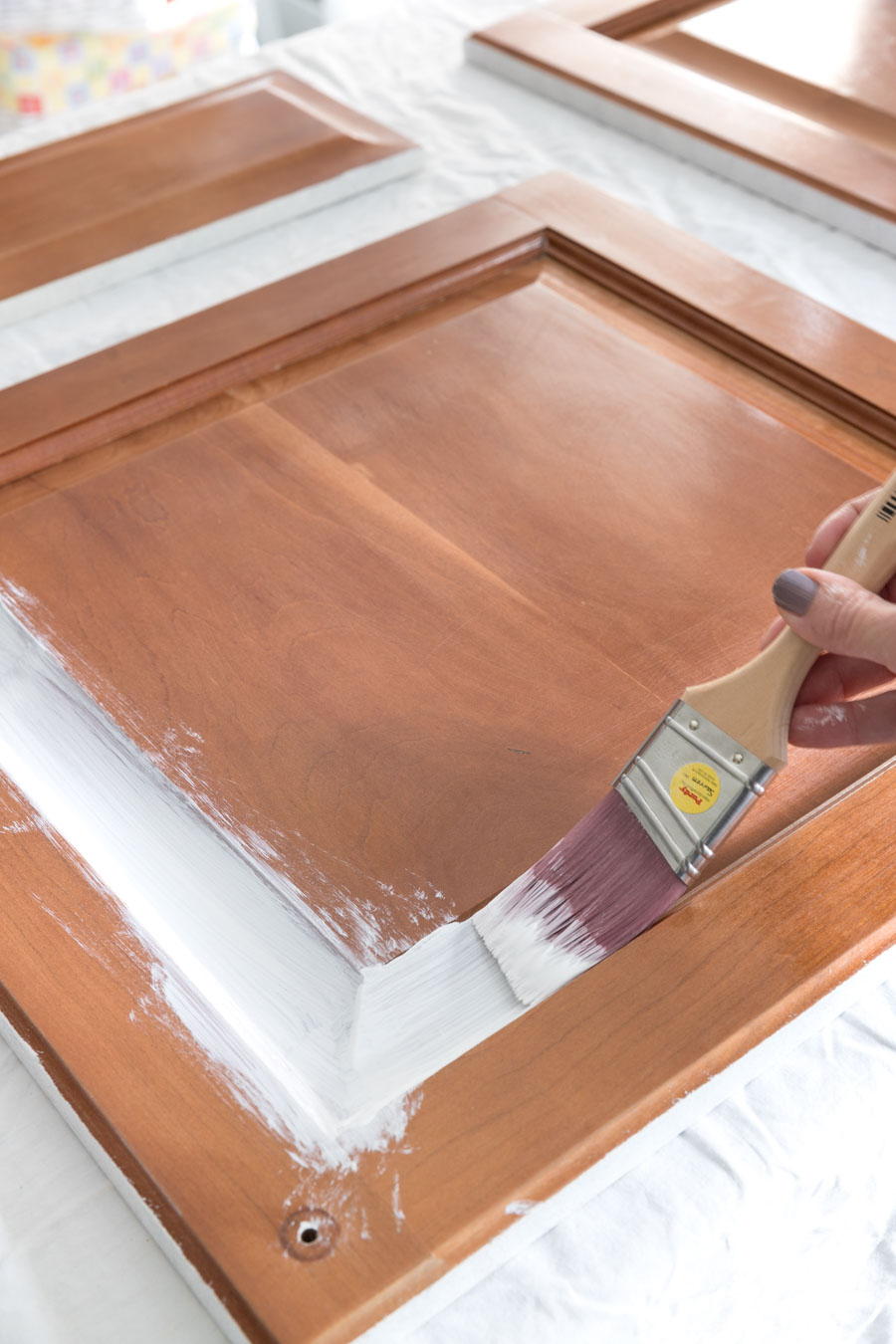 If you coat your vanity with a layer of primer, it will ensure any blemishes are blotted out, creating a smoother surface to paint on.
Line the Inside of Cabinets With Newspaper or Plastic
If you are only painting the front-facing parts of the vanity, then line the inside with newspaper to keep it clean. If you do decide to paint the whole thing, just make sure to sand it all too.
Cover Counter Edges With Painter's Tape and Lay Down a Drop Cloth
If your vanity's countertop is removable, then take it off now before you get started to help avoid any unwanted smudges. Don't worry if it's not; if you coat the outer edges with tape, that will keep it safe too.
Then tape the drop cloth to the floor to keep the rest of the bathroom floor clean while you get to work.
Coat cabinets and drawers with primer
Apply a layer of primer with your brush, let it dry, then apply a second layer.
Let everything cure, then sand before moving on
After applying both layers of primer, it's best to leave it overnight to give them plenty of time to dry thoroughly.
When they are dry to the touch, lightly sand them one more time, removing any dust with a damp sponge again. A thin layer of dust beneath your proud new paint job is not the look you are going for here, believe me!
3. Now You're Ready to Start Painting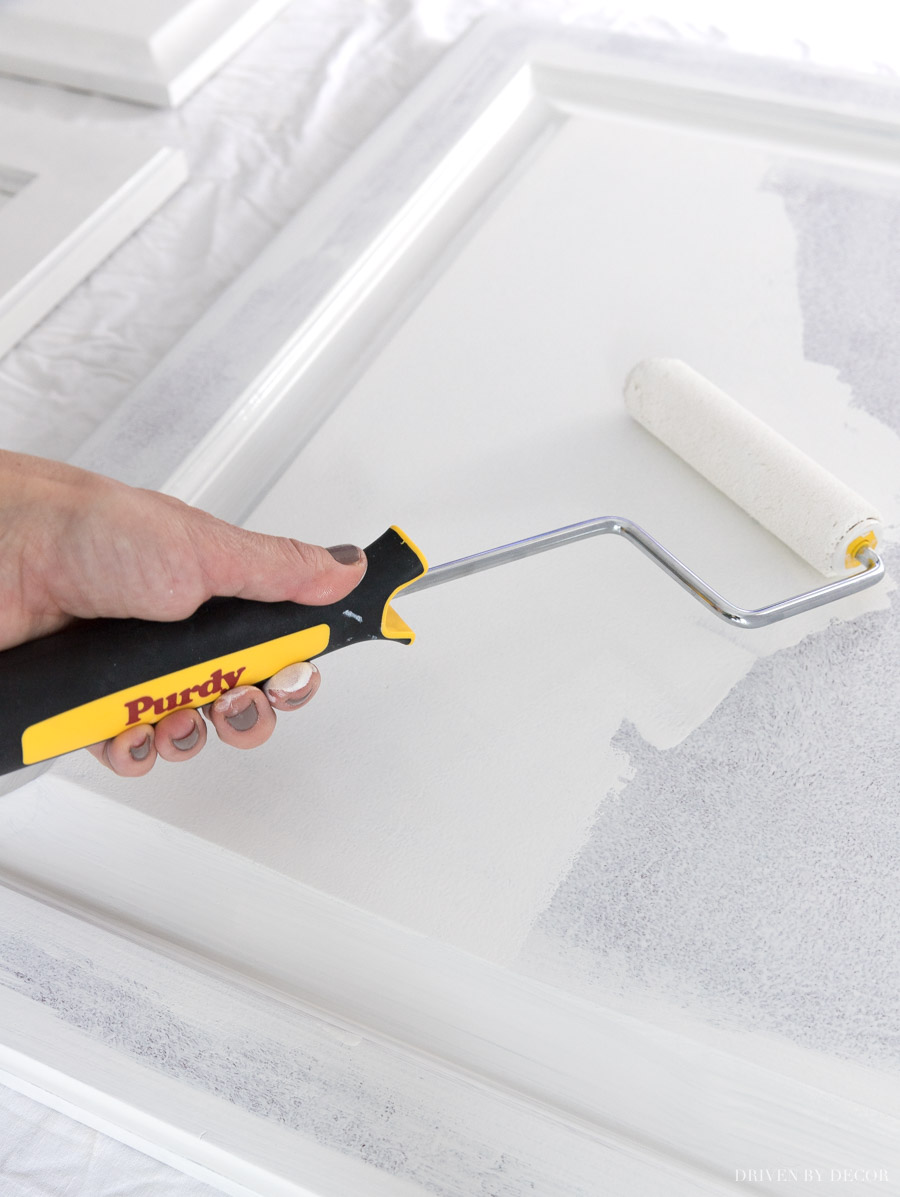 Once your cabinet doors are wholly prepped and primed, you're ready to start painting! 
Decide on the best paint for your bathroom cabinets
Oil, latex, and chalk-based are generally your best options here. Oil's hard finish offers protection against scratching and chipping, but it can be a bit pungent to work with! Latex is water-based, so not as pongy and easier to clean. More seasoned DIYers favor chalk because it doesn't need priming, but the downside is it won't last as long as the others. 
Paint a few coats, then dry overnight
Let the paint dry before you start each new coat, then keep going until all the surfaces are entirely (and evenly) covered. Three coats max should do the job. 
4. Reassemble the Parts When Everything Has Dried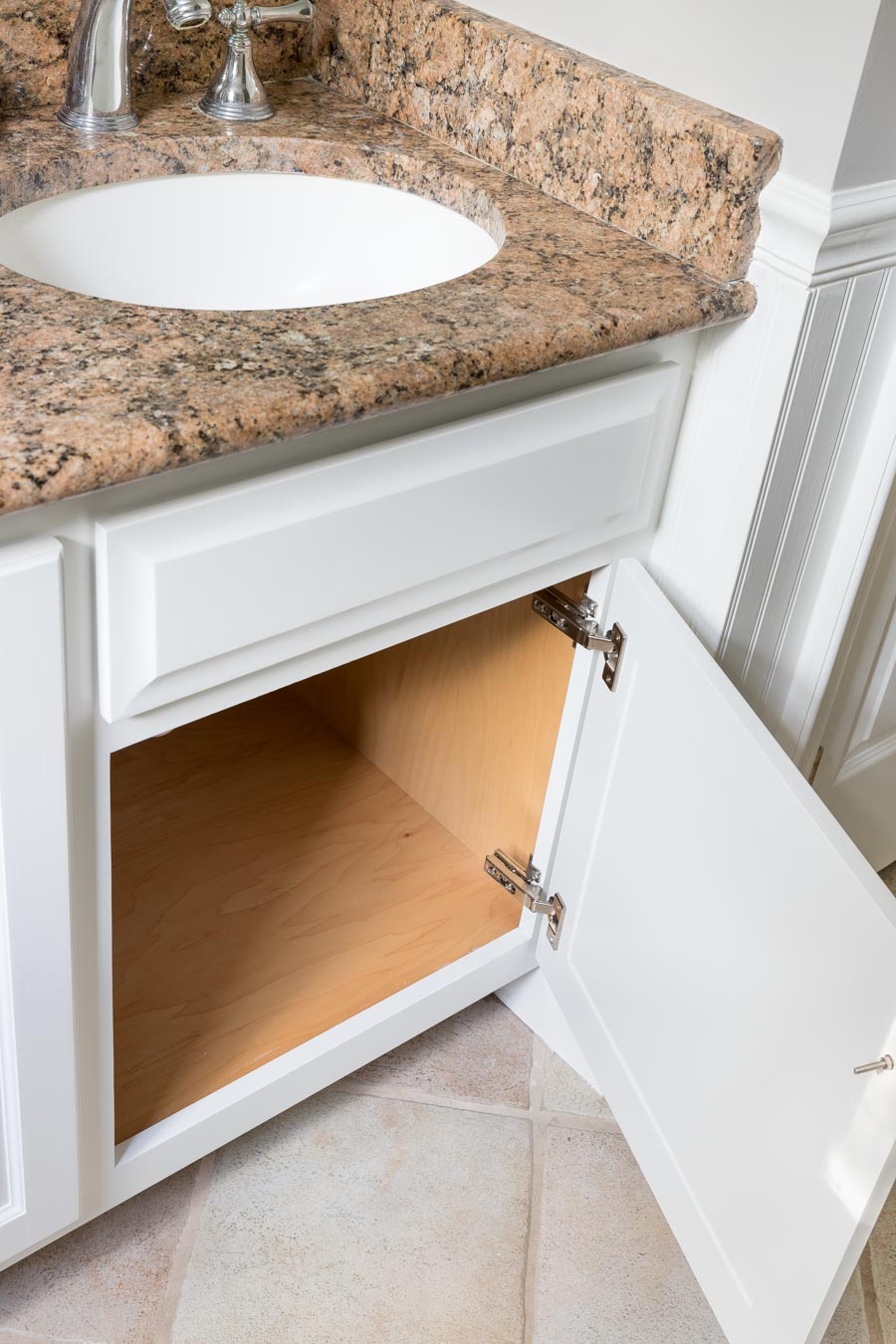 One more night, and they'll be fully dried and ready to reassemble. (Remove any of your labels, newspaper, or tape before you do, obviously!)
You can also check our article on the 5 Modern Bathroom Vanities That Overflow with Style.
Conclusion
I hope you've enjoyed our How-To guide to painting your bathroom vanity: before and after. I told you it wasn't too taxing! Trust me, if I can do it, you can too!
If you've been thinking about painting your bathroom vanity, we hope this blog post has given you a few ideas and tips to help make the process easier. Made it seem that little bit more achievable.
But if that seems like a bit more work than you want to do or you think they really do need replacing, have a look at our extensive range of bathroom vanities in all styles and sizes.
Our friendly customer service team is waiting to answer any questions you have, and with any advice you may need. Check us out at bathcabinetsdepot.com!