How to Make a Bathroom Look Bigger
Few rooms bring out the 'houseproud' in you like the bathroom. Maybe because it plays such a crucial part in our grooming. Maybe because we associate it with the sanctuary and the pleasures of our bathing rituals. Maybe it's because it's one of the areas guests will have the chance to look at. Maybe it's a mixture of all three.
Either way, as long as we have had bathrooms, we have had the conundrum of how to maximize that space and how to make it look bigger!
However, it can be done: there is an art to knowing how to make that space look brighter and more spacious. A few of the usual suspects you will likely know - the use of mirrors and natural light for example. What this article will do here is expand upon those and add a few little tips on top. So whatever size of bathroom you are trying to maximize, there'll be something here to help you!
How to Make a Bathroom Look Bigger?
I'll start with the small bathroom remodel ideas you have probably seen before, a mixture of common sense and interior design trickery.
1. Be clever with the layout
Work with what you got, not what you wish you had! Take time to plot the uncluttered layout that will give your bathroom both the functionality and aesthetic appeal you desire.
2. Clear the floor of clutter
This one's an easy win. By the time you have your vanity and your storage in, things will start feeling squeezed, so ensure it doesn't look any worse with loose, unnecessary pieces on the floor that could be somewhere else.
You can also get creative with your storage options. 
Or how about adding a ladder beside the vanity for your towels? You can hang more than will fit on a bar and it adds a neat little feature to the room.
One of the main culprits of clutter in the bathroom is bottles. Shampoos. Conditioner. Sprays. This is a time for you to channel your inner-minimalist, keeping just what you need, as well as giving you another easy win in your efforts for a more spacious-looking room.
3. Use natural light
Natural light gives the room the appearance of being bigger. So use what light you do have to your advantage. Is a skylight an option even?
4. Bounce that light about with reflective surfaces
Mirrors are your best friends here. This is everyone's fall-back option here and for good reason! Again, they exaggerate your perception of how much space the room actually has, and there are several ways they can be utilized.
A wall of mirrors. Floor to ceiling. Multiple mirrors.
They not only add a feature to the room but give your room that lovely feeling of light and space.
Ideally, you should be reflecting a light source- like a window or an open- but if that's not an option, then an ornament or a nice bunch of flowers is nicer than another shot of the toilet bowl looking back at you!
5. Be selective about the materials you use
Marble, glass, mirrors, and reflective finishes not only give off that wow factor, but brighten that space by, yes, bouncing the light around it.
6. Keep it the same color (as much as possible)
Lots of different colors can look funky and eclectic in the right space, but in small bathrooms, they give the feeling of being cluttered - dividing up the space, so it feels even smaller than it is. Instead, the same light color throughout the room lends a light and spacious feel.
 7. In fact, all-white can look great!
They never go out of fashion, and white reflects that light like no other.
8. Or….if you want to make a statement, double down on black instead
I know this seems counter-intuitive, given my last point, but hear me out! Black can give depth and create the illusion of a larger space when used correctly.
Doubling down on the blacks works beautifully with the mirror, and the result is a unique, contemporary look.
9. Paint the walls the same color as the ceiling
This seamless look also gives the perception of a more spacious room. If you really do yearn for a bit of contrast, then make sure the ceiling is the lighter shade, as the way light is reflected can make them seem darker than they are; this just minimizes that effect.
10. Some stylish shelves
One way to give the appearance of more space is actually making more space. How about some lovely feature shelves on the wall? Or a little niche in the shower? Ledges can be used to give you space throughout the bathroom (above the vanity being the obvious and most-popular choice). 
I'd recommend going for something stylish, though; it can be an excellent way to give you more storage while adding another feature to the room (at a reasonable price compared to the other fixtures and fittings).
11. How about a corner sink?
You don't necessarily have to have a full-size sink in the bathroom; in fact, a corner sink can be a nice feature and a real space-saver. The fact that it is less to clean is just a bonus!
12. Use smaller pieces
Continuing in a similar vein to the corner sink  - smaller pieces anywhere in the room will have the same effect. I absolutely fell in love with what they did with this smaller bath.
13. Use curved surfaces
The key to a successful bathroom aesthetic is how it flows visually - everything from the color scheme to the efforts you make coordinating the fixtures and fittings, and even how the floor and wall tiles fit together. Curved surfaces not only accentuate this flow but can really make the difference when every inch matters.
14. Have a glass shower door
Curtains might be the economical choice, but a nice, shiny and clean shower door opens up the space for you nicely.
15. Or even no door at all!
Why not go the whole hog and not bother with the door at all? It's a bolder move, but again one where you can marry practicality with aesthetics and give the room a lovely, fresh feature too.
16. Use a large-scale motif
It might not sound like it makes any sense, but the medium-sized/larger motifs actually make a space feel larger—big tiles maybe, or a large pattern.
17. Extend your tile into the shower
In fact, if you are going with a tile, why not extend them all the way into the shower?
Here we have Exhibit A:
Look how the unbroken lines end up giving the space more depth, and the room seems larger.
18. Have a wall-mounted or floating faucet
As I said earlier, the easiest way to make somewhere look bigger is actually to make the space bigger, and wall-mounted/ floating vanities not only create some precious extra real estate, they can be stylish, modern, and easier to clean.
In fact, whatever size bathroom you have, wall-hung units are another one of those easy wins. Because you can see beneath them, right to the edges of the room, they give that illusion of extra space we all want.
19. Have a pocket door
Now this one is a bit left-field and might not be in everyone's budget, but a pocket door isn't too hard to install and can open up much-needed space elsewhere for storage. You'll just have to hang those wet towels somewhere else!
20. Use high-gloss paint
Another interior designer secret. This is a simple way to not only reflect the light (our old favorite) but also amplify the space.
21. Hide storage behind mirrors
Wall cabinets are another popular way to give your bathroom more space, so why not combine this benefit with the effect the mirrors can bring too?
They can even be recessed into the wall to give genuine storage depth, while the mirror doesn't intrude into the room's space.
22. Don't skimp on the lighting!
Keep the lighting 'light' as possible too. White lampshades are a great way to add extra brightness higher up the walls, while lighter fixtures and fittings on either side of your mirror can dispatch a subtly diffused lighting that plays well off the brighter light overhead.
23. Don't be afraid to be bold with your colors
With shrewd use of pastel paint shades and fabrics, you can quickly achieve a light and airy feel for your bathroom. A nice sky blue on the wall can be a bright and uplifting option, especially if it reflects any natural light from the window.
Any drapes should be kept on the floaty side - maybe a cotton lawn or a voile, so they don't get in the way of the window. If you ignored my advice about the floating furniture above, then thin legs are preferable (and no dark wood, as it can give the room a heavier feel, visually).
24. Combine your bath and shower
Why not combine the pair if there's no room for a separate cubicle or having both are too cluttered or tight for space? That way, you get the best of both worlds, but with only the bathtub's floor space. Winner!
25. Use large plain-colored floor tiles
Using smaller tiles is a common mistake. Many don't realize that the dividing line between those tiles - and so many of them - makes the room look smaller. This is the same principle at work with my advice to use the same materials: more divisions just cut into the sense of space.
More oversized, plain-colored tiles not only give the impression of more floor space but contribute to a cleaner, less cluttered look.
26. Prioritize texture over color
If flat walls aren't your cup of tea, then how about textured tiles instead? The herringbone pattern is on-trend at the minute, and though it's more popular on floors, I've seen people do a great job with it on walls too. Maybe add a vintage rug with a dash of color or a rustic piece, like a (light) wooden stool, to give it that bit of warmth.
27. Swap plain wall panels for mirrored ones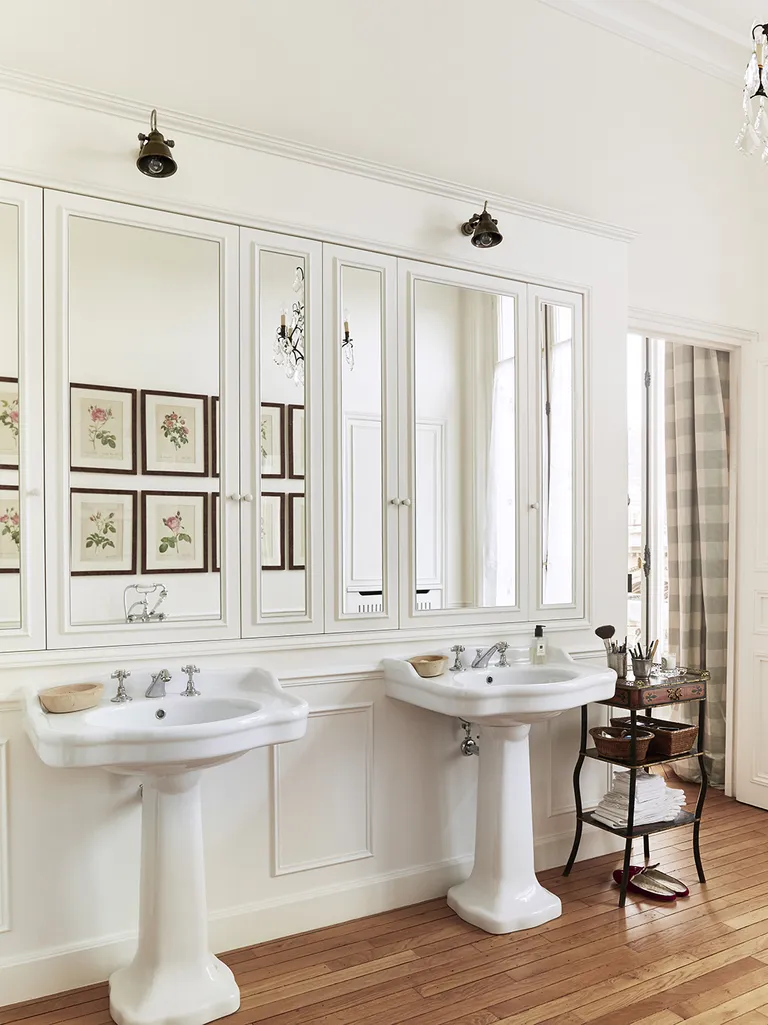 I told you mirrors would feature heavily, but this is my last one, I promise!
Have a look at this one:
I love how the mirrors are utilized within the cupboard door. It's a beautifully simple and effective way to not only maximize that precious space but deliver AND hide extra storage space. For example, this is a great one if you are trying to eke the most of your ensuite.
28. Got some curtains? Give them a lift!
Now I know I have given a few tips regarding glass (or even no) shower doors, but if you do have a curtain, then simply lifting it up -  extending it right up to the ceiling - will serve to elongate the walls. The taller your ceiling, the more heightened (no pun intended) this effect will be.
29. Choose bright lighting
Good lighting is always important in making a space look big and spacious but never more so than in the bathroom. And ESPECIALLY the smaller bathrooms. 
It's not just the look of the room but think of your practical concerns - when you are shaving or putting your make-up on, poor lighting is a big no-no.
So, it's vital to have a rich lighting scheme, ideally multiple light sources in various locations. A grid of ceiling lights along with sconces or a modern edge-lit mirror that is as fashionable as it is functional.
If it's a small powder room, where new electrics aren't an option, you can change your ceiling light to a few different bulbs, with light bathing your fixture from several different directions.
30. Go taller!
If your bathroom is lacking in that square footage, then you can draw attention away from it by emphasizing the ceiling instead. It can be as simple as a tall, thin mirror and bold accented color on the walls to make the room feel much brighter and breezier. Maybe some delicate lights, a little black and white tiling, and suddenly you're drawing those eyes from the floor to ceiling.
Or, if your room is already very long and thin, you can visually push the walls apart with some long, elegant floor tiles, to balance out the feel of the room.
You can also check our article on the 10 Small Bathroom Design Ideas & Solutions.
Conclusion
Smaller bathrooms do present a challenge, but I hope there's plenty of inspiration and encouragement with these small bathroom remodel ideas that, with a little creativity, you can still make the very best of what you have.
If you'd like some more inspiration or to chat with our friendly customer service team about what you need for your bathroom, then check out our website at bathcabinetsdepot.