How to Install a Bathroom Vanity and Sink
When it comes to home renovations, it's often cheaper when you can do things yourself. DIY projects save you from contractors' hefty fees. However, some tasks can require a learning curve. If you're remodeling your bathroom, you'll want to know how to manage a bathroom vanity installation. 
Bathroom vanities are the area that provides storage and holds your sink. They are an essential part of your bathroom. However, it can be difficult to install. We'll provide an easy ten step system for installation. This will help you become the DIY master of your own bathroom. 
Installing Your Bathroom Vanity 
Not only will we provide insight on installation, but we'll discuss finishing it off. The small details will make your work look professional. 
10 Steps for Installation
Save money by doing your very own installation! These steps are relatively easy to follow. Simply take your time for a flawless finished product. To learn more about your vanity and how to install it, keep reading.
1. Turn off water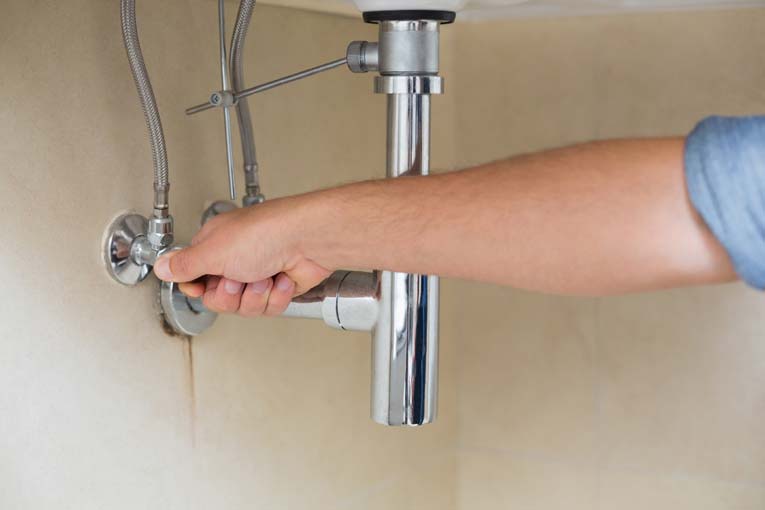 Your project will begin with you removing the current setup. To do this safely, you must turn off the water. To be extra secure, you can turn the water off to your home. This will be a hose in your basement. Otherwise, you can simply turn off the water valves to your sink. 
2. Disconnect current sink and water lines
Near the valve for the water, there will be a drainpipe. It will curve into the wall. Technicians call this the "P-trap." Get a pail or bucket to catch any water as you disconnect. From there, loosen and pull the trap. It will disconnect from the drainpipe. 
After this, disconnect the water lines. Be prepared for any spillage of water. 
3. Remove vanity
Once the sink is cut from the sealant and the water lines are disconnected, you can remove the vanity. Remove any screws that are securing the vanity to the wall. Once this is completed, carefully pull the vanity away from the wall and remove it from the bathroom. 
4. Repair any wall damage
Any vanity will pose some damage to your wall. For a fresh slate, repair any damage. To do this, mud, sand, and repaint the sections of the wall. 
Depending on the type and amount of damage, repair options may vary. Take your time doing this. This step is easier to do before installing a new vanity. Allow the paint and mud adequate time to dry. 
5. Prepare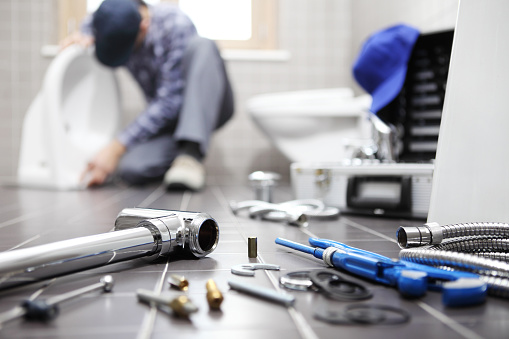 After your wall is repaired, it's time to prepare for the new vanity. During this step, acquire all necessary tools and products. Bring the new vanity into the bathroom. By going into this prepared, you'll save yourself time. 
You'll want to measure the space for the new vanity. Make small marks of where the vanity will sit. Use your stud finder to ensure you're properly securing the vanity. You may have to measure out where the piping will go. Cut this area into the back of your new vanity. 
6. Install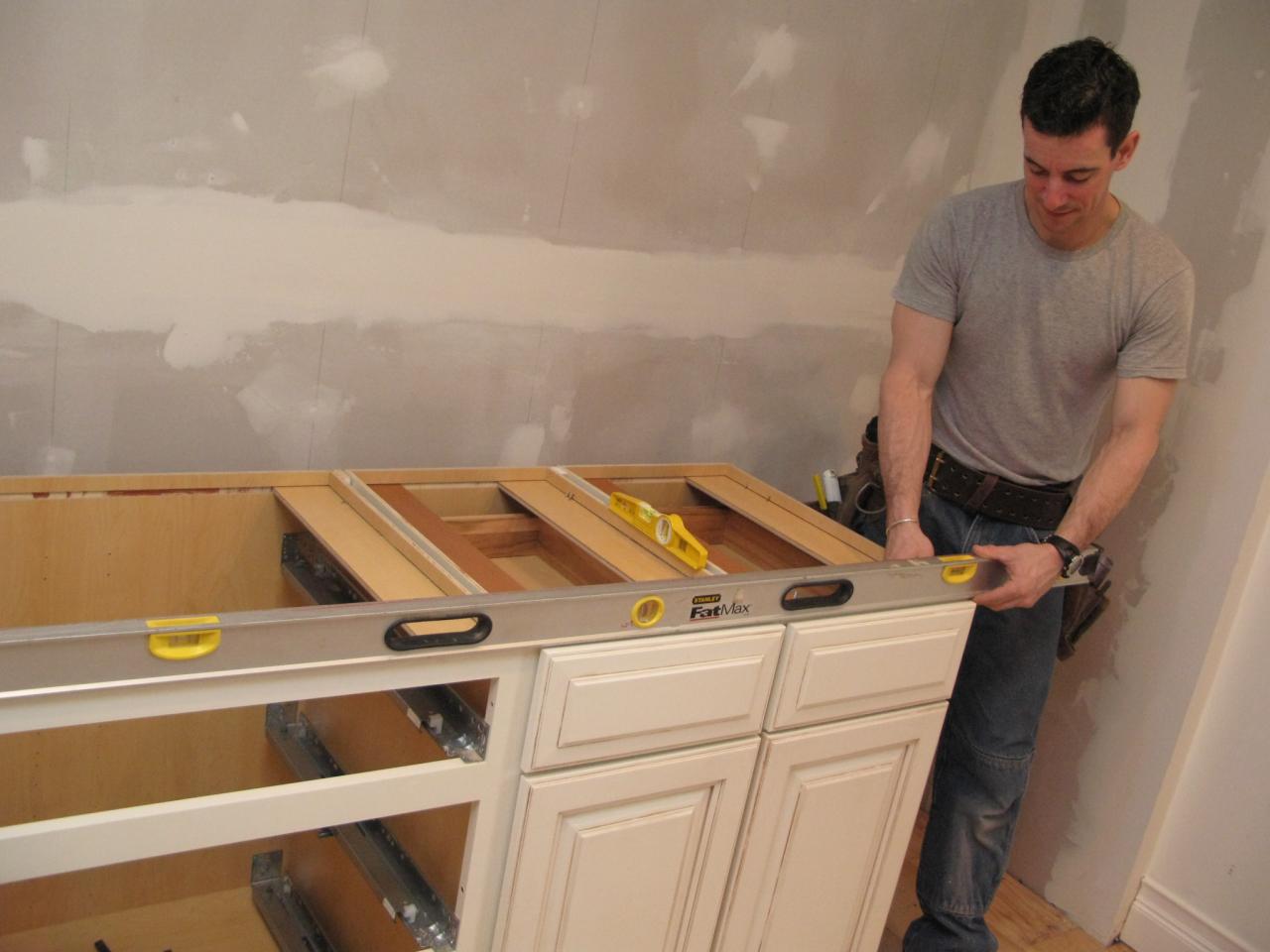 Once preparation is complete, push your vanity into the correct position. It should sit flush with the marks you've made previously. Ensure that the vanity is sitting level and isn't wobbly. If there is any unbalance, use shims. 
Once your vanity looks good and is level, begin to install. To do this, you'll attach your vanity to the wall with screws. Try to drill into existing studs. If you don't have studs, use wall anchors. 
7. Add countertop
The countertop will completely transform the look! Once your vanity is secured, place the pre-cut countertop. Make sure it lines up perfectly. To secure, use caulk. Caulk or sealant should be used to secure the top to the base. Also, use caulk where the top meets the backsplash. 
8. Install faucets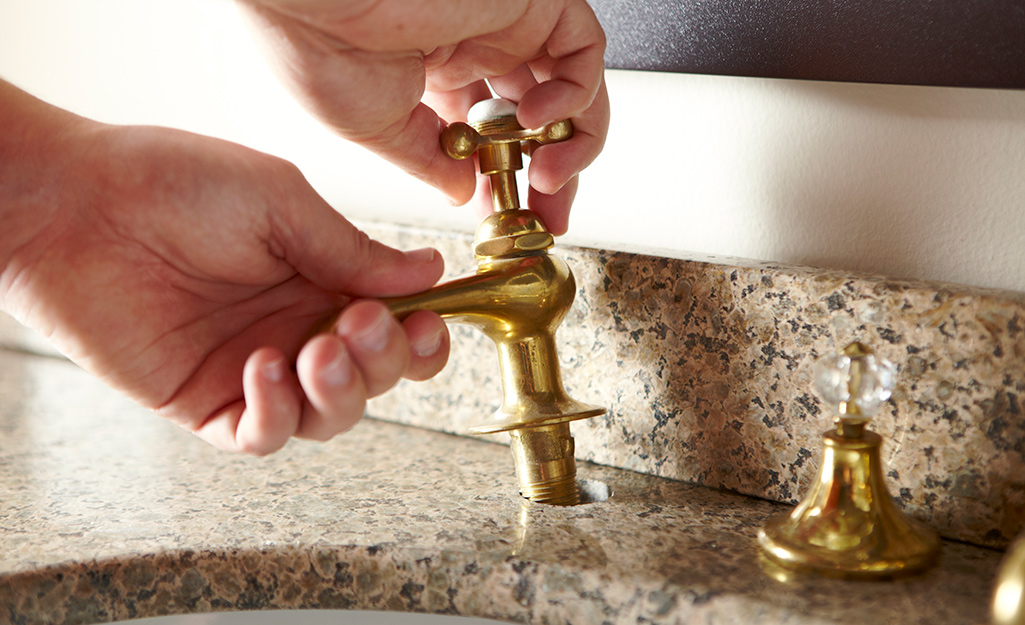 Your faucet should come with instructions. Carefully follow the instructions to install your new faucet. 
9. Connect plumbing
Once the faucet is installed, you can reconnect the P-trap. To do this, follow the same steps for disconnecting. Use plumbers tape to securely attach water valve lines. Turn your water back on. 
When connected, test your faucet. If your faucet is properly working, then you're good to go. 
10. Enjoy the final product
Once you connect the plumbing, you can enjoy the finished product! By doing this yourself, you've saved money and learned a lot! If there's ever a leak, you can apply your knowledge to try to solve the problem yourself. 
Finishing Touches 
Your new vanity looks great! Don't forget to add finishing touches. There are simply decor and touches you can add to finish off the look. Determine whether your bathroom needs other upgrades. For example, does your new faucet match the finish on other bathroom fixtures? Some of our favorite things to consider are:
Mirror.

Does the mirror over your vanity match the aesthetic of your new vanity? Consider adding a new mirror. Round mirrors have been very popular lately. 
Towel holders.

Do your towel holders complement your new vanity? If not, consider new ones. Make sure hand towels are in reach. 
Toilet paper holders.

This small detail is often overlooked. However, the finish should match your faucets. If not, consider buying a new holder. 
Mats.

Bath mats are a simple addition, but they make a big impact. Buy new bath mats for an entirely new experience! Choose from different colors, textures, and sizes. This is a cheap way to elevate the look of your bathroom. 
Other faucets.

Consider other faucets in your bathroom. This will include your shower faucet and bath faucet. Make sure they complement the faucets on your sink. You want everything to look cohesive. 
You can also check our article on the 

5 Modern Bathroom Vanities That Overflow with Style.
Conclusion
Are you ready to transform your bathroom? By following our bathroom vanity installation, you can do this project yourself. We love the idea of saving money when possible. By learning some simple techniques, you can save good money on your renovation. 
When tackling a switch of your bathroom vanity, make sure to have towels and buckets. If there's any spillage of water, you'll want to clean it up quickly and efficiently.