33 Best Storage and Organization Products for Small Bathrooms
If there is a room in the house that gets messy quicker and easier than the bathroom, then I haven't seen it! You can tidy it in the morning and by the time you (or the kids) have been through it, an hour later, it looks like a bomb has hit it. It can have you tearing your hair out. Luckily, this is a need well-catered for in the market today, with all manner of handy little products to help you keep on top of things.
Whether it is the shower or your bathroom cabinet, decluttering your bathroom needn't take too much time and it's needn't cost a fortune. In fact, those little tweaks can make all the difference. And when I say "those little tweaks", I have quite a selection of you here today. I'm confident you'll find something to help declutter and organize our space - not to mention, save a few of those precious hair follicles too.
How to choose the best storage and organization products for small bathrooms?
1. Drawer Organizers
Bathroom drawers can be one of the main culprits. Overflowing with products, where even finding what you want becomes a chore in itself. By simply adding a few drawer organizers, that space is suddenly more structured and easier to find your way around. Clean out your drawers, give everything their own compartment (skincare, dental, make-up, etc), and voila! Suddenly, no clutter and no headache finding what you need.
2. Vanity Organizer
This is perfect for all the things you need at hand most frequently, making them all easily accessible. It's great for on top of the sink or even in a cabinet beside it. The handles on the side are useful too if you need to lift it out or move it. 
3. Wall Storage 
This bamboo bathroom shelf is both stylish and supremely practical. You can make it a floating shelf, above the toilet, by the mirror, or wherever. It's big enough to not only hold a good selection of your grooming products but also bigger items like your folded-up towels too. Oh, and the shelves are adjustable, so you can customize them to the needs of you and your particular space.
4. Makeup Organizer
Say goodbye to the make-up drawer overflow. This organizer has adjustable shelves for personalized storage and can be rotated 360 degrees, so you can spin it round to find what you need. Of course, while it was designed for make-up, there's nothing to stop you from using it for toiletries or skincare too.
5. Shower Organizer 
Shelves - be them hanging or in a cabinet - are the obvious solution to both your storage and clutter issues. These adhesive, rust-proof shelves don't require any drilling (so they are still an option if you are living in rented accommodation), plus their 90-degree angle makes them perfect for corners – saving even more space.
6. Shower Storage 
This is a similar one: four adjustable shelves and no need to borrow your neighbor's drill. It also adjusts from 5 to 8 feet, according to what you need.
7. Floating Shelves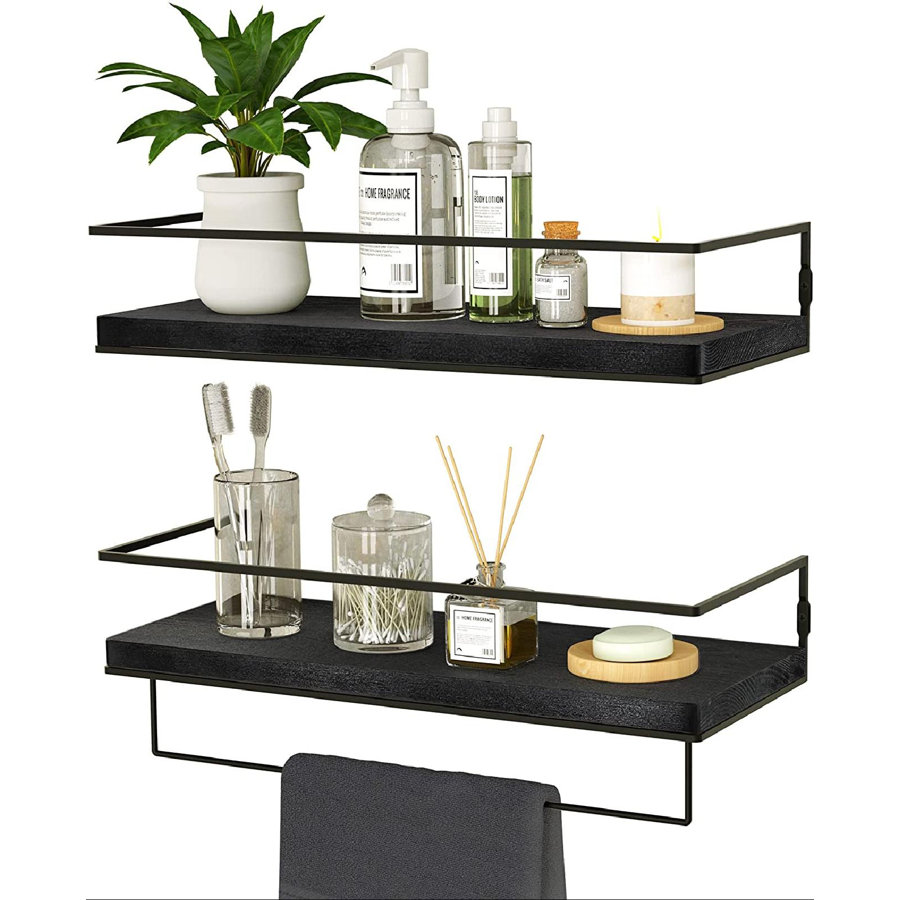 Floating shelves save that precious real estate on the floor. These are perfect for freeing up counter space and storing not only your products but nagging the towels on too.
8. Stackable Corner Shelves 
Take back some much-needed countertop space with these stackable corner shelves.
A cheap, invaluable way to organize and declutter. They're also available in stainless steel.
9. Storage for Hair Tools
Nevermind the mess, putting your hot curling irons and hair dryers on the countertop have the potential to damage the surface itself. With two sizes and three colors, the organizer's three stainless steel cups and separate compartment put an end to those problems for you.
You can hang this neat styling station on your towel rack if you want easy access, or in a cabinet if you want it out of sight. Plus it is heat-resistant so you can store your drier in while you are working on your hair. 
10. Discreet Storage  
This can be wall-mounted, but why not hang it inside your vanity door - like so - for concealed but accessible storage.
11. Jewelry Holder 
The hassle with storing jewelry (should you have enough to warrant storing it!) is that it tangles so easily. This holder sorts all that out. It is available in several colors, to match the color scheme of your bathroom, and is great for hanging your bracelets and necklaces. The base is good for keeping the fiddlier bits too: your rings, earrings, etc.
12. Best Baskets
Buying in bulk is the prudent choice, but it can leave you the question of where to put all those rolls in reserve? This basket is the practical and stylish answer.
13. Multiuse Containers 
This set of plastic apothecary jars is a cheap and versatile storage solution, especially for those smaller items you use on a daily basis – Q-tips, cotton buds, and wipes. You can even decant bulk items in here so you can clear away the bulkier packaging to save space. They are so small and versatile you could pop them on your countertop, inside your vanity…wherever!
14. Best Medicine Cabinet Organizers 
These little plastic bins can really sort out the mess that blights so many medicine cabinets. You can separate your product and give them all a separate section, so they're easy to find too. Not that they would get lost too easily in here!
15. Bathroom Cart 
This utility cart is only 5 inches wide so you can squeeze it in an area in even the tiniest little nook of the narrowest bathroom. Toilet rolls, towels, your bath supplies - it can handle one or all of them.
16. Toilet Paper Organizer
Another option for those pesky (but oh-so-necessary) toilet rolls. These come in three different sizes: black and white. It has a waterproof finish too, so it's not an issue if your toilet is right next to the shower.
17. Under-the-Sink Storage Drawers
These clear, stackable drawers are the perfect way to organize your clutter and capitalize on any wasted space in your vanities. They are cheap, easy to clean, and boast a substantial amount of storage.
18. Acrylic Organizer
These nifty little drawers hold an absurd amount - it's like something out of Alice In Wonderland! Blushers, bronzers, foundation, concealers, eyeliners, pencils… you get the point. No more clutter, and all easy access. It's a winner!
19. Ultra Narrow Cabinet 
This is a fantastic way to utilize what may have other been a wasted piece of real estate on your bathroom floor - even that little spot between the toilet and the wall or the shower. Not only uber-functional, but it doesn't look too shabby either, does it? 
20. Cloud-Shaped Toilet Paper Holder
I love the look of this funky and super-practical solution. You can fill an otherwise useless space with something that actually manages to make a feature of where you keep your toilet roll. And they said it couldn't be done…
21. Over-the-Door Organizer
This is a cheap solution with oodles of space. There are even separations within each pocket if you want to further compartmentalize your things. It gets things off your counters and is easy to store/find. I'd say there is potential for use in other rooms too. The kids' bedroom for their socks and pants, springs to mind.
It comes in three different colors and two different sizes.
22. Kids Bathtime Storage
You can use this mesh net to gather all your little ones' favorite bath toys til next time, as well as give them a place to dry, instead of taking up half the tub! How clever!
There are lots of room here as you can see, and so easy to hang up. And, of course, you can use it for your shampoos, soaps, etc too if you like.
23. Two-Tier Drawers
These shelves and drawers are not only super-easy to assemble, but they're strong and durable too, so you can put some heavier toiletries on them, no problem. You can have them on the floor itself or even inside your vanity units.
24. Hanging Caddy
 
Sick of knocking over (and picking up) those loose shampoo bottles? This hanging caddy keeps them out of the way and ready to grab if you attach it to the showerhead (or even the curtain rail). The stretchy bands around the top and bottle shelves mean it will accommodate even those chunkiest bottles of shampoo. I think it looks a little less intrusive than most of its competitors too.
25. Medicine Cabinet Organizer
I'm pretty sure I'm not the only one who half-expects that avalanche of products to fall out every time I open the medicine cabinet door. Tell me it's not just our house, please!
If you're in the same boat, this cabinet is not only spacious and extremely easy to clean but will fit in the smallest of cabinets.
26. Laundry Hamper 
So this is an option probably more associated with the bedroom doors of a teenage boy, but it's a great choice for the bathroom too. Laundry, dirty towels, and lots more can be cleared from that already-limited floor space, out of sight and out of harm's way. Just unzip the bottom and it will dump everything into your moving and washing too. It does everything but washes them for you!
27. Wall Hanging Rack  
This not only utilized that timeless space-saving trick of using the wall space when floor space is scarce but does it in a charming and rustic fashion. It's from Holistic Habitat - an all-female-owned business, that donates a portion of their profits to social causes in the US - so you'll be doing your good deed for the day too.
28. Sneaky Cabinet 
Look at this one! If you are pressed for bathroom space - which is pretty much all of us - then this is a clever use of the space behind your door. It doesn't intrude on the rest of the room or impede the operation of the door, and it can be a makeshift medicine cabinet or somewhere to store your toiletries.
29. Toilet Roll Stocker 
The latest product was designed with the aim of solving that issue with those bulk-bought toilet rolls. It's nice and narrow so it will fit in those nooks of even the coziest bathrooms. It also doubles as a little shelf to set your phone and, maybe, that potpourri too….
30. Suction Caddy 
My wife brushes her teeth in the shower - which I've always found a little bit weird, even if I can see a logic of some kind there. And here we have what could well be her stocking filler for Christmas next year. Yep, she is a very lucky woman.
This one is will keep your toothbrush and toothpaste nicely away from the splash of shower water but also within easy arm's reach. So easy to install, I'd fancy my own chances at it.
31. The Roll Keeper
Made by 'Roll Keeper', another woman-owned business. This holds 16 towels at one time. They are so compact and real space-saver. Behind the toilet door would, again, be the best spot I'd say here.
32. Over-the-Toilet Shelf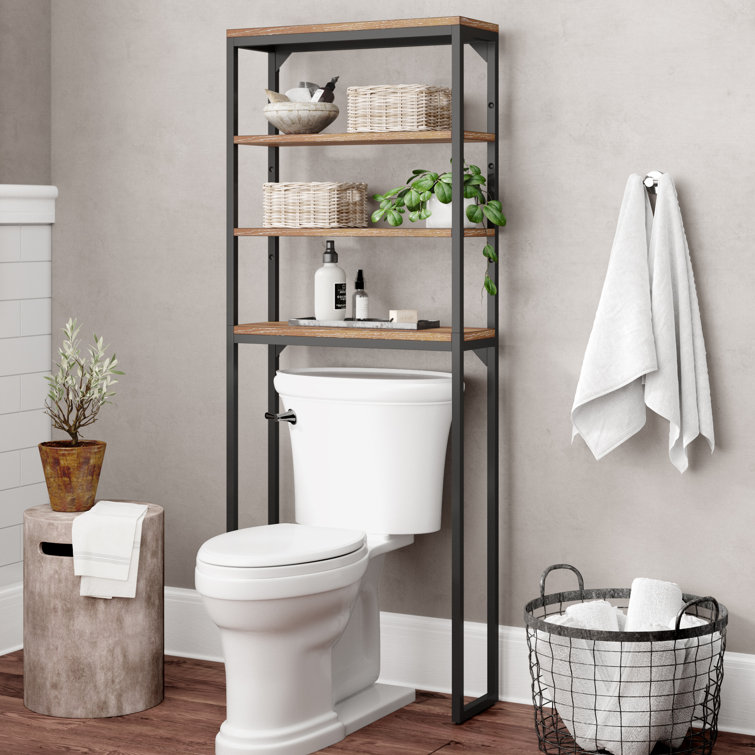 This is a really neat little product that uses the space around the toilet to give its stability, which it then uses with three shelves above. It's a fantastic and ingenious use of what is often dead space. 
33. Hanging Paper Holder 
I'm a stickler for reading on the toilet. I got bored of the shampoo bottles a long time ago so I'll often have a magazine or two on top of our laundry basket in there, but this looks an even better idea. These hanging paper holders can hold a nice selection of magazines - for when you get really cozy in there - and I think they look pretty cool too. I think they would work just as well in a bedroom or home office too.
You can also check our article on the 15 Inspiring Ways to Use Wallpaper in Your Bathroom.
Conclusion 
Wow. Well, I promised you a lot of options, didn't I? Whatever your issue, there should be something there to help you store and organize a bit better. 
However, if these options aren't quite enough and you think it really calls for a proper bathroom cabinet, then, well I know just the place…. bathcabinetsdepot.com.